Ambassador Power is 'unleashed' on Twitter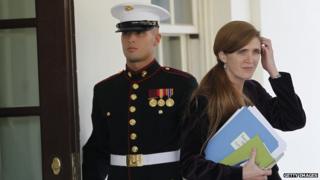 Samantha Power was silenced for years while working as a special assistant to the president. As US ambassador to the United Nations, though, she is letting loose.
Last week Power met members of the group Pussy Riot. The two women, Nadezhda Tolokonnikova and Maria Alyokhina, had been imprisoned for hooliganism in Russia.
Afterwards the Russian ambassador to the UN, Vitaly Churkin, asked sarcastically if Power was planning to join the group.
She tweeted: "If #PussyRiot will have me, Amb Churkin, I say our 1st concert is for Russia's pol. prisoners."
Her response was smart and confrontational - like Power herself. She has a catchy handle - @AmbassadorPower - and her tweets are part of a US social-media campaign.
US Secretary of State John Kerry and National Security Advisor Susan Rice tweet. So does Caroline Kennedy, the US ambassador to Japan, and other diplomats. Power is an interesting case study, however.
She had been virtually silent for years - and is now welcoming Kerry to Twitter. "Glad you've been unleashed!" she wrote.
She was talking about his foray into social media. But she could have been talking about her own role as an activist and a diplomat.
She joined President Barack Obama's White House as a National Security Council official in 2009. Before that she had been not only a journalist, she was a campaigner. She covered Bosnia and Darfur, and her 2002 book about genocide, A Problem From Hell, won a Pulitzer.
When she saw horror, she climbed the ramparts to demand action. Then she entered the cloistered walls of the White House and was not allowed to speak publicly. She had an impact, though.
"There's always this temptation within bureaucracy to say, 'Let's just manage this,'" said PJ Crowley, a former assistant secretary of State. Power reminded people they uphold principles, he said, and "having someone like her in the process, not just outside of it, is very, very important".
Yet it remains unclear whether the sacrifices she has made to join the government, such as the need to stay silent at times and at other times to act diplomatically, have been worth it. She is now is speaking out, but whether her tweets make a difference is debatable.
At the National Security Council she was under the purview of the White House. She mostly maintained a vow of silence, a promise made during the 2008 presidential campaign after she referred to Hillary Clinton, who was running for office, as a "monster" in a Scotsman interview.
Yet even if Power had said nothing provocative, she would have been expected to keep a low profile. Most people who work for the White House do not give interviews.
Yet diplomats play a public role. On social media she seems like herself again. She is described on Twitter as an ambassador and a "human rights defender".
She has been tweeting since August, shortly after she became ambassador, and has more than 51,000 followers.
Some days she sends out eight messages and has been known to tweet during dinner (she sat with professional basketball player Jason Collins at Tuesday's White House state dinner for President Francois Hollande of France).
She writes about domestic life ("Did i seriously just get a Lego UN bldg for Xmas?") as well as moral questions ("making #NeverAgain more than just words requires renewed commitment to confront evil").
She has a corky social-media style. One December morning she wrote about Taylor Swift and atrocities in the Central African Republic.
Power tweets about Syria. Yet Obama shows little interest in getting involved. "We have not yet tried to do anything about mass killings in Syria," said Kurt Volker, a former US ambassador to Nato.
Some wonder if her social-media platform is theatre - nothing more - and say that she has been pulling her punches.
Stephen Walt, a professor of international affairs at Harvard, said: "She's kind of a beautiful example of how some views can't be expressed if you want to work in Washington."
Administration officials may have decided to give Power "a long leash rhetorically - instead of doing anything concrete", said Jeffrey Mankoff of the Center for Strategic and International Studies.
"It's a slightly Machiavellian tactic," he said. "That's not to say it isn't effective or it isn't what they're doing."
She tries to live up to high standards. "First Cabinet mtg of 2014 today," she wrote, adding that Obama "summoned each of us to ask ourselves everyday, 'what am I doing right now that could help real ppl?'"
In a cynical town like Washington, she stands out.
Years ago I saw her sitting at a cafe near the White House. With the New York Times spread across the table, she was staring at a photo of a starving Somali boy lying on a hospital tarpaulin. Her face was scrunched up, her eyes filling with tears.
When she looked up, she apologised. At the time she was a White House official, and I had not seen her since she had taken the job. She said it was not that different from her work as a journalist.
"When you're a journalist, you don't care who you're writing the story for, whether it's for a book or an article," she said. "You just want the story out there." As an official, though, she could not always put the story out.
With her quick-fire nature and a habit of not allowing people to interrupt, she had a hard time at meetings.
"When I listened to her at first, I thought, 'Oh, God. Get me away,'" said James Cartwright, a retired Marine Corps general who served as vice-chairman of the Joint Chiefs of Staff.
"I don't want to say she mellowed," he said. "But she certainly matured."
As a journalist writing for magazines such as the New Yorker and the Atlantic, Power tried to get officials to pay attention to human rights issues.
At the White House and the UN she has focused on taking steps toward resolving issues, rather than searching for a panacea.
She played a significant role in persuading Obama to launch air strikes on behalf of the Libyan rebels.
In an interview Power gave to me while working for the White House, one of the first "since 'monster'", as she said, she talked about the Open Government Partnership, a transparency initiative that she created.
She got off the phone while we were speaking so she could race upstairs to her son (Song 26 on a lullaby CD was skipping), and called later from her car. She kept getting lost and in the background a stern GPS commanded: "Turn right."
Power's friends were surprised by the way she was able to stay quiet. "Sure she chafes. But she has that energy," The New Republic's Leon Wieseltier said, making a fist. "She specialises, and at the White House she bored down."
Still, Power once vowed to change the world. "Minimalism bites," she wrote to legal scholar Cass Sunstein, according to Esquire, while they were dating. (They are now married.)
Power, 43, grew up in Castleknock, a suburb of Dublin, Ireland. In 1993, a year after graduating from Yale, she set off to cover the Bosnian war.
"My strongest recollection was her passion," said photographer Ron Haviv.
"Like many of us, she was very upset about what was going on, and also that the world was ignoring it."
One of the government programmes she created is the Atrocities Prevention Board. Adam Szubin, director of the US Treasury's office of foreign assets control, said they have worked to stem anti-Muslim violence in Burma, among other issues.
"It doesn't get a press release," he said, "but it may be more effective."
Michael Dobbs, director of a Rwanda documentation project for the US Holocaust Memorial Museum, said he believes the situation is different today than it was when she joined the administration.
"She can say to herself, 'I achieved something on the margins,'" he said.