The rise of the 'cholitas'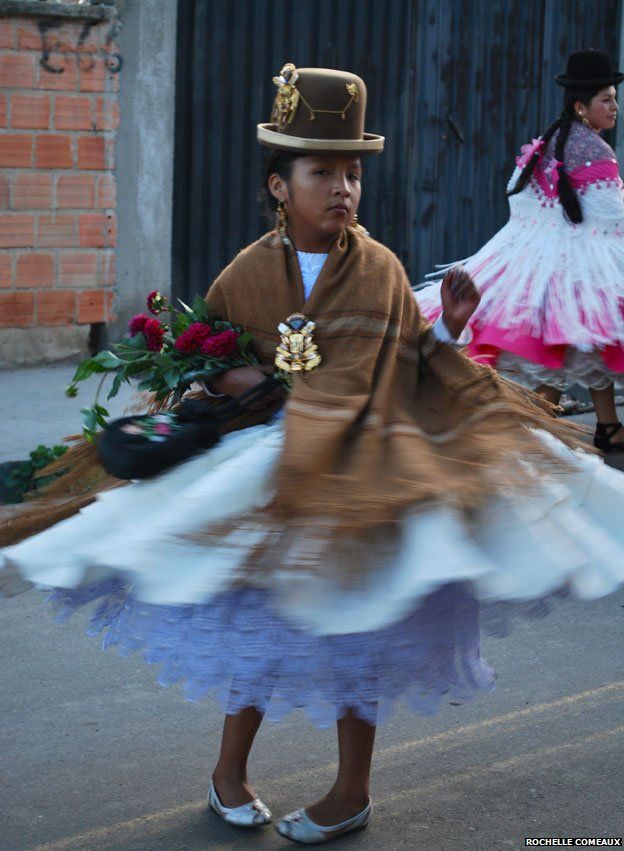 Bolivia's "cholitas" are riding the crest of a resurgence that has seen them transform from being "maids of the middle classes" who were routinely stereotyped and discriminated against, to having real clout in the economic, political and fashion worlds.
With their high bowler hats, puffed skirts and coquettish demeanour, they may look like they have stepped out of an early 20th century television costume drama, but cholas - or as they are affectionately known, cholitas - are very much a driving force in modern Bolivia.
Until recent decades, these indigenous Aymara and Quechua women - who can be easily identified by their distinctive, elegant outfits - could be refused entry to certain restaurants, taxis and even some public buses.
For generations, they were not permitted to walk freely in the capital La Paz's central square, Plaza Murillo - home to the presidential palace - nor in wealthy suburbs like the city's Zona Sur. Predominantly rural peasants who had migrated to the cities, they were seen as a lower strata who stayed in the home, or worked as servants or hawkers.
"They used to say, 'chola, no no!" when we tried to go to those places," says Carmen Mamani de Espejo, who sells flowers every Saturday at La Paz's Rodriguez Market. "Now it's much better for cholitas. We have more confidence now, we can walk where we like."
Carmen's day-to-day dress is classic cholita. While fashions and seasons change for cholas, as for everyone, none can stray from the "uniform" of a heavy multi-layered skirt with petticoats, long shawl, precariously perched bowler hat, jewellery and little flat pumps.
Valerie Salinas, who wrote a research paper called Chola pacena: fashion icon, says the Spanish forced the indigenous people to adopt European clothing - similar to those worn by assistant bullfighters in their homeland - to "rein in their subversive airs".
"The chola was very smart, she carried the burden of this dress - something she did not like - and in the end it empowered her and she moulded it to her liking."
Cholitas have always had pride in their culture, but have now reclaimed their image with a confidence that has, for the most part, come from massive social change.
A gradual rise of grassroots movements in Bolivia - mostly lead by rural peasant groups - which culminated in the 2005 election of the country's first indigenous president, Evo Morales, has been credited with the country's ongoing transformation.
Women and indigenous people have been a particular focus of new policies and laws designed to end the elitism of the past.
While poverty and inequality remain, Bolivia's economy is growing. With more money circulating and with many cholitas being "commerciantes" - sellers of goods - they have more cash to spend, and it shows.
In recent years cholitas have even shown their fortitude by doing battle in the wrestling ring. Every Sunday in El Alto, on the edge of La Paz, polleras and plaits fly as a hard core of women take on the men at their own game, to the delight of locals and tourists alike.
The change is not only economic, but in social attitudes. Cholitas can now be seen studying at university, working in government ministries, banks and lawyers' offices, and anchoring TV and radio programmes.
And in scenes that were unimaginable 10 or 20 years ago, there are cholita fashion shows and increasingly ostentatious displays of expensive designer chola fashion at the forefront of festivals such as La Paz's event of the year, Gran Poder.
"Just 10 years ago it was almost impossible to think of a chola being a lawyer or a journalist, or in front of a television camera, leading a national programme," says Maria Isabel Cordova, who last year set up a new "society" magazine for La Paz's Aymara community.
"Although there may still be some discrimination today, the chola is gaining a place in society."
That she decided to establish her magazine, Ayni Sociales, is remarkable in itself.
"The Aymara community has a very active social life and is an economically emerging market. But dedicating a magazine to showing the glamour of this society would have been unthinkable in the past. Everything has changed."
So much has transformed that in recent months the first specialist cholita modelling agency was established in La Paz. At its helm is the formidable Rosario Aguilar - lawyer, former city politician and a passionate promoter of cholita fashion and culture.
When she began pushing the idea of cholita fashion shows nine years ago, it was a struggle to convince people to participate because people felt "no one would want to see it," she says.
"We had to beg the designers to take part. They were intimidated, I don't know if it was fear of rejection. It was also difficult to encourage any cholitas to be models.
"Now we have a long list of people wanting to participate."
It is telling that many of the models and women seen parading at fiestas and big social events are not "real" cholitas.
"A real cholita speaks Aymara and has it in their family. And they have to know how to dress themselves. For example, the skirt has to be really high up to make your bum look big," says Carmen's 27-year-old daughter Clara Espejo Mamani.
She wants to take on her mother and grandmother's cholita identity in the future, but the clothes can be very expensive so she is saving up for her first outfit.
"It's good that some women are dressing like that even if it's not real," says Norma Barrancos Leyva, a cholita and presenter on the Aymara language station Radio San Gabriel.
"It shows that there is pride in the pollera (chola skirt), it's part of our culture and our country's identity."
Growing up in a village three hours from La Paz, she was told by her grandmother that cholas could not got to university, nor be professors or government ministers.
Now she dresses as a cholita every day in her job as a journalist, because there is no reason not to. In 2012 she spent a month working at BBC Mundo in London, with help from charitable funding.
"I feel so happy I had a chance to do international journalism, which I would not have had before. Cholitas occupy a place in the hierarchy now, they have value."
And it's official. Last October the council in La Paz passed a municipal law declaring that the Chola Paceña (cholita of La Paz) was a central part of the city's cultural heritage.
It added that the "collective ideology has now shifted from [cholitas] merely occupying the informal market and domestic service" to "filling political, media and business" roles.
"This woman, whose stamp is a mixture of Spanish dominion and proud original American, is on the rise," said city politicians.
Cholitas exist all over Bolivia, but the types of skirts and hats change depending on the region. In the cities, there is no male equivalent -cholitas will almost always be seen on the arm of a man in predominantly Western clothing.
In rural areas, some men can be seen wearing more traditional clothing, such as ponchos and woolly hats covering the ears (in the Andes) but even there this is not universal. Special fiestas are the exception, but in everyday life cholita-ism is very much a female phenomenon.
Cholitas still occupy both ends of the social and economic scale, but the balance has shifted.
"Of course some are still poor," says top cholita fashion designer Limbert Cussi. "I work with the cholas who have money. They no longer sell on the street, they import goods from China, Chile, Panama and make a lot of profit.
"High-end cholita fashion can be very expensive. For those richer people, the more expensive the better - a set of gold jewellery for a big event can cost $18,000 (£11,000) alone. It's a competition."
Limbert designs and makes vicuña wool hats for the exclusive end of the market, as well as shawls for special events that can fetch $3,000 (£1,800) each.
He also set up and runs the Cholita Pacena website, which covers fashion and news, and is in the second year of production of a cholita calendar.
"We wanted to take on that image that cholitas were poor country women with babies on their backs. There's a phenomenon now - women want to wear the pollera.
"Before, people did not want the chola life for their daughters and their daughters would not want it for themselves. Now it's the reverse."
Photos by Paula Dear unless otherwise stated