Who, What, Why: Is a lost dog the finder's property?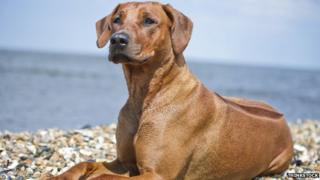 Rosa Torres spent a week posting flyers and calling her local shelter in search of her lost dog, Raffiki. She saw it on the Karma Rescue website a week later, but it had already been adopted by a new family. Now Torres and her son, four, are trying to get the dog back. What rights do they have under US law?
Supporters of the Torres family, who live in Los Angeles, say the dog should be considered lost or stolen property, and thus returned.
Animals are mostly considered property in the US, says Carter Dillard, director of litigation at the Animal Legal Defense Fund. The law makes certain exceptions for strays.
"One way it does that is by cutting off ownership to a lost animal so an animal can be safely re-homed," he says.
After a mandatory time in a shelter - in California, it's four to six days - an animal is considered abandoned.
"Legally, an animal that is abandoned, meaning lost and not reclaimed, does by default become the property of whoever has it," says Marcia Kramer, director of legal and legislative programmes at the National Anti-Vivisection Society.
It is at this point that ownership is severed and a dog can be adopted or in the case of some shelters, euthanised.
The shelter or rescue group does have to make an effort to find the dog's original owner, says Dillard, something made much easier if the dog has been implanted with a microchip containing identifying information.
Raffiki had an appointment to be microchipped but Torres says it went missing before the procedure. Although she contacted the rescue group to reclaim her pet while it was still in their care, Karma says it did not receive her messages until the adoption was finalised.
At that point, rescue groups usually refuse to disrupt an adoption.
"If they can go and take away a re-adopted animal from someone who went to the shelter and get it, that is a huge barrier to people going to a shelter to get an animal," says Kramer.
However, says Dillard, it's not unheard of for groups to reclaim a dog if it's not being cared for. "Good rescues will certainly maintain contact with the new owners, saying they have to meet certain minimum standards, and the rescue can sometimes get the animal back if the owner isn't providing specific care," he says.
Those standards are set out in a contract agreed upon by the group and the adopter.
Aside from the legal questions, there is also an ethical one, and the hope that an adopting family may sometimes return a missing dog when it realises the original family has been traced.
"The new owner could always be reasonable and work with the previous owner," says Dillard, who spoke about missing dogs in general and not this specific case. "That would be the best circumstance."
In Rosa Torres's case, the new owner has refused to give the dog back. Meanwhile, her son is still asking for Raffiki.
Follow @BBCNewsMagazine on Twitter and on Facebook