Between Iraq and a hard place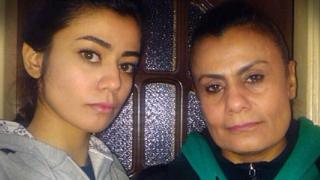 A single mother and her daughter are among thousands of Iraqis who fled to Damascus in the years before the Syrian civil war. They applied for asylum in the US, where they have family - but when the US closed its embassy they became stuck, like many others, in a city descending into chaos.
Sabria Al-Dulaimi remembers the boiling heat of Baghdad on 12 July 2009 - the day she left home. She and her then 17-year-old daughter Ansam Noaman went to her uncle's house to see their family for the last time. The goodbyes continued at the bus terminal, from where they took a 12-hour car ride to Damascus. Sabria remembers that everyone was crying. She felt heartbroken.
In Damascus they applied for asylum in the US. They thought it wouldn't take long - but nearly three years later they were still waiting for their final interview when the worsening Syrian conflict led to the closure of the US embassy.
It's now been five years. Sabria longs for the day that she and Ansam will be reunited with Ansam's half-brother in Tennessee.
The constant fear and uncertainty is punctuated by the sound of explosions. "We're so tired of this," she says.
Sabria's worst fear is that the next time she and her daughter leave their one-bedroom apartment, they won't return.
"There can be an explosion anywhere," she says. "It can be the street I'm walking on."
She now feels that by leaving Baghdad they jumped from the frying pan into the fire.
In 2009, US forces had just handed over responsibility for the city to their Iraqi counterparts.
Life seemed to be getting better, but Sabria, who worked for an Iraqi folk art ensemble, was getting increasingly worried.
She had been receiving death threats - presumed to be from the Al-Mahdi Army, a Shia paramilitary force - on the supposed grounds that her work was incompatible with Islamic values.
"I was an artist. When they threatened me, I had to get out," Sabria says.
In Iraq, her daughter Ansam always had to be accompanied by adults. She only left the house to go to school. As a little girl, she would keenly await trips to the grocery shop - a rare chance to see a bit of the world for half an hour.
For her, getting out of Iraq was like a dream. And to Sabria too Damascus seemed the right place to be. At least it was safe.
Once the women had a roof over their head, they contacted the United Nations High Commissioner for Refugees (UNHCR) to request resettlement. Their file was referred to the US as a "priority one" asylum case.
They had two face-to-face interviews with Department for Homeland Security (DHS). By early 2012 they were waiting for the third and final interview, when the civil war spun out of control.
It was a shock.
"When fleeing from violence and instability in Iraq, none of the refugees could have imagined that Syria would soon erupt in chaos," says Amber Murray, the women's Washington DC-based immigration lawyer.
Syria was and still is a haven for thousands of refugees of various nationalities, mostly Iraqi, but also Somalis, Afghans and others, says Peter Kessler, senior UNHCR spokesman for the situation in Syria, until earlier this month.
Several thousand of those were in the "pipeline" for asylum in the US.
But because the US insists on conducting interviews face-to-face - and will not, like other countries, use video-conferencing - most suddenly found themselves in limbo.
"The options for such pre-DHS refugees in Syria are very, very few," says Mark Brown, programme manager at the International Organization for Migration (IOM).
"Until the US Embassy in Damascus re-opens, the US resettlement programme will remain suspended."
That leaves three options for Sabria and Ansam, and others like them. Either they stay put and wait it out, or they try to reach the US embassy in Lebanon - or they give up trying to reach Ansam's half-brother in the US.
Sabria quickly ruled out trying to cross into Lebanon. Putting her daughter in harm's way again is not a risk she is willing to take.
She doesn't even know if she and her daughter would make it to the border - it's costly and dangerous. She hasn't heard of any Iraqis who have made it, or even tried.
Kessler says that if they did manage to get to the border, it's quite likely they would be unable to cross. "If you are a non-Syrian, it can be more difficult to be allowed across," he says, because it's not the first country of asylum.
But even if they jumped this hurdle, Sabria says she doesn't think she and her daughter would survive in a camp.
The women have heard from neighbours and friends that the camps are dangerous for women, and an Oxfam report published in September confirms this. Women in refugee camps - particularly women on their own without men - are vulnerable to both physical and sexual abuse.
Some parents in the camps marry their daughters as early as possible to protect them from attack, the report suggests.
"Unfortunately, sexual and gender based violence is widespread phenomena in any society, including also in refugee camps such as in the Syria region," says Kessler, though he adds that the UN tries to prevent it.
If refugees are generally safe and protected from the elements, it may be better for them to stay in Damascus, he adds.
There, with the help of a small circle of friends, Sabria says, at least she and her daughter are surviving "the way other people are surviving", but they are desperate to leave.
So the only option left is to drop their US asylum application - and start again with a country that uses video-conferencing.
A month ago, to their surprise, a UNHCR representative in Damascus advised Sabria and Ansam to waive their US asylum application, and instead apply to the UK.
Ansam was very quiet on hearing this news, her mother says.
Her half-brother, in the US since 2002, had said he would show her around, help her get into university and coach her in her studies.
After a long pause, Ansam spoke up. She said that given the bad situation they were in, she would go anywhere at this point, except Baghdad. Neither of them ever want to go back there.
Officially, the time-frame for UK asylum decisions is six months, but it can take longer.
Until then, Sabria and Ansam continue to live in their tiny apartment with its worn-out furniture, surviving on UN handouts and whatever relatives manage to send them.
Most of the time they stay inside, with nothing to do. Despite having spent so much time conflict zones they still shudder at the sound of bombs
Sabria says all she wants is to live peacefully with her daughter, who was born shortly after the Gulf War and was about 11 in 2003, when Iraq was thrown into turmoil again. For nearly half of her 21 years, Ansam has faced threats of various kinds - from bombs to kidnapping.
Sabria wants her to be able continue her education which has been on hold since they left Iraq that day in July 2009.
"In four-to-five years," she says, "I feel like I've aged 20."
Additional reporting by Dina Demrdash, BBC Arabic
Follow @BBCNewsMagazine on Twitter and on Facebook