Power and security loom large in Kandahar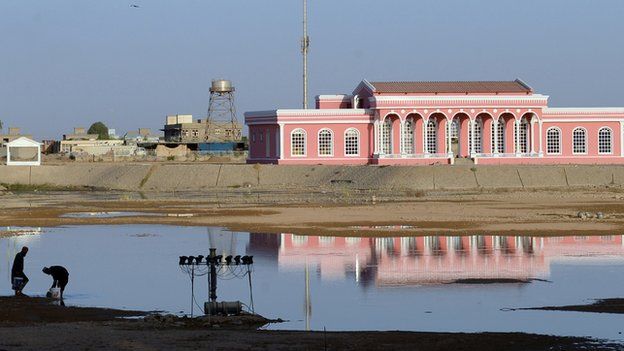 British and American troops are soon to leave Afghanistan. And the people are near to electing a new president. Amid concerns about the nation's future - ordinary Afghans have to get on with their lives. But how hard is to make a living in a country torn by war and separatism?
It was mid-afternoon and men in battered cars and dusty old jeeps were doing what looked like the school run.
Children - most of them young boys - weaved in and out of the parked cars - lined along a dusty tree lined boulevard.
It was a scene of normality, in a secure bubble of gated stability.
This was not the Kandahar I was expecting.
Famed as the former capital of the Taliban government, and ancestral home of President Karzai, Kandahar is regarded as something of a bastion of conservatism.
The neighbourhood I'd arrived at was Aino Mena City.
A pastel painted property zone, some houses painted pomegranate pink, others shimmering white. Hotels, pharmacies and banks all accessible by foot - at least for Kandahar's privileged elite.
Although this gated community has not escaped the violence of occasional insurgent attacks - it is considered safe by Afghan standards and the Florentine fountains help you to forget you are still in a war zone.
This sanitised property sector is the work of Mahmoud Karzai - the president's brother.
There are still many unanswered questions as to how he acquired the money to fund it.
Yet the place feels to me like a metaphor for an aspiring country, saddled with a complex past and looking to an uncertain future. Half built.
Twenty minutes before I had stumbled across this somewhat surreal neighbourhood in warm Kandahar city, I was leaving the cold concrete blast walls of a militarised Afghan National Army base.
Staring down at me along the road were towering billboards displaying election posters - a nod towards a tense time ahead.
If all goes according to plan there'll be presidential elections on Saturday. They say that if you win votes in Kandahar - you win the whole of Afghanistan. But there were few other signs of campaigning here.
As we headed closer to the city we passed neatly stacked red shipping containers, set back from the road.
An hour's drive from the border with Pakistan, they are evidence of the departure, over the course of this year, of many thousands of foreign troops.
Political wrangling has stalled a decision on exactly how many boots on the ground will remain, but their departure is unsettling to many who live here.
Away from the distractions of Aino Mena city, we pass the huge unfinished mosque built on the site of a former cinema.
It was the footprint left behind by Mullah Mohammed Omar, the elusive one eyed spiritual leader of the Taliban.
It dominates a corner of the city like a monument to the recent past and all around there is a frenzied atmosphere of commerce.
And it is that commerce that has drawn me to Kandahar.
I had come to meet an Afghan businessman Faizal Haq Mushkani.
A proud man in his late 50s he is impeccably dressed with a turban, and a tailored grey waistcoat, worn over a white shalwar kameez.
His warm handshake signals that I am welcome in his city, despite not many Westerners venturing here.
Trained in medicine in neighbouring Pakistan, he returned to his native Afghanistan after the fall of the Taliban government in 2001.
He was optimistic that one could succeed in business here.
Faizal was among a handful of Afghan businessmen who took over a disused industrial park, first established under the Soviets who controlled Afghanistan in the 1980s.
He was one of the first arrivals and set up a small plastics factory here.
But as more refugees flooded back into Afghanistan, the pressure on electricity supplies in Kandahar city intensified.
What little there was came from the nearby Kajaki dam - but it wasn't enough.
So as demand took off, electricity costs soared, and businesses like Faizal's folded.
But three years ago Faizal's optimism returned, with promises of more support for small businesses, and modest improvements in security.
He set up a plant making paper bags, for Afghanistan's dried fruit industry, the generators are paid for by British aid, and business seems to be doing well.
But Faizal fears the funds will start to dry up once foreign troops and aid workers pull out of Afghanistan.
Faizal believes his country is teetering on the edge of opportunity.
But, to build on this he believes the government should be addressing shortcomings in infrastructure - it should generate revenues from private businesses and confront corruption and waste.
And it must improve power supplies. Despite millions of dollars of aid, he says, Kandahar receives just a quarter of the energy it needs to function efficiently.
No one knows when the foreign aid money will finally will dry up, but it will be soon.
For Faizal, power and security are the number one issues for Afghanistan today.
Elections are just days away now and he fears the victors will have more to worry about than providing electricity for communities like his.
BBC Radio 4: Saturdays at 11:30 and some Thursdays at 11:00