The cases where ordinary people beat big companies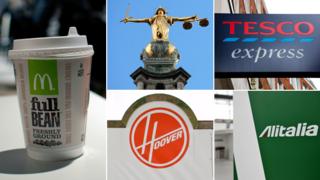 A laptop purchaser's 16-year battle to get redress for having his credit rating damaged, has joined the pantheon of epic consumer battles. What drives and sustains ordinary people during these titanic struggles with big firms?
Richard Durkin has finally won his battle against HFC Bank. Durkin found himself unable to cancel a loan agreement for a laptop he'd had to return to PC World.
The battle over the £1,499 loan turned into a legal saga that Durkin says cost him £250,000 as well as countless hours of struggle. On a personal level, Durkin's victory is pyrrhic. He will never recover the vast sums of money and time spent on the case. But he has established an important point for consumers.
Such cases as these are always the more remarkable when what's really at stake is the principle rather than a large sum of money.
Harry Cichy devoted nearly a decade of his life to fighting Hoover over its free flights offer. The electrical appliance firm's notorious 1992 promotion offered free flights to customers who spent more than £100, initially to Europe, and later to America.
Customers soon began accusing the firm of making it rather difficult to take up the offer. Cichy launched the Hoover Holiday Pressure Group and spent the next 10 years of his life trying to get Hoover's parent group Maytag to honour their offer. To give it his proper attention he gave up his job as a catering manager.
In a sense it became all embracing, he says. "It takes up your whole life. I was in too deep. You do get sucked in." He says he lost a "fortune". "I had to sell my house in 2001 basically because of Hoover."
As the stand-off developed and became public he couldn't back down. It was personal pride. More important there was a basic moral issue at stake. "It was a total marketing con. If a guy on Oxford Street does a three-card trick and gets caught he gets locked up. The corporate guy doesn't. That to me is a con, a total fiasco."
From a legal standpoint Hoover edged a narrow win. But they lost £48m, their corporate reputation and their market share declined. In the end at least 220,000 people got their flights after the company was forced to give ground. It should have been closer to a million, Cichy believes.
But he is proud of what they achieved. "I wouldn't do it at my age now (59)." But at 38 he was the perfect age to fight, he says. "I got a lot of personal satisfaction from it. They didn't get away with it." And Cichy's free flights? He never got them.
Some battles change the course of legal history. Stella Liebeck's fight against McDonald's after she spilt hot coffee in her lap and suffered burns became a benchmark in efforts to reform tort law (where a party sues another over harm or loss suffered) in the US. Argument is still going on about the merits of the case and it was the subject of a movie in 2011.
And the next time you attempt to claim compensation from an airline for a delayed flight you should give thanks to Friederike Wallentin-Hermann. Her successful legal action against Alitalia has made it much harder for airlines to get out of paying out by saying routine mechanical failures were "exceptional circumstances".
In many consumer cases, the wronged customer represents themselves. They become, in legal parlance, a "litigant in person".
Lawyers spend their lives learning how to digest long legal documents, marshal complex arguments and pore over vast tracts of evidence. Ordinary people find the odds stacked against them.
Doug Paulley is severely disabled and lives in a care home. In February this year he triumphed over the York Barbican theatre.
He had complained that disabled people who had to attend with a carer effectively had to pay double. The venue's management agreed to amend the policy in the days before a court hearing was due to begin in Harrogate. "We said that money was not why we were doing it. It was the principle." It took over a year of his life.
Paulley's other case is ongoing. He was not allowed to board a bus because a pushchair was taking up the space he needed for his wheelchair. First Bus Group's policy gave priority to wheelchair users but made clear that drivers had no power to force passengers who refused to move. Paulley argues that this stance breaches equality legislation. He won the first court case in September 2013 but the bus company has been granted leave to appeal. The case is expected to resume this summer.
So why does he keep fighting? "In a sense it's selfish, I'd feel very upset with myself if I didn't fight it. I don't like the idea of people getting away with it." The personal cost may seem disproportionate. But by sticking to their guns they bring about change for everyone, he believes.
Seattle blogger Rex fought a long battle with Apple when it refused to repair his defective computer. He won in the end, but for every Rex, there's a thousand people who just wouldn't have the time or motivation to pursue a claim to these lengths.
Consumer lawyer Andrew Leakey, from Stephensons, says the biggest problem with a case like Richard Durkin's, is funding it - both the complainant's costs and potentially the other sides too.
"If you lose the case, you risk losing everything. For a homeowner, they will come after you for costs, which is a big consideration. You can lose everything."
He says with points of principle, people can get so desperate they will risk everything. Taking on a battle can be a "massive emotional strain".
"As lawyers we get blase about going to court, but it can be a hugely stressful experience."
It goes without saying that customers who happen to be lawyers have an easier time of it. City litigator Angela Walsh won back nearly £600 in data roaming charges incurred on holiday in Australia after successfully fighting T-Mobile over her new mobile phone contract.
Not every consumer crusade involves legal action. Software firm owner Nigel Cannings, from Twickenham, London, took on Tesco in a publicity campaign and forced them to stop making night deliveries near his home.
"I gave up two to three hours every week over the course of two years. My wife and family all thought I was completely barking mad. They did appreciate the end result if not the pain involved."
So why do it?
"It's railing against injustice. Everyone stands there and says 'why doesn't someone do something?' Well I thought that person was going to be me."
Follow @BBCNewsMagazine on Twitter and on Facebook