From criminal to criminology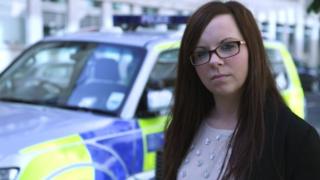 Twenty-four-year-old Natalie Atkinson was a persistent offender in her teens, but has turned her life around and explains why she feels young adults need more support when they leave prison.
If anybody had asked me what I would like to be when I grow up, I would have said a police officer.
I am currently studying for a degree in policing, investigation and criminology at the University of Cumbria and am hoping to take a master's degree in criminal justice policy at LSE with a view to going into youth/criminal justice policy.
Yet a couple of years ago I wasn't learning about the criminal justice system, I was imprisoned by it.
I committed over 100 offences including battery and damage and had over 50 convictions for assaults. I ended up serving sentences in secure children's units and in prison once I had turned 18.
I went into care when I was 13 and by the age of 18 had lived in about 25 different addresses. I started hanging around the town centre in Lancaster and getting into scraps.
A large part of my criminal convictions involved police officers and I feel really guilty now that I was the way I used to be, but there was no controlling me and there was no telling me.
I think I was rebelling against authority and I did have a lot of anger issues. When I went into care I felt like my family had lost the right to tell me what to do. Police are authority figures and the minute I connected with an officer I thought they are not going to control me.
Most of my offences were also committed while under the influence of alcohol.
I was caught in a repetitive cycle and used to want to go back to secure units because it was the only place where I felt settled, safe and did not have to worry about life.
When I turned 18 I moved on from secure children's units to HMP Styal, an adult women's prison, and with a history of assaults was put on the same wing as serious adult offenders such as rapists and murderers. There was constant aggression and violence.
Almost half of women and nearly a quarter of men in prison suffer from anxiety or depression. One woman took her own life within the first couple of days of my sentence. In prison I became depressed, lonely and afraid and started to self-harm. I also became addicted to a heroin substitute called Subutex.
Almost 60% of adults in prison who are serving shorter sentences will reoffend within a year of their release. I turned my life around through positive encouragement outside of prison. I was lucky to have the advice of my youth offending team worker who supported me even after I had turned 18.
Education also helped me start to believe that I could use my own life experiences to benefit other people and so I started going to college.
I was released from prison with the standard £46.50 discharge grant, the clothes on my back and no help to find a house. I was lucky to be able to stay with friends when I was released, but almost 40% of offenders leave prison needing help finding somewhere to live.
Getting a job with a criminal record isn't easy either. I used to hate telling interviewers and seeing the look of horror on their face when I told them.
At first I was in and out of job centres, but then I ended up going into volunteer work. It built up my confidence and my self-esteem. I now work in a homeless hostel which houses adults, including some young offenders, and I want to use my past to help those who are currently experiencing the same things I did.
Being locked up as a teenager means some young adults have not been able to learn basic life skills, such as cooking. I met 24-year-old Sephton from London who has been in and out of prison throughout his adolescence. He told me how he struggles with routine daily tasks:
"In jail everything is basically done for you. So I can't even use a washing machine. I can't cook a meal. Even making a cup of tea, I can do it, but through the frustration and mental breakdown of being trapped in a cell for so long, some things become an impossible task."
I think in order to understand your past, you've got to face your past and you've got to understand the effect your behaviour has had on other people.
I'd like to see us focus more on restorative justice, where the offender is encouraged to take responsibility for their actions, as well as providing more support for troubled adults within the community to help them achieve, rather than just putting them in prison, releasing them and expecting them to turn their life around.
Prison works for some people, but for some of the young adults I have met, it's just creating more anger and a bigger divide between young adults and society.
I think we need a completely different justice system for 18-25-year-olds, with mentors, who are preferably ex-offenders, to be by someone's side as soon as they leave the youth justice system, but it's not one size fits all either. We're never going to get a justice system that works for everyone.
It's also about the individual as well and no matter how much support is put in place, if that individual is not ready to make a change, they won't.
I spoke to Clive Chatterton, one of my old prison governors, who believes everybody has to have a sense of personal responsibility:
"One thing I always say to everyone, whether they're an offender or not, is that we've all got control of our own lives. We're all responsible for our own actions and I sometimes think people can look for excuses or want to blame others or some part of the system."
It wasn't until I'd taken responsibility for my actions and accepted I'd done wrong that I started to change and I think everyone can use their own life experience to actually do something positive.
A lot of ex-offenders think that they're no hopers and that they're not going to achieve in life, so I want to stand as an example.
Banged Up and Left to Fail? is on Monday 7 April at 21:00 GMT on BBC Three. Or catch up later on BBC iPlayer
Follow @BBCNewsMagazine on Twitter and on Facebook