Been and gone: King of the voiceover and the 'VJ Day kiss sailor'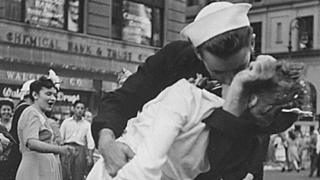 Our regular column covering the deaths of significant - but lesser reported - people in the past month.
Many men have claimed to be the sailor kissing the nurse in Times Square in Alfred Eisenstaedt's famous photo, but Glenn McDuffie had some scientific evidence on his side. The photographer was capturing the celebrations to mark the Japanese surrender in 1945, but died without identifying the pair. McDuffie claimed to have spontaneously grabbed the nurse in the general euphoria. His claim was boosted in 2007 when a renowned Houston Police forensic artist, overlaid dozens of later photos of McDuffie onto the original, and announced that all his features matched. While not completely conclusive, it was enough for McDuffie. He had joined the navy at 15 after lying about his age and, after the war, played semi-professional baseball. When asked about the rather stiff pose in the photo, he said he had been ensuring the photographer got a clear shot of the nurse.
Christine Buckley fought both the Church and the Irish state to expose the brutalities inflicted on children in Ireland's orphanages. Her own ordeal began when she was abandoned as a child and put into Goldenbridge orphanage run by the Sisters of Mercy. The nuns imposed discipline with regular beatings and other physical abuse and forced children to spend long days making rosary beads. She was instrumental in the creation of a drama documentary, Dear Daughter, which aired on Irish television in 1996 based on her experiences. The programme has been credited with opening the door on widespread child abuse by the Catholic Church in Ireland. She was initially accused of lying about her time at the orphanage but, inspired by her campaign, other victims of came forward to testify. She finally persuaded the Irish government to issue an apology and set up a fund to compensate the victims.
Marion Stein was a distinguished concert pianist who was one of the co-founders of the Leeds Piano Competition. Held every three years, it has nurtured the careers of some of the world's most distinguished players. Partly of Jewish descent, she fled from her native Austria in 1938 and attended the Royal School of Music where she became friends with Benjamin Britten. She became part of the extended royal family when she married the Queen's cousin, George Lascelles, Earl of Harewood, although the couple divorced in 1967 following his adultery with an Australian violinist. Stein later married the Liberal leader, Jeremy Thorpe and was a source of support when allegations that he had conspired to murder a male model who had claimed to be Thorpe's lover destroyed his political career. She remained loyal to Thorpe, nursing him when he fell victim to Parkinson's disease.
The gravelly baritone voice of Hal Douglas was familiar to millions of cinema-goers as one of the most prominent voices on trailers run ahead of a main feature. In a career spanning six decades he voiced thousands of film trailers and TV commercials. Among some of his many films were Forrest Gump, Philadelphia, Men in Black, Men in Black II and Con Air. For the latter, his menacing voice intoned the phrase: "This summer, check your weapons, take your seat and say your prayers." Douglas, who was born Hal Cone, served in the US Navy during the World War Two before taking up acting. His lack of success saw him supplementing his meagre earnings by doing voiceovers for commercials and radio shows. Despite his success in the film industry, Douglas refused to live in Hollywood. Instead he had a home studio on his farm in New York state, where he often recorded his lines in his pyjamas.
The work of commercial artist Sam Peffer was a feature of British bookshelves throughout the 1950s and 60s. Contracted to Pan Books, his paintings adorned the front covers of early editions of the James Bond novels including Casino Royale, Doctor No and From Russia with Love. He received the princely sum of £40 for each design, while the books sold in their millions. He also designed the fronts of paperbacks for other publishers including Arrow and Corgi. The decision to use stills from films on book covers saw demand for his work decline so he switched to film posters. Never one to turn down work, he produced material for such splendid offerings as Prisoner of the Cannibal God and Mary Millington's True Blue Confessions. His design for the Helen Mirren film Hussy was used on later DVD versions. He decided to quit in the 1980s when cinema audiences slumped and studios cut back on publicity material.
Among others who died in March were:
Kate O'Mara, best known for roles in Dynasty and Hammer horror films
Derek Martinus, directed the first Dr Who episode to be made in colour
Micky Duff, boxing promoter who worked with 16 World Champions
L'Wren Scott, fashion designer
Clarissa Dickson Wright, celebrity cook and half of Two Fat Ladies
Tony Benn, Labour politician
Bob Crow, leader of the RMT transport union
James Ellis, who played Sgt Lynch in Z Cars
Follow @BBCNewsMagazine on Twitter and on Facebook