Is this the world's biggest election loser?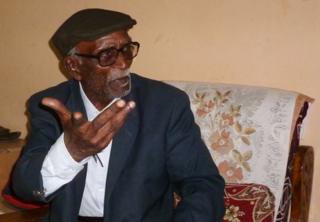 He has stood in every Indian parliamentary election since 1962 - and lost every one - but that has not deterred 78-year-old Shyam Babu Subudhi from throwing his hat into the ring once again.
Dr Subudhi is a homeopathy practitioner in Berhampur, a town in the eastern Indian state of Odisha. And he is contesting two constituencies, Berhampur and Aska, in India's forthcoming parliamentary polls.
Despite losing his deposit in every previous election, having won less than a sixth of the votes cast each time, Dr Subudhi is surprisingly confident he can win both seats this time. His one-page election manifesto even claims that there is "enough of a possibility" of him being appointed prime minister of India after the coming elections.
This will be his 13th attempt in a row to enter India's parliament.
"People are fed up with the current crop of leaders, who switch parties when they are not given a ticket by their own party. They have seen that I am the only person who has steadfastly refused to join any political party since the 1960s," Dr Subudhi told the BBC at his home in Berhampur.
Dr Subudhi's electoral debut came in 1957, when he battled former State Minister Brundaban Nayak over the setting up of a school in Berhampur.
"I fought with him in the Hinjili Assembly constituency and lost narrowly," he says proudly.
What started as a battle over a school soon turned into an obsession for this man, a familiar sight on the streets of Berhampur in his trademark cap, uneven beard, bulging black bag and well-worn suit, even in the scorching summer heat.
He fought in both assembly and parliamentary elections until 1980, when he took on former Chief Minister JB Patnaik in Begunia. From then on, he has focused his efforts purely on parliamentary elections.
The high point of his long electoral career came in 1996 when he "fought" the Prime Minister of India, PV Narasimha Rao, for the Berhampur seat. Biju Patnaik, father of Odisha's current chief minister and the biggest political leader in the state's post-independence history, is among his other notable "rivals".
"I am in electoral politics because I want to end corruption in the country," Dr Subudhi says.
But how can he end corruption, even if he wins the election, when he is only an independent candidate?
"I am sure I will get the support of many others in parliament," he says confidently.
Curiously for someone who is 78 and on the ballot in two constituencies, his manifesto promises to bar people above 60 from contesting elections, and put an end to the practice of standing in more than one seat.
His campaign style is also frugal and lacks the pomp and ostentation usually associated with Indian elections. He moves about mostly on foot, by bicycle or even bull-drawn cart, as he meets his electorate in ones and twos.
But Dr Subudhi readily concedes that despite his no-frills campaign style, he could end up spending about 500,000 Indian rupees ($8,300; £5,000) this time. But he laughs away any suggestion his family members might be peeved with him for "wasting" the money.
They do not appear too perturbed. "He spends his own money and never asks for help from anybody," says his daughter-in-law Rashmita.
His earnings apparently come from his still-flourishing homeopathy practice, while his sizeable ancestral property ensures that he is never short of money to fight elections.
Many people in the town think he is mad. Others think he is an old man obsessed with getting into the Guinness Book of Records as the man who has contested the most elections.
But there are some - like his contemporary and good friend Venkat Bihari Praharaj - who do take him seriously. They believe he is standing sincerely and is not in the fight for fun. "But the problem is people tend to vote for parties rather than individuals," Praharaj says.
There is nothing to suggest that the voters will behave any differently this time. But Dr K Shyam Babu Subudhi will have none of it.
Follow @BBCNewsMagazine on Twitter and on Facebook