A shark cull divides a nation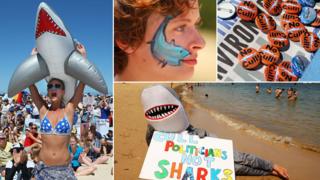 This year, for the first time, efforts have been made to catch sharks off the shore of Western Australia and to shoot the biggest of them. The state has applied for permission to continue the programme for another three years - but it's a divisive policy with many bitter critics.
Elyse Frankcom was diving with dolphins in the vast waters of Western Australia when she felt the jaws of a great white shark clamp around her legs.
"It just hit me," remembers the 22-year-old, who was violently pulled down from the surface by the 3.5m (11ft) shark in late 2010. "I tried to punch and push it. I reached down to my foot and switched on [my shark shield]. That is the last thing I remember doing."
The shield, which emits an electrical field designed to repel sharks, may have forced the animal to retreat, but when it released its grip, she sank. A tourist dived down to retrieve her, hauling her, unconscious and bleeding, to the surface.
It took Frankcom months of physiotherapy to learn to walk again. The shark's jaw cut through the bone on one leg and tore muscles on the other - its teeth were found embedded in both. For weeks every step felt like "hitting [my legs] with a baseball bat".
Yet, despite the pain and the narrow escape, Frankcom is one of thousands of Australians protesting against Western Australia's controversial culling of sharks.
An unusually high number of fatal attacks - seven in just over three years, from August 2010 to November 2013 - prompted Western Australia's premier, Colin Barnett, to order baited hooks to be strung from floating drums near swimming, surfing and diving areas. Any great white, tiger shark or bull shark caught on the hooks is shot, if it exceeds 3m in length.
The lines went up on 25 January, and the first shark was killed the following day (Australia Day) with four bullets to the head.
So far, more than 100 sharks have been snared. While some welcome the attempt to make the beaches safer, others see it as little more than a political stunt. Barnett, who was photographed at the start of the programme grinning and clutching a large shark hook has declared that he has an "overriding responsibility to protect the people of Western Australia".
But opposition has been more intense than perhaps he anticipated. Protests have been unexpectedly large, and a swing of 6% towards the Green Party in a Senate by-election last weekend was widely attributed to the cull.
Furthermore, the policy appears not to have halted shark attacks - the body of a diver who went missing, near Dawesville, south of Perth, on 29 March was later found with shark bites. And when a 4m-shark appeared 100m from the shore near Perth on Tuesday, critics were quick to claim it had been attracted by the smell of the bait on the hooks.
Western Australia is not the first state to launch anti-shark policies that trouble environmentalists. Fixed nets were introduced around popular beaches in New South Wales as long ago as the 1930s, while Queensland uses a mixture of nets and hooks. Though neither state actively kills sharks, the measures often prove fatal anyway - of the 600-plus sharks caught in Queensland's nets in 2013, it's reported that only 32 made it out alive. And other animals, such as dugongs and dolphins, are at risk from the nets too.
While Western Australia's hooks may kill less indiscriminately than nets, Natalie Banks, a scuba diving instructor who has organised protests in Perth attended by thousands, believes that attitudes have changed and that many more people are now uncomfortable with the idea of killing sharks.
"There has been a huge shift in mentality with regards to conservation to our marine life," she says. The cull, she insists, is "a kneejerk reaction based purely on fear of the unknown".
Banks is now working with the pressure group, Sea Shepherd, which maintains that many of the smaller sharks caught on the hooks and then released end up dying. Last week they posted a video on YouTube showing activists helping a 2.4m-long tiger shark recover, by holding its fins and propelling it through the water. This helped to re-oxygenate the shark's body, and after an hour-and-a-half it was strong enough to swim off.
The group has also posted pictures of bleeding dying sharks, and of other by-catch - including two stingrays in the last week. The hooks are intended to snare only three species (bull sharks, tiger sharks and great whites) but the government of Western Australia acknowledged that in the first three weeks they caught, in addition to 63 tiger sharks, two mako sharks and one blacktip shark. More than three-quarters of the sharks snared (78%) were under the 3m length limit, and none were great whites.
Cull opponents typically put forward policies such as tagging potentially dangerous sharks, shark spotting networks, phone apps to raise the alarm and barriers that keep sharks out without trapping them - plus the use of shields like the one that saved Frankcom.
The state government already carries out some tagging (which allows the movement of sharks to be electronically monitored), has increased helicopter patrols, and is studying the effectiveness of shark deterrents.
"The preservation of human life is our number one priority and these measures are designed to do that, with minimum impact to the surrounding environment," Fisheries Minister Troy Buswell said in December, when the hook policy was unveiled.
On Perth's popular Cottesloe Beach, as tourists bake in the sun and school children attend swimming lessons in the ocean, reactions to the cull are mixed. "Kill them," urges one young male swimmer with salty blond hair.
Others are against the hooks. "They are a kilometre off here," says British wind kite surfer Graham Price, clutching his wetsuit and pointing to the orange drumlines bobbing in the ocean. "They've got dead fish on the end of them. If they're culling sharks they're attracting other sharks." "It's just luring more in," agrees 27-year-old local, Jedda Greenwood.
Other opponents point out that despite the apparent recent spike in the number of deaths from sharks, the chance of being attacked by a shark remains extremely low. Last year Australia saw 10 attacks, two of which were fatal. This year has already seen two suspected fatal attacks, including one last week in New South Wales.
On average, however, there has been just one death a year over the last half century, according to the Australian Shark Attack File. Statistically, a person has more chance of dying from a vending machine accident. The numbers who die from drowning are many times higher.
But unfortunately for the sharks, they trigger a potent mixture of fear and fascination.
"We're not just afraid of predators," writes the biologist EO Wilson. "We're transfixed by them, prone to weave stories and fables and chatter endlessly about them, because fascination creates preparedness, and preparedness, survival. In a deeply tribal sense, we love our monsters."
For the WA policy to go ahead the federal government had to grant an exemption from the Environment Protection and Biodiversity Conservation Act, which imposes an obligation to protect great white sharks - a vulnerable species which reach sexual maturity at just over 3m (the same length at which they are liable to be shot).
Nicholas Ray of the UK's Nottingham Trent university fears that breeding populations of all three shark species on the hit list will be reduced.
The fate of the grey nurse shark on Australia's east coast illustrates the potential problem - a bloody spate of shark hunting in the 1970s led to it becoming critically endangered, its fierce appearance apparently contributing to its undeserved reputation for being a "maneater".
And while Western Australia spends millions of dollars on its catch-and-kill programme, scientists are now working on shoestring budgets to restore the grey nurse population.
Rob Jones, the vet at the Sea Life Melbourne Aquarium, last month celebrated the birth of the world's first ever shark to be born via a live semen sample transported from one facility to another.
The cull, he says, is "directly opposite" to his research on methods to assist grey nurse reproduction and, in his view, is "completely ludicrous".
The current cull is due to come to an end on 30 April, but on Tuesday Western Australia applied to the federal government to continue it for three more years in the summer months (November to April).
Frankcom, who regained full use of her legs, says the state's politicians are "petrified that Western Australian has become the shark capital of the world". But she says Australians never expected the ocean to be 100% safe.
"The surfers, the people that go out everyday - they accept the risk," she says. "There are lots of things in the ocean that are capable of harming us."
Follow @BBCNewsMagazine on Twitter and on Facebook