Americans construct tiny houses – and new lives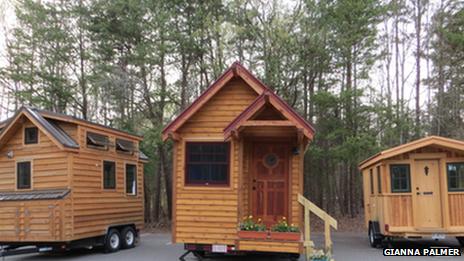 More and more Americans are building tiny houses, drawn to the prospect of financial freedom and a smaller ecological footprint. Gianna Palmer reports on the growing movement from Charlotte, North Carolina.
When Sicily Kolbeck first told people she was planning to build her own house, they often assumed she meant a doll house. "I got a lot of, 'That's cute,'" Sicily recalls.
In reality, Sicily, 13, aimed to become part of a burgeoning movement. Sicily didn't have any construction expertise when she read about these scaled-down houses online and was inspired to build her own.
"I would make forts, but those were made of blankets," she says. Sicily isn't so different from many fellow tiny house builders in this respect.
"Most folks who are interested in tiny houses don't have any building experience," says Ryan Mitchell, 30, who runs TheTinyLife.com and organised the inaugural Tiny House Conference earlier this month in Charlotte, North Carolina.
But building smaller doesn't necessarily mean easier, as tiny houses generally use the same materials and building conventions as traditional houses.
At Mitchell's sold-out conference, held on a nature preserve in Charlotte, attendees listened as panellists dove into the technicalities of designing and building tiny houses.
Much has changed, says Dee Williams, 51, from when she set out to build her 84-sq-ft (7.8-sq-m) house in 2004.
"I didn't know anyone else who was building a little house at the time, anywhere," Williams recalls. A warm, energetic woman, Williams is a pioneer in the tiny-house movement and was the keynote speaker at the Tiny House Conference.
Williams founded Portland Alternative Dwellings, a tiny-house education and consulting company offering the sort of know-how that was nowhere to be found when she was building her house a decade ago.
To complete her cosy, cedar-sided home, where she still lives, Williams turned to books on construction and asked carpenters she knew for advice. She scoured the classified adverts in the local newspaper for salvaged wood and skylights.
In the years since Williams finished her house, a wealth of tiny house resources has sprung up. Many of the offerings are digital: e-books, blueprints and construction guides are available online, and there are scores of tiny house blogs.
YouTube - which didn't exist when Williams was building her house - has thousands of tiny-house instructional videos offering guidance on everything from installing electrical wiring to cutting rafter patterns.
Tinyhouselistings.com is available for people looking to buy or rent. The A&E television network has announced it will begin airing a reality television show, Tiny House Nation, in July. As of last month, there's even a nascent tiny-house dating site.
As the movement grows, so too does the number of people seeking to make money from their tiny house experience.
This much was clear at the Tiny House Conference, where attendees and panellists swapped business cards and plugged their blogs throughout the weekend. Three of the six tiny houses on site were for sale.
Andrew Odom, a 36-year-old panellist and author of e-book Your Message Here: Gaining Corporate Sponsors for Your Tiny House, passed out coupons with a discount code for merchandise from the website I Love Tiny Houses.
Dan Louche, 38, another panellist, works full-time as the co-owner of Tiny Home Builders, a company that sells tiny house blueprints, trailers and, occasionally, completed houses. He towed a stately 8-by-12-ft (2.5m-by-3.5m) house with vaulted ceilings and a sticker price of $25,000 (£14,000) to the conference.
But Louche readily admits that his customers are usually more interested in getting help building their own houses - Tiny Home Builders also offers workshops and consultations - than in buying pre-made ones.
"It's not just the lifestyle," Louche says. "It's the fact that you can have the pride in building it yourself."
For many tiny house owners, their home offers more than simply shelter - it represents a milestone in personal development. This was certainly true for Sicily Kolbeck.
Sicily began building her house in early 2013. She was 12, and her father, Dane, was her construction partner. But just weeks after they laid the floor joists together, Dane was killed in a car accident.
At first, Sicily struggled to regain momentum and continue building, her mother, Suzannah Kolbeck, says. But they both agreed they weren't going to abandon the house.
"She came back gangbusters," Kolbeck says of Sicily. "Her fingerprints are all over the house."
Kolbeck and their family friends stepped up to help with the project, but Sicily said her father was still a part of her building process.
"I just imagined him watching me, in whatever way, and seeing all that I was doing," Sicily says. "Instead of doing it with him, I was doing it for him and showing him what I can do."
Sicily is now putting the finishing touches on La Petite Maison, the name she gave her elegant, dark blue 128-sq-ft (12-sq-m) house.
"I've definitely had moments where I just kind of stand there like, 'Wow, I built this,'" she says.
Related Internet Links
The BBC is not responsible for the content of external sites.