The eight tribes of vinyl collector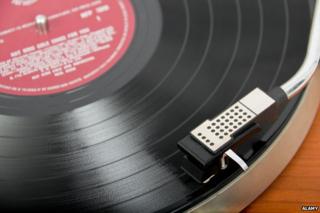 Music lovers and vinyl enthusiasts are gathering for the UK's seventh annual Record Store Day on Saturday. Despite many predictions of the demise of vinyl, it has never looked like disappearing. But who's still buying?
Here are eight groups that are still shopping for vinyl.
The nostalgic collector
Sonja Bredgaard is a school librarian, blogger, and journalist. She says that she has a passion for all things vintage, retro and kitsch.
"These days I'm into the rockabilly scene which is what has inspired me to start collecting again - seeing all the fantastic rockin' DJs at clubs playing original vinyl.
"My favourites are blues boppers, skiffle and hillbilly, as well as good old rock'n'roll.
"All my vinyl are seven-inch but I'm going to get some good albums to save changing the records so frequently.
"I tend to listen to vinyl on Sunday afternoons when I'm chilling out or on Saturday nights when I'm getting ready to go out rockin'.
"My record player currently lives in my bedroom and is a joy to listen to, in fact the kids often ask me to turn it down. Listening in my room takes me back to being a teenager.
"I have no desire to become a rockabilly club DJ but I do enjoy listening to music the way it was intended to be heard."
The new buyer
Tom Kangro is an architect from east London, born in Kent. He has collected music on CDs for over 20 years and bought his first record player in January this year. Kangro is limited to two vinyl purchases a month by his fiancee - so his collection doesn't take over their house.
"I have a grand total of 10 records. I've got lots of CDs, it's not like I'm new to collecting music it's just that now I'm into vinyl.
"I like the fact there are a lot of new releases and I'm an architect and I'm interested in the visual design and artwork side of it.
"I also like the fact you can go into a record shop or charity shop and pick up old vinyl - I'd never do that with CDs. With vinyl it opens up a whole new era."
The audiophile and label boss
Darrel Sheinman is the owner of Gearbox records, a British jazz independent label, which releases vinyl limited editions of remastered, and often rare or previously unreleased, recordings. Everything in Sheinman's studio is analogue. His Blue Note record collection is many hundreds strong.
"We are a vinyl-led record label. However, although we are about evangelising about vinyl, we are not saying that digital is rubbish. It has it's place, it's portable and gives a wide introduction to lots of genres through streaming sites. Vinyl is ritualistic in a good way. People say it's just for their granddads but that's rubbish. There are new bands who bring a love of vinyl across genres and ages."
The young enthusiast
Jake, 16, from Londonderry, proclaims his love of records via Twitter. Unlike many of his peers, he's shunned streaming and digital in favour of vinyl.
"I've been collecting vinyl for a year now and I think it is the best format. I purchased CDs and downloads before, but they do not compare to vinyl. The sound quality and the feel is so much better and more rewarding.
"Since getting into collecting records I have boycotted downloads completely as I think that vinyl is far superior - which is great but tough on the pocket money when you're 16.
"My first vinyl record was Foals' Holy Fire which is my favourite album. I used my birthday money to buy a really cheap turntable to get started and this was the first record I played on it.
"I can't wait until Record Store Day despite my friends thinking I'm a bit weird for collecting vinyl."
The romantic musician
Winner of the the BBC Sound of 2012, Michael Kiwanuka, says he was influenced by a free Otis Redding CD on a magazine. The Londoner was signed by Communion Records at the age of 24, and still draws inspiration from listening to old records.
"Vinyl is for music lovers. Music has loads of ways for it to be listened to.
"Some people like music a little bit, and listen to it just for the background sound, but for people who really love it, vinyl's the romantic way to do it - because you can get really involved.
"It's similar to other recreations - like enjoying food. Not everyone goes to the highest calibre Michelin star restaurants, there is something for everyone out there. However, if you like high-end food then you can go to a high-end place to eat. Music should be like that. If you love music you should listen to vinyl - on a decent sound system. I just think it's good to keep it alive."
The digger-turned-DJ
Keb Darge, is a Scottish DJ who plays mainly US soul and rockabilly music. He helped to pioneer the Northern Soul movement and brought it to London in the 1980s. Darge has a large collection of seven-inch records, many of which are "Deep Funk" from the US.
"There are two reasons why I collect vinyl. Firstly because I find it easier to work with as a DJ. I can flick through a box of seven-inches and very quickly spot what I want to play next by the label design - I mostly collect small independent label stuff. Secondly, because I am always chasing new discoveries from the 50s, and 60s. I can only find these on the aforementioned sevens, as virtually anything else is known to the collectors world via compilation CDs and compilation albums."
The digger-turned-dealer
In the 80s, Gerald Short's penchant for rare soul, funk and jazz motivated him to travel through the US in search of old LPs and singles. Finding them in abundance and at low prices, Short set up a mail-order business based around his record stall in Camden Market, London. Prices in the US soon rose, so, in 1998 he established the Jazzman Records label in order to reissue the rare and sought-after tracks.
"People really appreciate vinyl these days. If you compare holding an iPod with holding a record - there is no comparison. We're human beings and we like things we can see, hold and listen to.
"I don't care about downloads at all.
"I may be old fashioned but there are so many reasons why I prefer records and so do other people - to such an extent that me and other labels selling obscure and esoteric music can survive on vinyl and have done for years"
The sighing sceptic
Legendary house DJ Carl Cox, who has 150,000 records in his garage, is sceptical about the format's ability to adapt to the way we consume music.
"It's very hard to obtain upfront music on vinyl like it used to be years ago. I used to go down to my local shops and spend £200-500 on records. Now everything is sent to me and my computer.
"I remember, as a kid, buying my first record from HMV - it was Diana Ross's Love Hangover. I ran home and put the needle on the record thinking, 'wow that's awesome.'
"I had that for many years - and now I'm not able to do it.
"It's taken away what was great about playing music."
Additional reporting by Ed Ram
Back In The Groove is broadcast on BBC Radio 5 live at 20:30 BST on Sunday 20 April 2014 - or catch up on BBC iPlayer
Follow @BBCNewsMagazine on Twitter and on Facebook