Shannon Airport: A curious history of celebrity visitors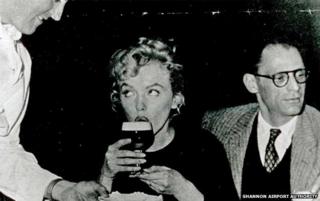 Shannon Airport in the Irish Republic has long been the unlikely host to celebrities and US presidents making the Transatlantic crossing, writes Christine Finn.
It was an unexpected malfunction on my in-flight entertainment - the sound of cockpit radio cutting in as I left the east coast of America. I was transfixed as the chatter fell away to white noise as the plane headed 3,000 miles across the Atlantic.
I stayed awake listening to this sound of almost-silence, imagining I was piloting the plane. When that silence was eventually broken by an Irish voice, and the pilot was guided in, I was both moved - and intrigued. I wanted to find out more about the special relationships between these voices in the dark.
On the rugged west coast of Ireland, the walls of Shannon Airport trace the history of transatlantic aviation - not in dry detail, but photographs of the many celebrities who passed through.
Shannon Airport was the entry point not just of Ireland, but a refuelling point and entry into Europe. American presidents, film stars, writers and politicians came through, dining in the elegant Lindbergh Restaurant, and sharing travellers' tales under the courtyard's coloured lights.
It was an era of dressing up to fly. And not only to fly. Diners came from miles simply to be a part of the glamorous transatlantic crossing. Today the old airport buildings are faded, and flying the Atlantic is hardly news, let alone glamorous. But at Shannon Airport the memories are close to the surface, and the tales tumble out.
The wider story begins back in June 1919. John Alcock and Arthur Whitten Brown set out from Newfoundland in a World War One Vickers Vimy, their historic crossing ending with a crash landing in a green field - more accurately, a bog in Clifden, Connemara. Startled locals, including Patrick Boulton, out with his dog, greeted the equally started aviation pioneers: "Welcome boys. Where to, and where from?" They then shook hands and congratulated them, as the pilots took in that their rugged arrival point was not England, but Ireland.
That handshake helped to forge a near-century long relationship between the west of Ireland and North America. As commercial flights began with the Transatlantic Flying Service in 1937, it was flying boats that made the crossing, not into Shannon, but over the estuary at Foynes in County Limerick.
And history was made there, too, with the invention of Irish coffee. It's a colourful tale and they love to tell it. An enterprising local called Joe Sheridan, seeing the Atlantic passengers arriving cold, made them coffee and, seeing they needed a bit of a boost, added a splash of Irish whiskey, topped with a thick layer of cream. It was an instant hit. When Shannon Airport was built, the duty-free trade invented there - another remarkable first - was surely helped by the passengers returning across the Atlantic with bottles of Irish whiskey, to make their own Irish coffee.
World War Two brought in a new breed of transatlantic passenger. And after the wartime pilots, those glamorous passengers who took their Irish coffee in the Sheridan bar at the new Shannon Airport. Among them have been every US President since JF Kennedy, and the Cuban leader, Fidel Castro. Michael Fitzgerald, who was barman at the Sheridan for 35 years, remembers serving Castro. "One day we allowed him to come behind the bar and make his own Irish coffee."
Even in fiction, James Bond found Shannon luxurious as he waited for a flight to New York. Today he'd be able to be in America without leaving the airport, clearing customs and US immigration while still at Shannon.
Down the road from the airport, Ballygirreen houses the North Atlantic Communications Centre, where those voices speak out into the dark, and listen in. It's a terrifically busy place and yet one of calm efficiency, handling 400,000 flights in the Shannon and Prestwick airspace - or Shanwick - which reaches into the mid-Atlantic, covering three million square kilometres. There are many stories, from the dramatic events on 9/11, unruly passengers requiring a flight diversion, to romances between local women and the men who came to build Ireland's aviation history and stayed.
The locals working at the airport now include those who watched the planes fly in as children. Liz Mangan was thrilled at seeing the smart stewardesses, and one day she joined them. She has crossed the Atlantic countless times in her career with Aer Lingus, and she still gets a buzz from putting on her uniform as one of the "queens in green". "There's something very special about travelling through the night," she says. "And you're up so high near the stars. It's amazing, there's a silence at 4am - you make them a cup of tea and they open up, tell you some interesting stories about their lives. It's fascinating."
At Ballygirreen, the shifts change with the flow of flights. There is a reassuring familiarity. Over time air traffic controllers build a unique relationship with the pilots through the codes they trace on screens. They send the pilots out over the Atlantic, or bring them in. And far from Ireland, there's a fanbase of those who tune in via their home computers. And technology is also changing with flight communication moving to Datalink, a form of text messaging.
Ian MacGregor, a British Airways pilot whose father flew Atlantic flying boats, recalls that the latter charted the heavens with a sextant. "My father was sitting in a plane trying to get shots on the stars to navigate by," says MacGregor. "Now we have three global positioning systems which will pick up and pinpoint our position down to within 6ft."
But the starry crossing remains unchanged, and the trusted beacons back in Ballygirreen - those voices coming out of the dark.
Follow @BBCNewsMagazine on Twitter and on Facebook