The man with 42 hours to get home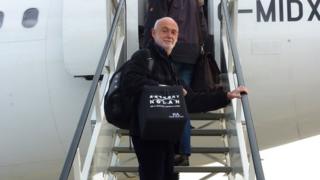 In the course of a month, Peter Hodes plans to visit Poland, Israel, Germany and South Africa. Wherever he goes - even Australia - he always makes sure to get home in 42 hours or less. The reason? He's a volunteer stem cell courier. Here he describes his unusual pastime.
Since March 2012, I've done 89 trips - of those, 51 have been abroad. I have 42 hours to carry stem cells in my little box because I've got two ice packs and that's how long they last.
In all, from the time the stem cells are harvested from a donor to the time they can be implanted in the patient, we've got a maximum of 72 hours. So I am always conscious of time.
I had one trip last year where I was caught by a hurricane in America. I picked up the stem cells in Providence, Rhode Island, and was meant to fly to Washington then back to London.
But when I arrived at the check-in desk at Providence the lady on the desk said: "Well I'm really sorry, I've got some bad news for you - there are no flights from Washington." So I took my box and put it on the desk and I said: "In this box are some stem cells that are urgently needed for a patient - please, please, you've got to get me back to the United Kingdom."
She just dropped everything. She arranged for a flight on a little propeller plane to be held for me, re-routed me through Newark and got me back to the UK even earlier than originally scheduled. This woman was brilliant.
I don't suffer stress but I have dreamed about forgetting the box on a train. When you're in a plane you can put it up in the overhead locker - you know it's not going to go anywhere - but when I'm sitting on a train or a bus it never leaves my side.
You're consciously aware that in that box you've got something that is potentially going to save somebody's life.
I don't take private transport anywhere - I only use public transport. Can you imagine a scenario if I was driving a car and had an accident and my car went into a ditch and I wasn't discovered for 24 hours? The stem cells would be lost.
You could have an accident on a train or a bus or a plane but it's less likely and one would hope there would be rescue people there.
The majority of my trips abroad are to Germany because nearly half of all the stem cell transplants that take place in the UK come from German donors. Why? Because genetically, large parts of our populations are very compatible. The other reason is that the UK database has just over a half a million people who are willing to donate, while Germany has 4.7 million.
A few days ago, when I was coming back from Hanover, the pilot of the plane radioed ahead to Heathrow to make sure we could land on time so that I wouldn't miss my next connection.
They also upgraded me to club class. It turned out that the partner of one of the cabin crew had leukaemia 10 years ago and had been saved by a stem cell transplant. He's still alive today and also works as a cabin attendant for the airline!
The longest journey I ever did was from Australia back here to the UK. I went from Brisbane to Manchester in 37 hours - with just a few hours to spare.
There are 37,000 people in the world waiting for stem cells, and 1,800 of them are in the UK. But even with 22 million people registered as potential donors around the world we can't find a suitable match for all of them.
I would like to see the British stem cell register grow to the size of the German register so that we, as couriers, will not be flying all around the world picking up stem cells. We should be able to find the stem cells from people in this country.
I go out and speak to schoolchildren all over the south-east of England too - 16 to 18-year-olds - to tell them about donorship. The charity I do this for, Anthony Nolan, signs up people between the ages of 16 and 30 and we keep them on the register until they are 60.
Young people are more likely to be chosen to donate as they tend to have fewer underlying health complications. Transplant centres are much more likely to choose a male donor as they produce more stem cells, although we take them from females all the time too.
One of the problems we face here is getting stem cells from ethnic minorities because it is so genetically specific.
When somebody's got leukaemia, the hospital will get in touch with Anthony Nolan and if the charity can't find a match on its own database it will look on the worldwide database. I am one of 44 couriers that transport the cells for Anthony Nolan - we're all volunteers.
Stem cells can be extracted in two different ways. Ninety per cent of the time they are collected in a process that's similar to giving blood. It involves putting a needle into each arm - a patient lies on a bed for four to five hours, the blood comes out of one arm into a machine, the machine spins out the stem cells into a bag and blood goes into the other arm.
Then a few hours later, the stem cells are picked up by a courier and whisked off somewhere in the world.
The other 10% are done through bone marrow harvest where we put the patient into a hospital overnight. The next morning they have a general anaesthetic and the operation takes less than an hour usually.
I got involved with Anthony Nolan after I became an organ donor. Eight years ago I donated a kidney to a great friend of mine, Livia, who was terribly ill. It's the best thing I ever did in my life.
I was concerned that she was going to die. The fact that I discovered that I was a suitable match to her was the most wonderful thing. It's amazing that I can phone her up and say, "Hi Liv, how are you doing today? Do you feel like meeting for lunch?"
On the anniversary, 5 July, every year we go out somewhere in London for lunch and have a slap-up meal, starting off with a glass of champagne.
It's because of having donated this kidney that I became a blood donor and then subsequently a platelet donor. While I was lying on the bed at Edgware General Hospital with a needle in my arm donating platelets, I read an article about Anthony Nolan in a magazine and decided to volunteer. That's how I became a courier.
Peter Hodes spoke to Newsday on the BBC World Service.
Follow @BBCNewsMagazine on Twitter and on Facebook