Been and gone: Man who inspired Steve McQueen's character in The Great Escape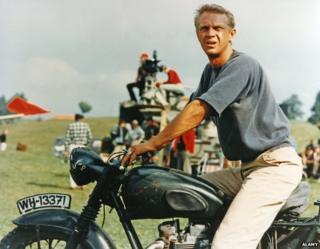 Our regular column covering the deaths of significant - but lesser reported - people in the past month.
The stunning underwater images captured by cameraman Peter Scoones wowed viewers of BBC natural history programmes such as Blue Planet. He took the first ever shots of a great white shark while swimming freely in the sea, rather than from the safety of a cage, and he got up close and personal with a variety of creatures including alligators and piranhas. His underwater pictures of elephants swimming in Africa were examples of his stunning work. Scoones began his career working on imaging equipment for the offshore oil industry and he was famous for inventing and modifying bits of kit in order to get even better pictures. He was particularly fascinated by coral reefs and refused to eat any fish that were native to them. His knowledge of the ocean impressed Sir David Attenborough. "He knew fish so well he could sense what they were going to do. He moved as the fish moved."
The film Rabbit-Proof Fence, was based on a book by Doris Pilkington Garimara, who was herself one of the Aboriginal children forcibly removed from her family by the Australian government. She was taken to the notorious Moore River Settlement which had been set up in 1919. As such she became one of the so-called Stolen Generations, a victim of a policy that continued until the 1970s. She would not see her mother again for 25 years. Garimara went on to train as a nurse but, years later, discovered that her mother had also been sent to Moore River at the age of 14. She had escaped with two other children and walked 1,500 miles home alongside a fence. Their story formed the basis for the book, Follow the Rabbit Proof Fence.
William Ash provided the inspiration for Steve McQueen's character in the film, The Great Escape, but his own story was much more exciting. Born in Texas, he found himself riding the rails as a hobo in Depression-era America. At the outbreak of war, having got into a fight with US Nazis, he crossed the border into Canada and enlisted with the Royal Canadian Air force. He was eventually sent to Britain where he flew Spitfires over occupied France. Shot down in 1942 he was arrested by the Gestapo and incarcerated in the Stalag Luft III POW camp. There he proved one of the most ingenious escape organisers but was always caught. He was in solitary confinement when the so-called Great Escape took place. It probably saved his life as many of the escapees were shot on Hitler's orders. After the war he gained British citizenship and joined the BBC where he worked with Tony Benn. He became a founder member of the Communist Party of Britain (Marxist-Leninist).
Jack Henry Moore was the archivist for the counterculture movement of the 1960s. A pioneer of sound and video recording, he was also an events organiser, director and producer at the heart of many of the psychedelic happenings of the time. He was instrumental in the opening of London's UFO venue where he recorded thousands of hours of video and sound at all-night sessions by bands like Pink Floyd and The Grateful Dead. This was especially useful for those who may have been there but, due to the ingestion of certain substances, might have struggled to remember. Away from the music scene he co-founded the underground newspaper, the International Times, and staged many theatre productions including Joe Orton's Loot. Towards the end of his life he found himself living in financially straitened circumstances in Paris. He had already penned his own epitaph. "Penniless artist dies alone in Paris. This is hardly news."
Tony Marriott created No Sex Please, We're British, which became the longest running comedy in the history of the West End. Despite a panning by the critics when it opened - one paper referred to it as "forlorn porn" - it went on to run for 16 years and more than 6,000 performances. This came as something of a shock to its creator who had hoped it might last six weeks. The show's original investors saw a return of 6,000%. Despite the title, it was a harmless production in the true tradition of British farce. However, that was lost on Eastbourne Council who banned a touring version from coming to the town. The play launched the career of Michael Crawford and featured other well known actors including Anthony Valentine and Avengers girl Linda Thorson. Marriott cut his writing teeth as a TV scriptwriter on programmes as varied as Fireball XL5 and The Avengers.
Phil Hardy was one of a new breed of journalists who, in the 1960s, adopted a more serious approach to the coverage of rock music. He was one of the driving forces behind the scholarly Encyclopaedia of Rock, which meticulously documented a roll call of the genre's artists and became the bible for any self-respecting music fan. In 1986 he set off to Africa to make a documentary called Food, Trucks and Rock 'n' Roll, which examined how the money raised by Band Aid was being spent. For many years he was the respected editor of Financial Times' Music & Copyright, a music industry trade journal that encouraged many companies to see investment opportunities in the rock music business. Latterly he had begun writing a series of books on various aspects of the music industry, drawing on the wealth of research he had done over the past five decades.
Among others who died in April were:
Margot MacDonald, veteran Scottish politician
Micky Rooney, Hollywood child star
Bob Hoskins, actor: Pennies from Heaven and The Long Good Friday
Mark Shand, conservationist and travel writer
Rubin Carter, US boxer wrongly convicted of murder
Julian Wilson, BBC racing broadcaster
Sue Townsend, author of the Adrian Mole books.
Follow @BBCNewsMagazine on Twitter and on Facebook