The 18th Century four-minute mile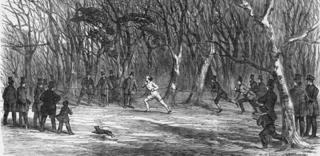 Roger Bannister was credited with being the first person to run a mile in under four minutes - but 18th Century runners are reported to have got there first. Why are they not recognised?
It was 9 May, 1770 when James Parrott, a costermonger, stood at the Charterhouse wall on Goswell Street, London. He was getting ready to run. For money.
A wager had been made that Parrott could not run a mile in under four and a half minutes. If he could, he stood to win 15 guineas - a substantial sum for a man who may only have earned around 50 guineas a year selling fruit and vegetables from a street barrow.
With money on the line, it's likely that umpires on both sides carefully checked the watches, locked them in a box to prevent tampering, and placed them in a horse-drawn carriage that would make sure they reached the finish line ahead of the runner.
After the signal was given, Parrott was away, turning briefly up the narrow confines of Rotten Row before emerging onto the flat, wide open space of Old Street. Legs pumping, heart pounding, he ran its length almost all the way to the finish, a mile away at the gates of Shoreditch Church.
The result was reported in the Sporting Magazine of 1794:
"1770 May 9th, James Parrott, a coster-monger, ran the length of Old St, viz. from the Charterhouse- wall in Goswell Street, to Shoreditch Church gates, (which is a measured mile) in four minutes."
It's the first known report of a four-minute mile.
On another May morning 244 years later, Peter Radford retraces James Parrott's steps.
Today, estate agents and kebab shops line the route. A massive roundabout has been added. But St Leonard's Shoreditch, home of the bells of Shoreditch from the famous nursery rhyme, still looks much as it would then, although these days it's perhaps best known from the BBC sitcom Rev.
"The ghost of it all is still here," says Radford. "All of the new buildings are clustered around the road which is exactly the same as it was then, with the same bends and twists and turns and width as it was then."
Radford is a retired professor of sports science, and also bronze medallist in the 100m and 4 x100m sprints at the 1960 Rome Olympics. He has a passion for runners from the past, and it's largely thanks to him that we know of the achievements of James Parrott and others like him.
He's collected more than 600 records of running races from the 18th and 19th Centuries, revealing a rich culture of running and athletic achievement.
"Women did it, men did it, young men did it, old men did it, fat men did it," Radford says. "Sometimes for a wager someone would say, 'I can run two miles in XYZ time while eating a chicken'."
Among those records there are further intriguing hints that the mile may have been run in under four minutes.
On 22 December 1787, the Oxford Journal reported that a man named Powell, a plater from Birmingham, had been wagered the huge sum of one thousand guineas that he could not run a mile within four minutes. No report survives of the final race, although the paper does say that Powell ran a trial in four minutes, three seconds, and continues: "He ran entirely naked, and it is universally believed, that he will win the wager."
Then in 1796, the Sporting Magazine reported that a young man called Weller, one of three brothers, "undertook for a wager of three guineas to run one mile on the Banbury road, in four minutes, which he performed two seconds within the time." In other words, a mile in three minutes, fifty eight seconds.
From a modern perspective, it's natural to assume that the further back in time we look, the slower people were running. We also have the benefit of distances measured to the millimetre and times recorded automatically to a hundredth of a second.
So when confronted with stories of naked, chicken-eating runners, and reports of races published decades after they took place, it's easy to dismiss the old times as errors or tall tales.
But Radford argues that at the time of Parrott's run, agricultural chains would have been able to measure the distance to within a few inches. And, by the late 18th Century, the best watches were extremely accurate. Even a watch that lost five seconds a day could still time a mile to within a second.
Crucially, the culture of wagers gave everyone a strong financial incentive to get it right.
"The two parties agreed that there hadn't been any advantage taken by one side over the other," Radford says. "It's not like a diary entry where somebody said, 'I did so and so' and they could make up whatever they wanted."
But any individual result could always be compromised by dodgy technology or dishonest or inaccurate reporting, so Peter Radford has applied the tools of statistical analysis to all of the hundreds of results he's collected.
"It's only when you look at them and gather them together that you begin to see the patterns emerging," he says.
Very broadly, his method is to take the best results in any given era over a range of distances and plot them on a graph. Results that are suspect stand out and can be discarded, and those that remain can be seen as more reliable. You can also extrapolate from the times at other distances to see what the 'physical culture' of the time might have been capable of achieving over the mile.
"You begin to see that they're not a random collection of oddball times and distances, they have an internal mathematical logic to it. The argument increases in strength all the time that there were some quite extraordinary athletes in the 18th Century."
Radford recently ran the numbers based on all the races in the period covering Parrott's run. Factoring in the margin of error, the best possible one-mile time would be anywhere between 4m 13s and 4m exactly.
Radford, himself, appears surprised by Parrott's reported time. "The gods of mathematics (and athletics) are playing games with us," he says.
But behind the athlete's excitement, there's the professor's more scholarly caution. "The analysis has of course answered no questions," he says, "but has simply made the debate even more intriguing."
So where does this leave Sir Roger Bannister's famous run of 6 May 1954? What does Sir Roger himself make of the idea that a costermonger might have got there before him, in the 18th Century?
"It's inconceivable," he says. "Without the modern measurement of tracks and stopwatches that are reliable, there was a lot of guess work in terms of the distance run and I don't think any of these claims are credible."
But for former Olympic sprinter Peter Radford, the comparison with Bannister is not the point.
"I suppose it's trying to understand where I've come from, to try to understand the history and culture of what drove me," he says.
"For me the runners of the 18th and 19th Centuries are part of my sporting family tree, and I think they've been overlooked for a long time and I want to understand them better."
Follow @BBCNewsMagazine on Twitter and on Facebook