Teen scores another victory against soft-drink makers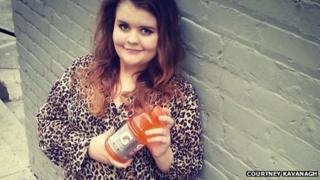 A Mississippi teenager launched an online campaign to push beverage giants Coca-Cola and PepsiCo to remove a potentially harmful ingredient from their sports drinks. She pauses between high school classes to talk to the BBC about her success.
Sarah Kavanagh, 17, didn't like what she saw on the label of a sports drink. So she collected signatures on a petition. Eventually PepsiCo and Coca-Cola changed their products, though neither acknowledged her pressure played a role in the moves.
After playing frisbee with her brother one afternoon in 2012, Sarah went inside their house in Hattiesburg, Mississippi, and grabbed an orange Gatorade out of the refrigerator.
Then she saw something strange on the label - brominated vegetable oil.
She looked online and found that the substance was used to stop flavourings in drinks from separating - and to make sure the drinks have a nice, fruity flavour.
Then she read more. As she learned, chemical companies patented the additive as a flame retardant. People who binge on the drinks could have problems with nerve disorders, according to an article by Environmental Health News and republished in Scientific American.
"I was like, 'Uh-oh,'" she says.
As a vegan - in Mississippi, no less - she was upset by her discovery. But she was not the only one concerned. The European Union and Japan have banned the substance in food and drinks.
She started a petition on Change.org, alerting people about the substance in the drink. She wanted executives at PepsiCo, which makes Gatorade, to change their ingredients.
Like many people in Hattiesburg (population 48,000), she had a personal connection to the company. Her mother, Carol Kavanagh-Powe, had worked as an office coordinator in a PepsiCo distribution centre.
"Luckily," says Sarah, "she stopped working there right before."
Eventually, the Change.org petition gathered more than 200,000 signatures. Still, she was taking on a big opponent.
A December 2012 New York Times article described her campaign in admirable terms, but said it was "quixotic".
A month later a PepsiCo spokesperson said the company would replace brominated vegetable oil with sucrose acetate isobutyrate, which is used in countries around the world.
"It looks like we proved them wrong," she says, referring to the New York Times.
A spokesperson for PepsiCo told the Chicago Tribune the company had already planned the change. In other words, Sarah's campaign did not inspire them.
"I feel like it's a bit suspicious. They should have brought that up earlier," Sarah says. "But what can you do?"
Soon she appeared on NBC's Today show, and the mayor of Hattiesburg, Johnny DuPree, gave her a key to the city in a ceremony.
"I don't think she set out to be famous," he says. "I think her goal was to make life better for people. That impressed me."
Like other campaigners, she pursues her work with passion. In her case, though, it is only part-time. On Tuesday she spoke with the BBC on the phone at Hattiesburg High School, where she is now a junior.
In the background there is loud clang.
"Oh, sorry," she says. "That's the late bell."
She is on a debate team and recently went to the state championship in Jackson. Her topic: development programmes in India, and whether development should emphasise economic or environmental concerns.
"We definitely went the more environmental route," she says.
Her mother now works at a furniture store, and her father, Brendan Kavanagh, used to own a store, Brendan's Comics, in town. Her brother, Peyton, is nine, and her sister, Courtney, is 23. (She is married and has two children of her own.)
After PepsiCo removed the substance from some of their drinks, Sarah started another petition. She wanted to convince executives at Coca-Cola, which makes Fresca and other products, to drop the substance.
On Monday, a Coca-Cola spokesman said the company would stop using brominated vegetable oil and replace it with sucrose acetate isobutyrate or glycerol ester of rosin, which is found in chewing gum.
Josh Gold said brominated vegetable oil, or BVO as it is known, is safe.
"All of our beverages, including those with BVO, are safe and always have been - and comply with all regulations in the countries where they are sold," he says.
They are switching out the ingredients not because of Sarah's campaign, he says, but because they want the ingredients to be consistent "throughout the world".
"That's why we're making the change," he says. "That's it."
Another success, she says.
She will graduate from high school next year and hopes to study international relations at University of Mississippi. Afterwards, she says, she would like to live in London or Paris.
In the meantime she may run another campaign.
"Who knows," she says. "If I find out about another ingredient that isn't healthy, then, yeah, another petition is definitely possible."