Against the odds – the quadruplets born to refugees fleeing their home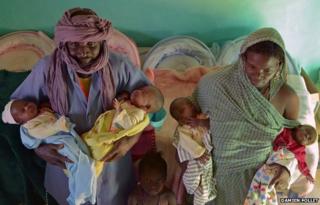 Having quadruplets is never easy - but imagine trying to look after four new-born babies in a refugee camp.
In January 2013, Massaya Ag Iliyass, a farmer from Mole in central Mali, and his wife Taghri Walet Tokeye, gathered up their six children and a few blankets, and fled. Three of the children could walk - the others had to be carried. A friend had lent them a donkey and the younger children took turns sitting on its back.
They walked for five days and five nights. "It was a very long way and exhausting," says Massaya. "We had to walk slowly so we wouldn't tire them out, and we rested as much as we could."
Half the village fled at the same time. "There was no food - all the shops and markets were empty," says Taghri.
They were fleeing both soldiers and Tuareg rebels. "Among them there are a lot of bad people, who rob people of their possessions and attack them," she says. "If they wanted to have one of our animals and we refused, they might kill us."
Their destination was Mbera refugee camp, just across the border in Mauritania. They were part of a wave of 15,000 refugees that arrived in the camp that month alone.
When they first arrived, conditions were harsh. Some 60,000 refugees were trying to survive in 50C (122F) heat in the middle of the desert. There were shortages of water and food.
Taghri soon realised she was pregnant but it felt different to her other pregnancies. "I could feel I was bigger," she says. "So I knew there was something more to it." An ultrasound revealed she was expecting quadruplets.
When asked how that made her feel, Taghri laughs for a long time. "It was very good news to hear that," she says eventually.
The medical staff in the camp were very excited. "In my whole life I have never come across quadruplets," says Dr Kasonga Cheride, the surgeon from the charity Medecins Sans Frontieres (MSF) who looked after the family.
Despite the tough conditions, being a refugee probably saved Taghri's life. "If we hadn't been there, she would definitely have died, and the children too," says Cheride. Two of the babies were in the breech position so they had to be delivered by caesarean section at the MSF operating theatre in Bassikounou, 17km away.
A quadruplet pregnancy is always high-risk and requires careful planning. Early delivery by elective caesarean is common practice to prevent an emergency situation - such as the mother going into labour far from medical help.
Taghri's pregnancy was allowed to continue for as long as possible but at 35 weeks - five weeks early - the babies were born.
"The atmosphere was one of joy for everybody," says Cheride. "It was the first time any of us had been faced with quads, so there was great curiosity… the best moment for me was when we got all four babies out safely and in a good state."
"I felt no pain at all," says Taghri who had an epidural anaesthetic and was awake throughout. Nobody cried - apart from the babies.
There is no doubt that the quads have a special place in the hearts of the medical team. Cheride reels off their vital statistics as if they were the only babies he'd ever delivered. They were a promising weight at birth, between 3lb 15oz (1.8kg) and 5lb 6oz (2.45kg) - the average weight for quadruplets in the UK is 3lb 1oz (1.4kg).
Massaya, the father, wasn't there for the delivery - he was out herding sheep - but came as soon as he could. "I felt extreme joy," he says. "I was very happy - so happy it's difficult to express in words."
Taghri managed to breastfeed. "It wasn't very difficult because I'm used to it," she says. "But the nurses really helped and did some bottle feeding on top."
Cheride says MSF has done everything it can for them to grow big and healthy. "Obviously they are special, and our hope is that we can see them grow up. That will give us great pleasure."
Three boys and a girl, the quads are now four months old and still healthy - they weigh between 10lb 6oz (4.7kg) and 13lb 14oz (6.3kg).
After four months of special care, the family has now left the medical centre and returned to the refugee camp. It is challenging. The parents and their 10 children live in one swelteringly hot tent.
"There is someone who helps with the children but it's very difficult to sleep at the moment," says Taghri.
Two of the quads, Fatim and Oumar are very calm, says Massaya. "However the other two, Ousmane and Aboubakrine, are very naughty - they cry a lot and only calm down when someone holds them in their arms."
The six older siblings seem happy with the babies and carry them around. Taghri is unsure of her other children's ages. "All we know is when we had our first son."
"The only thing that would help us would be finding work," says Taghri. "My dream would be to open a shop." She used to be a seamstress but no longer has any equipment - although it's hard to see how she would get the time to sew, with four babies and six children to look after.
Massaya goes out to work when he can but this presents problems too. "When I'm not in the camp I can't apply for food rations," he says. Luckily they are not alone. "We have some really good neighbours who look after my wife and children."
But his outlook is still bleak. "I don't have much hope for the future of my children. At the moment I really have nothing so I can't hope for any future for them," he says.
The UN refugee agency (UNHCR), which runs Mbera camp, is working to change that. "We don't want refugees to be dependent on aid," says Elise Villechalane, a UNHCR spokeswoman in Mauritania. "We are trying to encourage income-generating activities such as a factory making cooking stoves. We also promote vocational training and provide them with kit such as a sewing machine."
Only one of Massaya's children goes to school, and Villechalane acknowledges that too few children are getting an education in the camp - just 40% are in primary school. But plans are afoot to improve access to secondary and even tertiary education.
A curriculum has been developed for the Mbera refugees based on the Malian education system. "It is encouraging because it means they are preparing to return to Mali," says Villechalane. However the Mauritanian education authority advised including two subjects in Arabic to give refugees the opportunity to integrate in their host country, just in case they stay.
Although the stream of refugees into the camp has been reduced to a trickle, continuing tensions in northern Mali mean that not many are returning home just yet.
Massaya can't imagine going back at this point. "We have to accept that we are living in a camp and that we are refugees," he says. "We carry on."
Taghri and Massaya spoke to Outlook on the BBC World Service. Listen again on iPlayer or get the Outlook podcast.
Follow @BBCNewsMagazine on Twitter and on Facebook