Sylvia Plath and Ted Hughes's daughter Frieda: Why I'm becoming a counsellor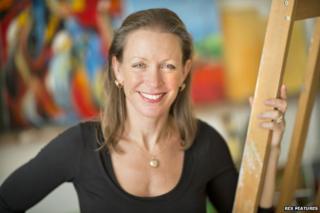 The painter and poet Frieda Hughes, 54, daughter of Sylvia Plath and Ted Hughes, has decided to train as a bereavement counsellor following a series of losses - her mother killing herself, her father dying of cancer, and later, her brother Nicholas also taking his own life. How do people cope with tragedy?
Frieda Hughes lives in rural Wales, where she rescues birds - crows, magpies and birds of prey. In her poem The Trouble With Death... she describes how her distress at burying a dead crow suddenly brings back all the other losses in her life - the deaths of her parents and brother, as well as the end of her marriage.
Months later, my marriage/Already rotting on its acrimonious stalk/ Follows him into the ground/And my brother too, who couldn't wait to leave
Following this devastating series of events, she describes her inner life as a wasteland.
Now my internal landscape is little more/ Than a bone yard
"You don't realise how people give you purpose in life until you lose them," Hughes says. "Anybody who has ever gone through a marital break-up knows that invitations often stop coming." Then, four months after the end of her marriage to artist Lazlo Lukacs in 2009 - and the loss of friends, comfort and structure it brought - she lost her brother Nicholas. "After the suicide of a sibling people don't know what to say," Hughes says. "They might want to commiserate, but they're afraid it might perpetuate your grief."
These losses in quick succession resulted in a degree of social isolation, not helped by Hughes's rural life and solitary job. "Because people didn't know what to do with me the phone stopped ringing," she says. "I realised that if I stayed at home painting and writing I could actually disappear. If I dropped dead on the floor nobody would know for weeks - or months come to think of that."
Part of her motivation for becoming a counsellor was to get out of the house and be among people - and on a practical level, it's something she can fit around her painting and writing. She is part-way through a four-year course in person-centred counselling and volunteers for Cruse, the bereavement charity. As part of her training, Hughes has had to go through counselling herself, something she had not done before. "So far I've always been able to identify my own answers," she says. "I've asked myself some really difficult questions and faced unpleasant truths. I need to be my own work."
And yet, for many years she would cry at the drop of a hat. "I would sit with a box of hankies watching the 10 o'clock news," she says. "I wanted to find out what triggered me into this weepy state - I thought it was a combination of sympathy and empathy because there are so many losses I can identify with." The answer was more prosaic. "I found out it was large dose of self-pity. I've always thought self-pity is a bit of a weakness and I've learned that it's not. I don't think we'd be human if we didn't have the capacity for self-pity."
Hughes was two years old when her mother, Sylvia Plath, killed herself at the age of 30 in 1963 - she and her one-year old brother Nicholas were in another part of the house at the time. "I have a couple of memories from before and I have some memories from after," she says. "And if I would be able to get back any memories in between I think I'd probably rather not."
When asked what it means to her now, she answers very simply. "It simply means I lost my mother at a very young age," she says. "Nobody would wish that on a child and I think that she must have been desperately unhappy to want to leave us. But at the same time, I suppose you could call it a thought of survival, I think of being given a life of my own."
Despite her grief, Hughes says she never felt angry at those who died. "Never that, because that would seem unfair," she says.
A suicide in the family is something some might want to keep to themselves, but that has never been an option for Hughes. Shortly after her brother's death a journalist asked her: "Do you now want to kill yourself?" Despite the crashing inappropriateness of the question, she replied honestly. "It makes me want to live - with more force and energy and verve."
The theme of making the most of her life returns again and again. "One of the things that I feel very strongly, and that my mother's suicide and my brother's suicide make me feel deeply was to live well," she says. "To do the best I can with what I am. So that in a way I do them justice - somebody has to make it worthwhile, somebody has to try. Otherwise what's it for?"
She could have been forgiven for trying to get away from death rather than further into it, but she is grateful to have been able to work through her own grief. "I've been angry at injustice on occasion but that really doesn't serve any purpose - so I have to somehow talk myself out of that," she says. "Those are probably the magic words - talk myself out. I was fortunate enough to do that and I hope I can go on doing that."
Hughes talks of wanting to be useful, and of putting something back. "In spite of my history I do feel very lucky," she says. "I don't believe that I'm a basket-case. I feel very happy at where I am now. It's been a long journey and there's a lot longer to go - I hope a lot longer to go."
Although she channels her life experiences into her work, Hughes says she uses painting and poetry very differently. "I'm able to examine my emotions through my painting and my thoughts through my poetry," she says. "I can rant in a painting - my abstracts are emotional landscapes - but if I rant in a poem people will stop listening."
Growing up with Ted Hughes, his poetry was never foisted upon her. "It was simply a life with a father," she says. "But I did get to the point where the word poet was synonymous with the word parent. It was not a conscious thing, I just remember seeing the word poet on a printed page and having such identification with it."
Hughes was presented with a dilemma when both her parents were subjects on her O-level syllabus. "My father was at home saying: 'Goodie, goodie, we can go through my poetry together,' and I had to say actually no we can't because that's called cheating." She realised she was damned whether she accepted his help or not. "If I had his help and the examiners disagreed with his interpretations of his own work I could be in real trouble." Eventually she was given special dispensation to study two different poets, for which she was grateful.
As a teenager, poetry came naturally to Hughes. "I wrote poetry as if it was coming out of a waterfall - it was like music in my head, words would pop into my head like other people hum a tune," she says. But that doesn't mean the 17-year old's poems were any good. Hughes recently met her English teacher from school, who remembered "96 very adolescent, grim miserable poems".
At the age of 24, Hughes stopped writing poetry because she didn't want the comparisons. "I decided I would get my head kicked in so badly by all those people out there who love to judge," she says. In fact, one of her very early reviews did say "she's like her parents". But as Hughes points out: "The big question is - which one? If they're both entirely different you can't have me being both - that's not literarily possible in the same poem."
She decided to concentrate on children's stories, and did that for 10 years. What brought her back to poetry was illness. In 1994, living in rural Australia, Hughes contracted ME - myalgic encephalomyelitis. The condition meant she was unable to read or concentrate, and her working day was reduced to four hours, in 20 minute stretches. "I wasn't really able to function in the real world - all I could do was sleep," she says. "The more I slept, the angrier I got at life passing by. So I tried to find a way to make myself less angry, and that was to be productive."
Hughes decided to do "what came naturally", and scribbled poem after poem in her waking minutes. She decided her fear of being judged for her poetry was a waste of time. "When I'm dying will I be satisfied in saying - I've pleased an awful lot of people I never met by not realising my full potential?"
She is in a good place now, despite a life marked by tragedy. "It has pointed out the options to me, if you like," she says wryly.
Hughes's need to be productive, to create, is a theme she returns to again and again. "It's that thing of new beginnings. I believe in taking raw materials and propelling ourselves through life with some sort of will and joy, wanting to make things and not wanting to accept our miseries - fighting for the future in a very wonderful way, in a very happy way.
"Ever since I was a child, and even before I knew my mother had committed suicide, I've always been conscious of the fact that we have a finite period of time," she says. "I'm always rather puzzled at people who seem to think they're immortal."
The Trouble with Death... by Frieda Hughes is from the collection The Book of Mirrors (Bloodaxe Books 2009)
Frieda Hughes spoke to Outlook on the BBC World Service. Listen again on iPlayer or get the Outlook podcast.
Follow @BBCNewsMagazine on Twitter and on Facebook