Even Ulan Bator has Irish pubs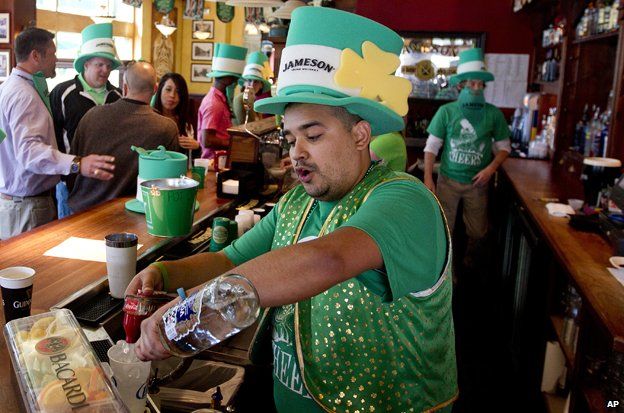 Over the past two decades Irish pubs have proliferated around the planet. Now there are warnings their growth is being halted. How did the Gaelic-themed drinking establishment take over the world?
Stroll through the centre of almost any international city where the sale of alcohol is permitted and sooner or later you'll find one. There will be horseshoes on the walls, the Pogues on the jukebox and road signs pointing you towards Dublin and Donegal.
Above the front door, the name could be O'Rourke's or Donnelly's or the Temple Bar. The windows are likely to be stained glass and the Guinness is invariably chilled. Outdoors might be Lagos or Lima but, in the heads of the clientele, this is Connemara in 1953 and each of them is Brendan Behan.
To aficionados the Irish theme bar is the imagining of a cosier, simpler era, or at least a guaranteed place on foreign soil that serves pints and shows the rugby. To critics it is a cliche, a byword for tweeness, ersatz authenticity and mass-manufactured faux-heritage.
Either way, it has undoubtedly proved a hugely popular template, not to mention a reliably successful business model.
Since the early 1990s its signifiers - the retro Guinness Is Good For You posters, the sepia-tinted photographs of Joyce and Wilde, the exhortations to enjoy the "craic" - have found their way into an estimated 7,000 establishments around the planet.
Hence the existence of O'Reilly's in Bangkok, Thailand; O'Malley's in Shanghai, China; Finnegan's in Baku, Azerbaijan; and the somewhat less conventionally-titled Grand Khaan Irish Pub in Ulan Bator, Mongolia.
Now there are warnings that the archetype's progress is being arrested. In New York, reports warn that the city's Irish-American bars are closing down in increasing numbers.
Rising rents and changing tastes - a move to craft beer over mass-produced stout - have been blamed for the decline. In Ireland itself, some 959 pubs shut between 2007 and 2012.
In less saturated markets, the picture is quite different. This year new Irish bars have popped up in Atlanta, Dubai and Vancouver. In places where Guinness is popular, particularly Nigeria, they are unlikely to fall out of favour.
"It's an issue of supply and demand - Irish pubs are doing well in places like Toronto where they are seen as upmarket places to go," says Chris Wisson, drinks industry analyst with Mintel.
In the UK, however, "you don't see them as much as you used to - a lot of pub drinkers are looking for something a bit less identikit, something that is tailored to their local area, which is why craft beer is doing so well".
In particular they thrive wherever one finds expats - not necessarily Irish, or even Anglophone ones, but communities of exiles who perhaps relate to the folk memory of Ireland's diaspora on some level, and on another are looking for somewhere to down Smithwick's and watch Liverpool or Manchester United.
It might feel like these establishments have been around forever. But while bars run by Irish expats had existed for centuries, to all intents and purposes, the Irish theme pub as we know it on today's High Streets dates back to 1991.
That was the year in which the Irish Pub Company was formed by Mel McNally, a Dublin architect who recognised that an upswing in Ireland's tourist numbers would create a market abroad for an Irish-style drinking experience. His enterprise was backed by Guinness, which recognised the potential boost to its own exports.
IPC's designers offered to fit out Irish pubs abroad in one of four basic styles - the "country", a cottage-like room with stone floors and wooden beams; the "shop", intended to resemble a bar which doubles as a hardware store or pharmacy; the "brewery", with cobbled floors and upturned tables; and the "Victorian", an ornate interior fashioned after Dublin's grander hostelries. There later came the "Celtic", which saw Gaelic-style swirls and patterns carved into wood.
The pubs were encouraged to put on Irish traditional music sessions, serve Irish food and - above all - employ Irish staff wherever possible, a task that became easier in recent years as Ireland's economic crisis fuelled emigration.
The formula was simple - and much-imitated by corporations such as Bass, which launched the O'Neill's chain in the UK in 1994 - but in business terms it was hugely profitable. To date the company has designed over 1,000 pubs around the world.
"It's a style that encourages conviviality," says McNally. "People of all ages feel comfortable in an Irish pub, and it's female-friendly."
Oddly, the ersatz global version of the Irish pub has had a marked effect in Ireland.
St Patrick's Day was a relatively sedate occasion in Ireland until Irish-Americans effectively brought back their version of it as a green-bedecked orgy of drinking. And it wasn't long before pubs in Ireland started to undergo refurbishments to look more like their overseas spin-offs, lest tourists be disappointed that they weren't authentically Irish enough.
Not everyone back home was impressed. In a 2003 essay on the "Irish Pub, Irish Identity and the Tourist Eye", sociologist Mark McGovern argued that such pastiches were rooted in an English Victorian representation of the Irish as a romantic, pre-modern "colonial other" whose dissolute "alcohol-centred identity" was set apart from contemporary European civilisation. McGovern also warned tourist consumption was mutating traditional Irish pub music sessions from collaborations in which everyone in the room would do a "turn" into a performance with a rigid musician/audience divide.
Even some of those who have done very well out of wages and tips from the theme bar boom occasionally find the representation of their national culture in terms of fiddle music and bicycles hanging from walls slightly embarrassing.
"I would cringe if it wasn't for the fact I was making so much money out of it," says Co Waterford-raised Niamh Griffin, 27, who has worked in Irish bars in New York and Paris, and plans to head to Berlin this summer confident in the knowledge her accent will secure her work.
For those who run them, however, it's not the decoration or the music or even the Irish connection that makes them so consistently well-frequented.
"It's like a comfort zone," says Bernard McCune, 43, who runs Bernie's Irish Pub in Ho Chi Minh City, Vietnam. The essentially soothing atmosphere - eased by the provision of Tayto crisps and Barry's tea - is what leads even non-Irish people to seek them out.
"That's why people look out for an Irish bar," he adds. "There's no pressure about it - you can get a good cold beer and some comfort food."
And if you ask the barman nicely, he'll usually turn up the speakers when the Pogues start playing.
Here is a selection of readers' pictures.
Related Internet Links
The BBC is not responsible for the content of external sites.