Why is it taking so long to reform Mexico's dysfunctional schools?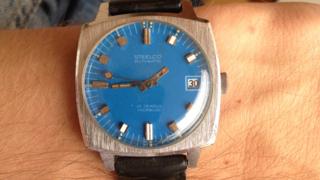 Violence, bullying and poor teaching are rife in Mexico's schools - but how long will it take the government to reform the crumbling education system?
I'm wearing the education minister's watch - a rectangular stainless-steel automatic on a thick black strap, it has a bright-blue dial and orange tips on the hands.
Clearly a timepiece from the 1970s, I found it at a now-defunct flea market near my apartment and bought it from a second-hand watch dealer for about $65 (£40).
Finding and restoring old watches is a bit of a geeky hobby of mine, and I've bought watches as mementos from several Latin American countries I've lived in. This square blue one is my Mexico watch.
The reason I know it once belonged to the education minister is engraved on the back. "To our friend, Emilio Chuayffet Chemor", it reads. It's dated "19th July 1974" and signed "Lucero and Polo".
When I bought the watch shortly after I arrived in Mexico, in 2011, I didn't think too much about the engraving.
I figured it was a nice detail which gave it character. Much to my embarrassment, I certainly didn't know then who Emilio Chuayffet was - at that time the president of the lower house of Congress.
Within the year, the PRI, the party of which he has been a long-standing and loyal member for decades, had retaken the presidency and Mr Chuayffet was named by the president as the man tasked with trying to overhaul the country's dysfunctional and crumbling education system.
It is no small task - Mexico has the poorest education results of any country in the OECD. The problems are widespread and entrenched - teachers belonging to the powerful SNTE union refused for years to undergo even basic aptitude tests.
They can buy and sell their positions as public officials or even bequeath them to their children. Nepotism, corruption and inefficiency are commonplace in Mexican schools.
Recently, for example, it was revealed that 1,440 teachers in the state of Hidalgo were all registered with the same birth date of 12 December 1912, making them 102 years old. Meanwhile, 70 teachers earn more than the president.
Recently, however, Mr Chuayffet has had a new problem on his hands. The headlines in Mexico have been dominated by stories of bullying, after a 12-year-old boy, Hector Alejandro Mendez, was killed in the north-eastern state of Tamaulipas by his classmates.
Hector went to school as normal that day at the General Secondary School Number 7 in Ciudad Victoria but in his final class of the day - as it would turn out, of his life - several boys began picking on him, apparently unhindered by the teacher.
In the playground after class, the verbal abuse spilt over into violence. The children grabbed Hector Alejandro and subjected him to what's called "el columpio", the swing.
He was trussed up by his hands and feet, and swung into a wall repeatedly, his head bashing into the brickwork over and again. When he blacked out and the children ran off, his parents allege he lay there receiving no medical attention for several minutes.
That lapse was crucial as he suffered a cranial haemorrhage and was eventually rushed to hospital. After several hours in a coma, he was declared dead in the small hours of the morning, as his desperate mother, Rebecca, tear-stained and confused, explained to the press waiting outside.
Since then, every day has seen more examples of extreme violence and bullying in Mexican schools brought to light. So much so, President Enrique Pena Nieto, on a visit to Tamaulipas, said: "Lamentably this is not an isolated case."
He said he had ordered his education minister, nodding towards a pensive-looking Mr Chuayffet, to "define the educative model for the entire country" and to "combat this harassment" in schools.
That "educative model" involves wholesale reform which, to its credit, the government has managed to get through parliament.
But despite assurances that it would begin to subject teachers to regular assessments, normalise standards and improve discipline across the board, little has changed to date.
The reforms remain embroiled in dispute with the second-biggest teachers' union in the country and ongoing protests, strikes and walk-outs mean most Mexican pupils aren't doing any better today than they were three years ago.
Since realising that I wear his name on my wrist every day, I have wanted to ask Mr Chuayffet about his long-lost timepiece and how it ended up in my possession.
Did he lose it? Was it stolen? Did he hit hard times and have to pawn it? Maybe he fell out with Lucero and Polo after 1974 and decided to sell their engraved gift to the highest bidder.
Whatever the story, my requests to interview the minister have gone unanswered.
In the meantime, I intend to hang on to his bright-blue watch. As for his efforts to reform Mexico's education system, the clock is ticking down on his term in office - there too he is running out of time.
How to listen to From Our Own Correspondent:
BBC Radio 4: Saturdays at 11:30 and some Thursdays at 11:00
Listen online or download the podcast.
BBC World Service: Short editions Monday-Friday - see World Service programme schedule.
Subscribe to the BBC News Magazine's email newsletter to get articles sent to your inbox.