The day trip that devastated New York's Little Germany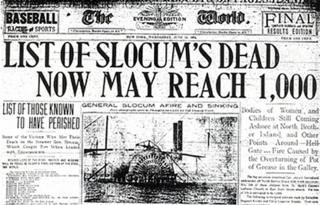 On a fine summer's day 110 years ago, more than 1,000 people died in a disaster in New York. It was a massive blow to the city's German community, which never fully recovered.
When I lived on the Lower East Side in Manhattan, I was sort of aware that there had been a German presence there.
Above a doorway, I spotted the words "Einigkeit Macht Stark" (Unity Makes Strength) engraved in the stone lintel above a door. And "Freie Bibliothek" (Free Library) above another. But it wasn't obvious, certainly nothing like Little Italy or Chinatown.
Then when I moved to Germany, the connection became clear.
The apartment in which I live in Berlin today could have been built by the same people who built the one I lived in on East 11th Street.
Five storeys. Letterboxes just inside the door. A central stairwell like an echo chamber. High ceilings.
New York imported the German system of living, not to mention German food. Think of hamburgers and frankfurters - a Berlin boulette is a burger by any other name. And American beer - brewed by Anheuser and Busch; and Schlitz.
But this past week, there's been another, more sombre connection. On 15 June 1904 - 110 years ago this week - New York's biggest loss of life until 11 September 2001 occurred.
More than 1,000 members of the German community in what was then called Kleindeutschland (Little Germany) died when a pleasure trip turned to tragedy.
For its 17th annual picnic, St Mark's Lutheran Church on the Lower East Side had chartered a paddle ship, the General Slocum, to cruise up the East River to Long Island where the trippers would relax and have fun.
But as the three-decked wooden vessel sailed past 81st Street, a fire started below deck in a lamp room full of oily rags.
According to reports, Captain William Van Schaick initially disbelieved the alarm raised by a 12-year-old boy.
When he did finally realise that there was a fire, he continued in the belief the blaze could be contained.
As it became obvious to the passengers that it couldn't, some of them jumped into the water and drowned.
The ship's lifeboats were in poor repair. Fire hoses were rotten.
Reports afterwards said mothers put lifebelts on children and lowered them into the water to see them drown in the swift current.
All told, 1,021 people drowned or died in the fire.
The account in the New York Times reminds me of the way 9/11 unfolded, with initially empty hospitals filling to beyond capacity through the day.
The day after the General Slocum disaster the paper reported "men bearing on stretchers victims of the disaster began to arrive at the Alexander Avenue Station. It was hoped at first that that place would be large enough to contain the dead".
The reverberations continued in Kleindeutschland, the area around what's now known as Alphabet City because of its Avenues A, B, C and D, a thoroughly German area at the time.
At one stage New York was the world's third biggest German-speaking city (exceeded only by Berlin and Vienna) and people stuck together - Prussians in one ward, Bavarians in another.
Hundreds of families in this tight community were bereaved and, after the disaster, the number of suicides rose.
There were rows about the relief fund, again to be echoed after 9/11.
A vibrant community confident enough to dress up in Sunday best and hire a boat to go on an annual picnic became downbeat and depressed. The magnet which kept people together had lost its power.
It's also true that World War One meant German communities made themselves invisible if they could. Kleindeutschland disappeared.
But there is one other trace of it left today.
In Tompkins Square Park, once at the heart of Kleindeutschland, is the Slocum Memorial Fountain, dedicated in 1906 and donated by the Sympathy Society of German Ladies.
It is a drinking fountain which still serves the thirsty, cool water pouring through a spout in the shape of a lion's head.
It's made of pink Tennessee marble and depicts two children looking out to sea.
It is a memorial to the dead of that day, of course, but I think now - from my home in Berlin - that it is also a tribute to the great contribution Germans made to the making of America.
The General Slocum
Built in 1891, the paddle steamer plied the East River to and from Long Island
Named after former Civil War general and New York Congressman Henry Warner Slocum
St Mark's Evangelical Lutheran Church chartered it for $350
In January 1906, Captain William Van Schaick was convicted of criminal negligence and given 10 years' hard labour - he was pardoned by President Taft in 1911
The Knickerbocker Steamboat Company and the firm's president, Frank Barnaby, were not punished.
How to listen to From Our Own Correspondent:
BBC Radio 4: Saturdays at 11:30 and some Thursdays at 11:00
Listen online or download the podcast.
BBC World Service: Short editions Monday-Friday - see World Service programme schedule.
Subscribe to the BBC News Magazine's email newsletter to get articles sent to your inbox.