#BBCtrending: #FreeAJStaff in numbers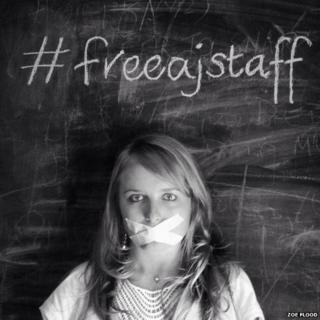 As three al-Jazeera journalists are jailed in Egypt, the global protest hashtag #FreeAJStaff has surged. Here is a breakdown of the numbers.
#FreeAJStaff has been trending on Twitter all over the world, with more than 50,000 tweets so far on Monday. An image posted by Amnesty International was the most retweeted.
There have been more than 273,00 uses of the hashtag in total on Twitter, and it's also been used on other social platforms - for example about 2,000 times on Instagram. Other protest hashtags have been used more, however - for example #BringBackOurGirls, calling for the return of kidnapped Nigerian schoolgirls, has surpassed 4.5 million uses.
Al-Jazeera themselves seem to have started the hashtag on August 21, 2013.
The name Peter Greste, one of the three men convicted today of spreading false news and supporting the now banned Muslim Brotherhood, was used over 10,000 times today on Twitter, with more than 60% of these posts coming from Australia, where he is from. Mohamed Fahmy and Baher Mohamed are the other two journalists being jailed.
Many of the messages of support came from other journalists and people in the media. Larry King posted one of the most shared images.
Reporting by Ravin Sampat and Mukul Devichand
You can follow BBC Trending on Twitter @BBCtrending
All our stories are at bbc.com/trending