World Cup 2014: Why US will conquer world football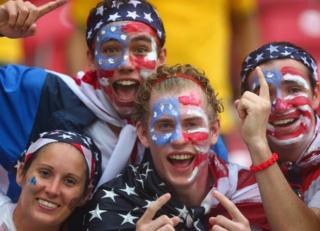 The United States did better than expected at this year's World Cup. But experts say that's just the beginning - bright times are ahead for the USA team.
It was called the Group of Death - Team USA's seeding for the 2014 World Cup saw them up against tough competition, with many analysts predicting the Americans would get pummelled from the first kick-off.
But they exceeded expectations by making it through to the knockout round, and losing 2-1 to Belgium in extra-time.
Although they got further in 2002, reaching the last eight, this time the team's never-say-die spirit earned them plaudits from across the football world.
Don't mistake this strong showing for a bit of dumb luck. Analysts say the US will be a serious competitor in future World Cup tournaments.
There are three factors necessary for football success, according to 'Soccernomics: Why England Loses, Why Spain, Germany, and Brazil Win, and Why the US, Japan, Australia - and Even Iraq - Are Destined to Become the Kings of the World's Most Popular Sport'.
Those factors are a big population, a strong economy, and a fervent fan base. For years, the US has had two out of three - a big population from which to draw top talent and the money to support a training infrastructure and elite football community. But with little interest from most Americans, talented athletes and top dollars went elsewhere.
In terms of football, the USA "was missing the know-how", says Simon Kuper, the book's co-author. "It was quite low, but it has risen very rapidly."
And thanks to the following five factors, the US can count on rising football fortunes.
1. Development
Until very recently, Team USA had a specific way for cultivating stars. "We would identify them at a young age and send them to a place called the residency program," says George Quraishi, founder and editor of the football magazine Howler.
From ages 14-18, the players would live together, train together and play together. It was an expensive proposition, and a risky one.
"It was basically saying we are going to place a bet on these players," says Quraishi, and stick with them throughout their careers.
Now the US has a system more like Europe's. Promising youth play in development squads for Major League Soccer (MLS) teams, creating a dynamic, deep pool of talent.
2. Recruitment
US coach Jurgen Klinsmann has made a big push to recruit American players raised in football-strong countries such as Germany.
Jermaine Jones, who scored against Portugal, is one of those recruits, and has been singled out by Klinsmann for the professional edge he brings to the team - something he gained by competing at an elite level in Germany for years.
"An American who lived in the US and developed here, likely went to college and was playing at a low level at the age of 22, when Jermaine Jones had been scrapping and playing against professional players since he was 16," says Quraishi.
And due to the growth of MLS, America is producing more top talent.
"In 2010 we had six players from our entire league competing in the World Cup, with four on the US team," says Dan Courtemanche, executive vice president of communications for Major League Soccer.
"This year, we have 22 players in the World Cup, 10 competing for the US.
3. Demographics
Demographers predict that by 2043, non-Hispanic white Americans will no longer be in the majority. Hispanic populations are on the rise, and with them the profile of football in the US.
Shifting demographics have also increased the amount of football on display for US audiences.
"US soccer is a large mosaic - people watch Mexican soccer or Salvadorian soccer. There are all sorts of things going on which the MLS is only one small part," says Kuper.
Among the millennial generation in the US, "soccer" is the second-most popular sport, after US football and tied with basketball, according to Courtemanche. Among those even younger - 12-17 - baseball and soccer are tied in popularity.
"The combination of millennial and immigrants bodes well for the future of soccer in our country," he says.
4. Experience
World Cups are won by teams with a lot of World Cup experience - this isn't a competition that yields surprise victors.
In Europe, good teams often don't make the cut - like Sweden this year - because they play in a more competitive qualifying group.
Team USA, playing in the less-competitive Confederation of North, Central American and Caribbean Association Football, doesn't have that same challenge.
"We would have to mess up big time not to make it," says Quraishi. And every time Team USA plays, they increase their institutional knowledge.
5. Globalisation
When he spent time in Los Angeles as a child, Kuper was practically cut off from the sport he loved.
"There was one soccer programme on once a week showing old European games," he says. "It was very hard for a child living in the US 30 years ago to know what good soccer looked liked,"
Americans can now access football via satellite, the internet, and global travel.
In 2014, "it's easy to follow Real Madrid and Manchester United," says Kuper, and with that, develop enthusiasm and understanding for how top football is played.
While Team USA can always be counted on to be organised and technically skilled, they often lack creative spark. That flair for play develops at a young age after watching, re-watching, and imitating the great moves of favourite players.
As Americans are exposed to good football more consistently, expect the next generation of professionals to not just know the game, but play it with style.