Margaret Bondfield: The undercover 'shopgirl'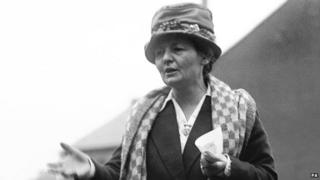 The woman who became Britain's first female cabinet minister started her working life as a "shopgirl". Pamela Cox tells the story of Margaret Bondfield.
Margaret Bondfield's politics began at home. The family lived in the Somerset village of Chard where her father, William, worked as a weaver and her mother, Anne, raised 12 children. Margaret was the 11th, born in 1873. Her father had a strong sense of social justice. Unusually for the time, he also believed in the rights of working women and encouraged his daughters to stand up and be counted.
When Margaret was 14, she left home and took up an apprenticeship in Mrs White's exclusive drapery in Hove. She was taught the detailed needlework skills needed for bridal dresses and babies' clothes. She enjoyed her work but more significantly also enjoyed weekend open-house gatherings at the Brighton home of local radical, Louisa Martindale.
In 1894, now 21, and like thousands of other young women, Bondfield moved to London to better her prospects in drapery. It was her wake-up call. This was a world far removed from Mrs White's and Bondfield was shocked. The long hours, low wages, poor diet and requirement to "live in" in often dismal dormitories were bad enough. It was not uncommon for a shop worker's shift to start at 8am and end at 10pm in the week and at midnight on Saturdays. Late night shopping was a Victorian invention, made possible by gas light, cheap labour and voracious consumer demand.
Bondfield was used to hard work. But she could not get used to being treated like a servant by well-heeled customers. She recalled an early encounter in her autobiography: "A very fine lady was extremely rude to me. I was not in a position to answer back." Like thousands of other shopgirls, she faced instant dismissal if she put a foot wrong or if the proprietor decided her face didn't fit. Standing just over 5ft tall, Bondfield often found that even if her face fitted, shopkeepers would refuse to take her on because she was "too short". Looking good was another common requirement in this business.
In 1898 Bondfield took the daring step of joining the newly formed National Amalgamated Union of Shop Assistants, Warehousemen and Clerks - most shopkeepers would sack staff on the spot for signing up. The union was one of many set up for "unskilled" workers in the 1890s in the wake of the shock success of the Bryant and May match girls' strike. But female membership was low. On the whole, unions were fighting for a fair wage for men with mouths to feed. In their ideal world, working class women wouldn't need to go out to work.
Bondfield set about recruiting fellow shopgirls, running the gauntlet by dropping leaflets behind counters. She remembers that one irate grocer "read a leaflet, tore it up and stamped on the bits", shouting: "Union indeed! Go home and mend your stockings!"
But while some shopgirls joined up, most didn't. Some considered themselves a cut above unions or preferred the pleasures of the music hall over speaker meetings after a hard week. Bondfield was exasperated by their "shallow snobbery" and "false gentility".
In 1896, Bondfield risked her livelihood to go undercover for the union and the new Women's Industrial Council, formed to improve women's working conditions. Writing as "Grace Dare", she penned secret reports by candlelight in the drapers' dormitories she shared with other shopgirls. The reports were published by the union journal, The Shop Assistant, and also re-worked for the Daily Chronicle newspaper.
Her revelations exposed unscrupulous shopkeepers. One of the most extreme stories concerned the owner of "a certain shop in Bradford" who disposed of diseased meat from his farm by serving it up as supper for his hapless assistants. Worse still, he fined them 2s 6d if they failed to clear their plates. This particular shopkeeper was taken to court and convicted. But it was usually the shopworkers who came off worse, such as the assistant who was first fined and then sacked for daring to leave uneaten pork on his plate.
Grace Dare asked her readers to put themselves in the shoes of a young woman "cast adrift, you and your one corded box, on the streets of London with no friends within call, your home away at a Somersetshire farm or in a Welsh valley, and the few shillings in your pocket not enough to get you there". The fear was, of course, that such unfortunates would end up in prostitution. Many did.
The Chronicle vowed "to tell the truth about breakfasts of stale bread and rancid butterine, the watery tea, the pallid chicory decoction which serves for coffee, the crowded, dingy, and ill-ventilated dormitories".
Bondfield's campaigns helped pile pressure on Parliament to regulate shop work - an issue it had debated with relatively little effect since the 1840s. The 1899 Seats for Shop Assistants Act did what one would expect while the 1904 Shop Hours Act tried to reduce working hours by empowering local councils to fix local trading times.
Some early women MPs
Constance Markievicz (1868-1927) - first woman to be elected to parliament; Irish nationalist and member of Sinn Fein, she won her seat in 1918 while serving jail sentence and did not take her seat
Nancy, Viscountess Astor (1879-1964) - first woman to take a seat in Parliament; born in Virginia, she was elected Conservative MP for Plymouth Sutton in 1919
Ellen Wilkinson (1891-1947) - elected Labour MP in 1924, served as minister of education in post-war Labour government, when she was responsible for introduction of free milk for schoolchildren
Enforcing that regulation was another matter entirely. Most shops were small family businesses and their owners resisted change. The 1904 Act, for example, had enforcement governed by local discretion. Shopkeepers' views certainly mattered more than those of any upstart shopgirls.
Bondfield went on to serve as assistant secretary to the national shopworkers' union and was the only woman delegate to attend the 1899 TUC annual conference. She later left shop work and became involved with many other organisations, including the Women's Labour League and the Women's Co-operative Guild which won a landmark living wage for the co-op's female shopworkers in 1911.
Angry at the women being granted the vote, but only from the age of 30, she helped set up the National Council for Adult Suffrage that pushed for uncompromising universal suffrage.
In 1923, Bondfield was elected as Labour MP for Northampton. In 1931, she was appointed secretary of state for labour by prime minister Ramsay McDonald, becoming the first woman to join the cabinet. But her time in office was short-lived. Bondfield lost her seat in the election later that year and dropped out of national politics.
Despite this, she left a valuable legacy - not least as one who helped pave the way for other women in public life.
Dr Pamela Cox presents Episode 2 of Shopgirls: The True Story of Life Behind the Counter on Tuesday 1 July at 21:00 BST on BBC Two - or catch up on BBC iPlayer
Subscribe to the BBC News Magazine's email newsletter to get articles sent to your inbox.