The story behind Rolf Harris's child safety film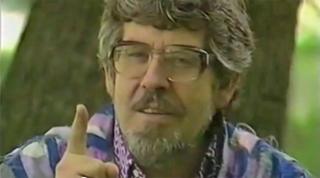 The TV entertainer Rolf Harris, who has been found guilty of 12 indecent assaults against girls, once made a video telling children how to avoid sexual abuse. The film is an extraordinary example of hiding in plain sight.
In 1982 Rolf Harris visited a youth theatre in Vancouver, Canada. A workshop taking place there addressed the issue of child abuse, in a way that was designed to advise the potential victims themselves.
The Green Thumb Theatre's Feeling Yes, Feeling No programme put into simple language the best ways to ward off unwanted attention, how to look for signs of inappropriateness and report sexual crimes. Harris, impressed by what he had seen, decided he would make a film along similar lines when he got home.
But Dennis Foon, who wrote the script for Feeling Yes, Feeling No when he was artistic director at the Green Thumb Theatre, did not know Harris had imitated his concept, formulated in the late 1970s, until he was approached for this feature following the guilty verdicts.
"It's amazing," he says. "I had no idea he'd done this. He plagiarised what we did here. What we set up here was a whole programme, designed to ensure everyone in the community was aware of the problem and how to deal with children's complaints. After all, it's a situation created by adults."
Harris's 20-minute video, called Kids Can Say No, came out in 1985. The last of the offences of which Harris was found guilty earlier this week was not committed until 1986.
"It's very significant that he wanted to do the film and actively pushed to offer his services," says David Wilson, professor of criminology at Birmingham City University. "It was probably a reaction to the feelings of guilt about what he was doing at the time.
"It's also a case of hiding in plain sight. He was possibly trying to cover up what he was up to by doing a film about the subject. Perhaps, also, in his mind, it was a kind of penance for the abuse he was committing," says Wilson, a former prison governor responsible for a sex offender rehabilitation programme.
Kids Can Say No features Harris talking to a group of seven and eight-year-olds on London's Hampstead Heath. It was promoted as demonstrating "situations where children might be in danger from people they know and trust, as well as from strangers".
The film starts with a jingle. "My body's nobody's body but mine. You run your own body. Let me run mine," Harris sings with the children.
They discuss what are "yes" (good) feelings, such as cuddles from their mother or a tickle on the ribs from their father, and "no" (bad) feelings, such as being squeezed too hard or being pinched. "I wanted to find out what makes yes feelings and no feelings when you're touching or being touched," Harris explains in the video. "Touching can be one of the nicest feelings in the whole world."
Youngsters learn to swim
Rolf Harris also featured in a number of public information films
Harris was billed as the "voice of commonsense" in the "teach them to swim" campaigns from the 1970s
"When I was three years old, I fell in the river at our place. Couldn't swim. Somehow, managed to scramble my way to the bank. Frightened the wits out of my mum and dad," says Harris.
At the end, he lies back in the water and waves with his foot. In the background you can hear the children shouting: "Get Him! Get Him!"
Harris and the children go through a series of hypothetical scenarios aimed at increasing their self-confidence in dealing with would-be abusers. In one, some teenage boys take a small boy to a hideout in the woods and attempt to make him remove his clothes.
In another a young girl visits the shops to buy a toy. She finds she doesn't have enough money and Harris asks her to pretend that a man comes up and offers to give her some if she agrees to go home with him.
"Tell him, 'Thank you very much but no,'" Harris tells them, before instructing the children to say: "Go away - very firmly."
Harris offers advice on how to report such incidents. "You mustn't be ashamed to tell people you were touched where you didn't want to be touched," he says.
In the final scenario, a girl is unable to go swimming and is left at home with her father. He offers to give her a bubble bath, followed by an ice cream. The girl points out that she is too old for her father to give her a bath. "Don't be silly. We'll have a little game. It will be our secret," he replies.
Later the girl asks: "Why did you make me touch you like that?" "Because we love each other, it's our little secret," replies the father. "I don't want you to tell mummy or anyone. If you do, I could go to prison and that would be all your fault."
One of the final comments from Harris is: "Some people don't act right with kids, and they need help."
Kids Can Say No retailed at £36 and was intended for use by schools, with teachers supervising showings and developing on its themes during lessons.
It was vetted by the NSPCC. But it "wasn't commissioned or distributed by us", says a spokesman. "We were simply approached to check the advice given in the film, which we did, but, as we understand it, Rolf Harris paid a film company to make this himself."
After its release Harris, who at the time presented Rolf Harris's Cartoon Time on the BBC, was praised for his work to deal with abuse. In the Times a social worker said he had a "particularly good manner" with children, which adults would "do well" to imitate. But a psychologist noted that the target audience, five to 11-year-olds, was far too wide for the video to be effective using a single message.
Having seen some of the content online this week, Foon was unimpressed.
"Harris's message was simply 'Yell and tell' in a film that lasted just 20 minutes. That's no good. In fact it's quite an irresponsible thing to say if you don't also create a situation in which children were actually going to be listened to. Who were they meant to tell? Rolf?"
Subscribe to the BBC News Magazine's email newsletter to get articles sent to your inbox.