Football haters cheer for the last World Cup match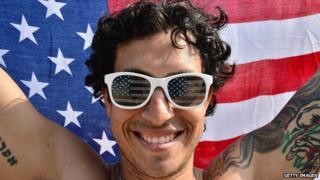 Football has taken over the US and much of the world. But not everybody is a fan. The BBC's Tara McKelvey describes life during the World Cup for those who don't like the sport.
Soon it will be over.
The final match is on 13 July. Whoever wins, whether Germany or Argentina, one thing is clear. Football haters will score a victory. After four long weeks, we will no longer be subjected to the game.
Most of us are quiet about our views, since dissing football is like hating puppies or babies. For the record, I like both. I have nothing against those who play football, either. It is a beautiful game, with unique challenges.
"In soccer you have to run, you have to think and you have to talk," a coach in a youth football club in Washington once told me. I admire anyone who can do all three at once.
The problem is not the players or the game, but the fans.
I grew up in Kansas City, which has an American football team, the Chiefs, and a baseball team, the Royals. I spent much of my childhood on the carpet in the upstairs den, as my father and brothers sat in recliners and watched a game. (Go, Chiefs!)
I would enter a fugue state. My pulse slowed and my mind turned sluggish, an experience not unlike one you have while eating Doritos and reading Entertainment Weekly, only less productive.
I knew at some point the game would end, however, and that spectator sports were part of growing up. I did not think they would be part of my adult life.
Then the World Cup started. Washington, which had seemed like a sophisticated city, became a football swampland.
World Cup updates were issued regularly, like weather reports. My next-door neighbour hung a Brazilian flag on his door. The games were shown in lifts, bars, taxis and anywhere with a screen.
I had spent my childhood feigning interest in the Chiefs and the Royals. Adding USA to the roster seemed unfair.
Besides that, the World Cup looked nothing like the youth football club I had watched - and enjoyed - in Washington. In contrast the professional games were bafflingly dull.
It is not the players' fault. Still nothing happens - for hours - as you watch "a slowly oscillating green trapezoid populated with a selection of nondescript stick figures that interact enthusiastically with a white dot", as the Irish Times's Barry Murphy described it.
This makes fans go wild.
On 22 June my 15-year-old son, Xander, and I arrived in Washington on a flight from Kansas City. We headed, lemming-like, to a television at a bar in Terminal C so we could watch the US-Portugal game.
Dozens of people were calling out in muffled despair. It was a 2-2 draw. Where is the sport in that? I felt a sense of ennui.
That evening my friend from Southampton - not the one on Long Island, but the one that waved off the Titanic - texted me: "Sorry about the footie… ".
I thought he had gotten me mixed up with someone who had a stress fracture. Later I realised he had confused me with someone who cared about the game. It was an easy mistake to make.
More people in this country watched the game than any other football match in US history, according to Businessweek.
On the afternoon of the US-Belgium match, my boss cancelled work so long as we were planning to watch the game after we left the office. I sneaked out, planning to avoid the game entirely.
The World Cup filled me with dread - not only was it deadly dull, it was all-encompassing.
In the hallway I saw someone from the French television channel, TF1, heading for the lifts. He had a wiry build and was wearing skinny pants. Two bags were slung over his shoulder, and his hair was matted against his scalp.
"You're not watching?" I asked.
"I've watched every game in the World Cup live, except for this one," he said. He told me he had jerseys from different teams in the bags he was carrying.
"I change three times a day," he said.
I assumed he had to work that afternoon and could not watch the match. He seemed fragile - a dedicated fan, wrung out from the World Cup experience - and so I did not press for details.
On the day of the Brazil-Germany match, there was a low hum of football noise in the bureau. Then the crowd roared, and someone at a nearby desk said: "They're toast."
Where are the biggest fans?
• Half of the people who live in Colombia say they are "very interested" in football
•In Argentina, Mexico and Spain at least 40% of the population shows this level of interest
•Nearly 20% of people in England say they are "very interested" in the sport
•In the US and France 11% of people show that level of interest
Sources: YouGov / New York Times
Saddened after Brazil's defeat, my colleagues spoke quietly across desks and departments, from the Arabic-language to the US section. This esprit de corps carried through to the Netherlands-Argentina game.
"That's it," someone called from a Farsi desk. A London-born editor said: "Ouch".
I am glad the World Cup is nearly over, but I know that good things have come from it. Just as people in my office spoke a common language during the games, people in Washington, New York and other US cities now share a passion for the game.
As Xander said: "Coming together as a nation doesn't seem that bad."