Shopping secrets of the Taliban revealed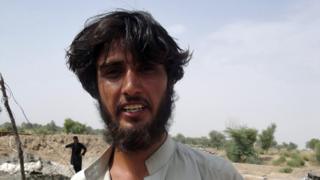 An army offensive in Taliban-dominated tribal areas of Pakistan has caused large numbers of people to flee to safer regions. Among them is shopkeeper Rasheed Rehman, who until recently counted Taliban fighters among his best customers.
"I'm sorry my clothes smell," he says. "I used to live like a prince in Miranshah."
Miranshah is the administrative capital of North Waziristan, close to the Afghan border. Rasheed says he had a large shop in the main market there, selling all manner of cosmetics, socks and stockings, and a few electronic items.
He says he used to earn between 100,000 and 115,000 rupees a day, and that Taliban militants were the biggest spenders. According to Rasheed, they would buy plenty of goods on every visit - and they wouldn't haggle to get prices reduced.
"They used to prefer foreign or branded perfumes and imported body sprays. They liked the ones with a strong scent."
In fact, Rasheed would travel especially to Islamabad and Lahore in order to procure the kind of imported merchandise the Taliban preferred.
"They didn't like Pakistani products," he says.
The Taliban shopping list
Dove soap
Head & Shoulders shampoo
White underwear
Perfume: Secret Love and Blue Lady by Rasasi
The perfumes they bought for their womenfolk included one called Secret Love, and Blue Lady by Rasasi.
They would ask for Head and Shoulders or Clear shampoo and Dove soap.
When it came to underwear, they preferred it white - briefs or Y fronts.
Right now, Rasheed is not travelling anywhere to buy perfume or other goods, he is shovelling earth.
He left Miranshah when the aerial bombardments began. Like many of the 800,000 people displaced from North Waziristan to Bannu, he has chosen to live with a host family rather than in a government camp.
He is earning his keep as a labourer on a construction site just outside the town, on the edge of a barren dun-coloured plain dotted with scrubby trees. He is in his early 20s, lean and proud.
Another shopkeeper from Miranshah, Sohail Masih, a tailor, confirms that the Taliban would invariably be the best customers in the market, spending 2,000 to 3,000 rupees at a time - for many people that would be two weeks' salary.
"They would drive to my shop in big white cars with black-tinted windows and had no qualms about doling out wads of cash," he says.
"The kind of things they would buy, well people like me can't even conceive of buying them."
I was told that before the operation began, the Taliban knew what was coming and started selling off their electronic equipment at dirt-cheap rates.
Their expensive tastes appear to have influenced those around them.
Rasheed Rehman took a good look at me and pointed at my Sony camera.
"I had better cameras than this at my shop," he said.
Additional reporting by Amber Shamsi
Subscribe to the BBC News Magazine's email newsletter to get articles sent to your inbox.