India's iconic Ambassador car: Your memories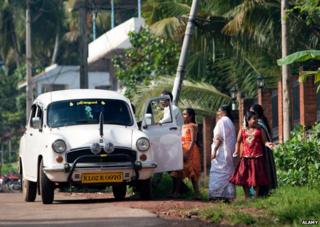 Last week the Magazine reported that production of India's famous Ambassador car has been stopped due to low demand.
The article, which reflected on some of the cars finest and most frustrating features, prompted readers to send us their own memories of the iconic car.
I had the pleasure and pain of travelling in Ambassadors in the 1980s. I remember one journey when the glove box kept on falling open, and while still driving along (at speed) the driver took the keys out of the ignition, leaned over and locked the glove box. Jamie, St Albans, UK
For me Ambassador is India. I remember as a teenager living in Bombay how keys fitted several cars and they all looked alike. Sometimes you drove off in the wrong one and had to go back and find your own. Lis Homan, Northumberland, UK
The only car I know that could lose a wheel and maintain its inimitable road-holding. In 1980 I lost one outside the Calcutta Zoo swerving to avoid a surging mass of humanity fleeing a torrential storm. The old bus got me home regardless and was back on the road next day. G J Prosser, Toronto, Canada
About 15 years ago I was in an Ambassador - the only one in a long cavalcade of vehicles, all others being big, new seven-seater SUVs like Tata Sumos. We were going up to the Himalayas and my car was always way behind the others as we had to frequently stop and throw water over the bonnet and radiator to cool it down. When we came to ford a tumbling rocky river, the SUVs sailed through no bother. I didn't think we could possibly do it in the Ambassador but my driver revved the engine and charged into the river. Almost immediately the water poured into the car and I put my feet up on the dashboard as it filled the footwell. We crunched, coughed and staggered through that river with the throttle at full whack to keep the spluttering engine alive, the rocks throwing us all over the place - but we made it. It was a hilarious triumph for mad Indian tenacity plus the astonishing Ambassador. Liz Kingsnorth, Chennai, India
I have been privileged to own an Ambassador car for more than 46 years, which I have driven all over India - from the northern Himalayas, Kashmir, Nepal, Sikkim and the north, all over central, western and southern India, right down to Kanyakumari - the southern tip of India. All this in only one single car, with six or seven persons (my wife, children and friends), a fully loaded boot and bags on the roof-top carrier. Each journey was for about 30-35 days. The car stood rough, narrow and sometimes very steep roads, and once even passed through the waters of Kamla river in Nepal. The only occasional problem was with the dynamo (carbon brush), but otherwise we never experienced any mechanical breakdown. Even when I owned other modern cars in later years, I still preferred to use my Amby, but only a year back I reluctantly gifted this car to a well-known car lover, on condition that he has not to sell it. I am glad to know that he has now restored it to its original condition. Dorab Tata, Mumbai, India
Me, my mom and dad travelled to Kerala from Durgapur [to deliver] a brand new Amby [ordered] by one of our relatives - a journey that took five days. This was maybe more than 20 years back when roads were pretty bad. Near Vijayawada, the gear box developed a snag and we were stranded there for two days while the requisite part came by road. By the time we reached my father's hometown in Kollam, the car was rattling all over - the door had to be tied to the B pillar using a towel and the temperature gauge too gave up the ghost. In short we delivered a rattling, wheezing contraption to my thrilled relative - the owner - who was overjoyed to see it. He put to rest all apprehensions that we might have had, saying a new Ambassador is always taken apart and tightened, welded, and generally made fit for its life ahead. Roshith Chandran, Trivandrum, Kerala, India
While studying in India, the Ambassador was the first car I learned to drive in. The car was so heavy, and engaging the gears was a Herculean task - literally. I shall never forget the experience. Nitin Chibber, Virginia, US
I loved the Ambassador. Yes, the build quality was appalling, you needed to pump the gas pedal while turning the ignition, the air conditioning never worked, and it was unreliable as hell... but you need a heart of stone to dislike this baby. I would import this car in a heartbeat if Canada's import laws allowed it. Ben, Canada
My dad, who is in India, lovingly maintains a 1967 model Ambassador which his dad bought new. This car was among the first handful of cars in my hometown in Kerala. Everyone in our family learned to drive in that car. My dad spends more money maintaining that car every year than it is actually worth, and I must say it's beautifully maintained and has all the original parts including a new SU carburettor from the UK. It's a treat to drive it, especially through our town where everyone knows the car. Roshan Mani, London, UK
I have very bad memories of our Ambassador car that my father bought in Calcutta in 1962 with his hard-earned money. Our car had a constant problem with the axle rods. They would break unpredictably if the clutch was not released very slowly. It happened several times even though every time they were replaced by genuine parts. The repair was expensive. The carelessness of the manufacturer is evident from the fact that the look of the Ambassador has remained essentially the same as our 1962 model. TKG, Houston, US
We have travelled round India over the last 10 years on holidays in a selection of these fab vehicles. At times, the steering seemed to have no connection whatsoever to the wheels. A few were comfortable, most were not. Sometimes the windows worked, mostly they didn't. A few even had no floor pan and the road whizzed under our feet. Would we have changed a moment? No. These vehicles are India, anything else would've felt pretentious. They are erratic, old-fashioned and wonderful and every one had character. Over the years and from Kerala to Darjeeling with Ganesh dangling from the space where the reversing mirror should have been, they reigned supreme and transported us safely and in style... this is a sad day. Marlene Kemp, Southampton, UK
I still remember way back in 1977 when I was a school kid settled in central India, my dad purchased a second-hand Ambassador car from Calcutta as it was quite cheap and he drove back home with a driver covering a journey of 862km (535 miles) in summer time. I was so excited to see the lovely sky-blue car. Gradually my dad learned to drive and with the same car we travelled the very next year to south India covering a distance of 3,000km (1685 miles) and then to Kashmir the year after covering a total distance of 2,043km (1,270 miles). I still remember the journey which was full of thrills and lots of bitter memories - like the car failing to start in the middle of the jungle in south India. In 1993 when I was working on a tea estate in North Bengal, my dad phoned me and asked me that if I would be interested to keep his car as a fond memory. I instantly said " yes". I owned the car for around five years and before departing to Calcutta on a new assignment I finally sold it to a garage owner at a very cheap price. I now think I should not have and this makes me feel bit guilty. Abhijit Bhattacharya, London, UK
I have hair-raising memories of travelling by Ambassador taxi late at night in Kerala between towns. For some unfathomable reason drivers turned their headlights off when they felt there was nothing else on the road. The problem was that there was never nothing on the road and it was either cows, carts, unlit lorries, pedestrians - my friend in the front seat needed a very stiff drink once we reached our destination unscathed. Helen Close, Wallingford, UK
I grew up with the Ambassador. There will never really ever be a car quite like it. An aunt of mine had a gold-coloured one and when it drew up at the gates of our school to collect my cousins, all of us used to feel star-struck. It's an iconic car made for Indian roads. I learned to drive in one. My grandmother lent me her prized Ambassador - I used to drive her to the beach and back. Preetha, London, UK
I learned to drive late, and I drove an Ambassador on almost non-existent roads. It could drive through potholes and a couple of feet of water-logging. But its biggest advantage was at times it could accommodate six or seven passengers comfortably besides me. The boot could accommodate any amount of luggage. The fuel gauge never worked, the starter button got stuck now and then and it was a real gas-guzzler. But the tough steering wheel or stick-shift gear never troubled me. It was a pleasure to ride. Today I really miss my Ambassador. Supriya Ghosh, Bhavnagar, Gujarat, India
I found myself in the embarrassing position of being the only person on a short wildlife tour in Uttar Pradesh in December 2008. I had my own driver, guide, and Ambassador car - gleaming - for four days. I never got used to the "rich Westerner" status of it, but the car was great fun. Venetia Caine, Glastonbury, UK
Subscribe to the BBC News Magazine's email newsletter to get articles sent to your inbox.