The deaths that have united women across the world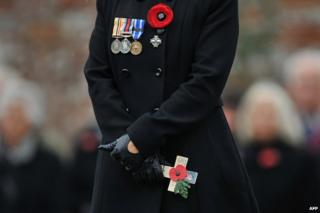 After 13 years, Nato troops are preparing to pull out of Afghanistan. During their time there, an estimated 13,000 Afghan soldiers and 453 British servicemen have died - but the experiences of British and Afghan widows differ dramatically.
In contrast to their counterparts in the UK, when Afghan soldiers are killed, their wives often struggle to find food and raise their children - the UN estimates that 85% of women in Afghanistan are illiterate.
Here, four widows from the two countries share their stories.
---
Tajbibe lives in Kabul and, like many other Afghan women, her marriage was arranged. Her husband was a soldier in the Afghan army and was killed seven years ago. They had four children.
When he saw me he said, "I like her. She's fat and big and I want to marry her because I like fat women." So I said, "Yes I'll marry him." I was very happy, he was a good man.
My husband loved being a soldier. He had wanted to be in the army since he was a little boy. When he came home he used to bring his laptop with him and he would show me all his fellow soldiers. He told me, "These are my friends and colleagues." I used to tell him, "If you are killed, then what will we do?" And he used to say to me, "God is great, you don't need to worry about me. If I stay at home how will we put food on the table?" Whenever he went to work I would worry about him. I was scared someone might attack him or kidnap him.
One evening I heard he had been shot. There were phone calls but I didn't know what was going on. I told my son to find out what was happening. I heard the noise of a car arriving. It was snowing outside. My son called out, "It's Daddy." When I went out I saw my husband in the coffin, surrounded by many soldiers. They had shot him in his heart and his uniform was like a sieve, full of holes. I lost all sense of what was happening. I had just given birth to my daughter. When they brought his body I flung myself on him and started screaming.
I cannot forget him, people say he was martyred and I should accept it. But I say, no, it was cruel what happened to my husband, it was cruel to us. My new baby daughter died of starvation because I neglected her - I can't tell you how bad it was. If I don't take my medication, I become like a crazy woman. During day time I keep busy, but in the night I can't sleep, it feels like he's standing in front of me.
Because I lost my husband's identity card when he died, I can't claim his pension. I don't know where the office is. He used to do everything, I'm not used to Kabul. I don't know how to claim for anything - without a man, how can I do it? I was the wife of a big man, but now I'm like a beggar. My children weren't all dusty like they are now. They used to wear shirts and jeans, now they do not even have sandals. I cried to see them barefoot.
---
Nikki and her husband lived on his army base in south-west England with their two children, Kai and Brooke - Brooke was just seven months old when her father was killed in Afghanistan in 2009.
Even as an army wife, I think I was quite naive about actually where they go and what they actually do. I guess you don't want to think about that side of it. One of my friends, actually, said, "I don't know how you're going to marry - I'd never marry a soldier." But I thought, "You can't help who you fall in love with."
On the day I was told about Lee, I'd been for a walk with my friends. As I went up the hill, I was pushing Brooke, and I saw two cars drive past, each with a man in. And I just knew.
I remember standing [at the air base] and there was me and my dad and some of Lee's family. The plane went over and I just remember standing there, shaking, thinking, "This is not how I pictured this day. This is not how I planned welcoming you home." I don't know who it was, but one of the dads of the other soldiers actually shouted out, "welcome home boys" as the plane flew in and I always remember that.
The first few months was like, this still feels like he's on tour - the only difference was the phone wasn't ringing. It was really weird. I think the first time it properly hit me was when I made myself go to medals parade, when the boys came home because I had to see - [it was] the hardest thing ever - but I had to see that Lee wasn't there. All the boys were there, but Lee wasn't there. It was like torturing myself, but it was the only way I could really understand that he hadn't come home.
I stayed in the garrison and I still needed to be part of that community. I think it just gets to the point where you realise it's not fair. I think Kai came home from school once and said, "Thomas's dad's come home from Afghanistan. Why didn't my dad?" And I thought, do you know what? You don't need this, there are other ways to remember that Daddy was in the army and we were part of that life.
I set up Scotty's Little Soldiers in 2010 in memory of Lee - the charity supports children that have had a parent killed while serving in the British Armed Forces. We throw a big Christmas party where the children can meet other children that are going through the same thing. We've been able to get holiday homes so that families can just take themselves off and have a holiday, all free of charge. I want them to know it's OK to smile, it's good to have fun and they can remember their dads in good ways.
---
Marzia grew up under the Taliban - she was not allowed to go to school, and has been a carpet weaver since childhood. Her husband, also an illiterate weaver, joined the army to help support his family, but was killed in 2010. They had two children.
He called me at eight in the morning. He said that there were only two days left till he came home, that there was nothing to worry about. I was so happy. It was around 12:30 in the afternoon the incident happened.
Their car hit a huge mine - the front was totally destroyed. My husband and his commander died at the scene. One man was thrown in one direction, my husband the other, his right leg was blown off. It's very hard to talk about it. When I received the news, I became like a dead body myself; suddenly the whole world stopped.
He used to say, "One teardrop is the same as ten drops of blood. Don't cry, as long as I'm alive I will take care of you." To build up such a relationship and make a life is not easy, but to destroy it only takes five minutes.
I was against my husband becoming a soldier. I told him now he had a wife and two children, he should find a job where he could go in the morning and come back in the evening. But he did not listen to me. He said, "if everyone says they can't fight because they have a wife and children, then what will happen to our country? What will happen to Afghanistan's future?"
At the beginning they told me not to look at the body, I didn't know what condition he was in, but I wanted to see him - otherwise you will never accept he is dead, you always think it is a lie. Still now my heart doesn't accept it. Whenever I open the door I think I'll see him coming home with his briefcase.
For the 40-day mourning period, I stayed with my in-laws then I came to my parents' house. How can I live on my own? Independent life means house expenses. I would have to pay rent. I can't afford that, I don't have a job. I can't stand on my own two feet. People think that when a woman becomes a widow she becomes loose and immoral. They think we are like a pot with no lid, uncovered and ready to do anything.
I have decided not to remarry because if I did, my in-laws might take my children away. I am very afraid of this. My children were young when their father died. Now my son is six. I've admitted him to school. I want him to fulfil his father's dreams. He said I couldn't get an education but my son should. Whenever he went on duty he said, "If anything happens to me, don't let my son be illiterate. I want him to become an engineer or a doctor."
It is because of the foreign troops that we have some stability. If they had not come I don't know what would have happened to Afghanistan. They have families yet they sacrifice their lives for Afghanistan's security. We are proud of them. They are human beings and they also suffer, I understand this.
---
Jacqui's husband, Gary, was 51 when he was killed six years ago - the oldest British casualty at the time. They lived in Nottingham, where they raised their five daughters and ran a family business.
My husband Gary was a reservist in the Royal Auxiliary Air Force, which meant that he wasn't permanently in the military, he had a full time job as a sheet metal worker within his own company in Nottingham and in February 2008 Gary was deployed to Afghanistan.
The last time I spoke to Gary on the telephone was the day before he was killed. He was talking about how he couldn't wait to come home on his R&R [rest and recuperation] - he had two weeks off in May. It was very late on 13 April and two officers from the Royal Air Force came to the house to tell us personally that Gary had been killed in Afghanistan. Gary and his colleague were on their way back to Kandahar. Their vehicle went over an anti-tank mine. I honestly felt when they told me that I'd been hit with a train, I couldn't breathe, I just could not stop shaking.
When they brought Gary's coffin off the plane… I don't think you could be ever prepared for the blast of emotion that hits you, because all of a sudden, that's real. That was Gary. I was never going see him again. The girls just went to pieces, and I just felt as a mum, this was the time I couldn't do anything to help them. I couldn't make it better. Gary will never be around to see his kids finish growing up, having families of their own, his grandchildren - it's all gone.
Because I've always lived in England where I've been able to make my own choices, my own decisions and encourage my girls to be able to do that, they've been able to decide what university they go to, they've been able to decide if they want to travel, you know, we're incredibly blessed and I can't imagine not being able to make those decisions for myself.
I get asked, "Are you mad with the military? Are you mad with the government? You know, people in Afghanistan?" I'm not angry with any of them, I've got a lot of respect and admiration for the soldiers, I think they've got a very tough job, and the people in Afghanistan, I don't hold them at all responsible. I think they're as much victims as anybody else really.
I'm glad that there's somebody out there on the other side that I haven't met who's appreciated what Gary's done and what the others have done.
Watch The War Widows of Afghanistan from Saturday on BBC World News or the BBC News Channel, or listen on the BBC iPlayer
Subscribe to the BBC News Magazine's email newsletter to get articles sent to your inbox.