The lap dancers who find it hard to leave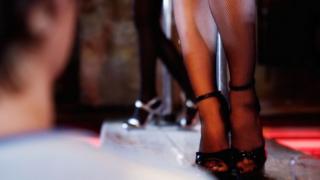 Headlines about people being exploited in the sex trade are common, but even for those who actually choose to become escorts or lap dancers, it can be a hard industry to leave, writes Ben Miller.
Every day many thousands of people across the world say: "I quit."
There are numerous reasons people choose to leave their job or profession but when it comes to individuals in the sex industry these decisions can be more nuanced, complicated and challenging.
Jennifer Danns worked as a lap dancer in her early 20s while studying at university. She says the industry can suck people in. "People start as a lap dancer, it's the first step. But then they ask themselves 'is it such a big deal to do a photo, a film?' Their boundaries can change. Your idea of what you're prepared to do can warp. It's completely different to normal career progression."
Danns, who wrote a book about her experiences, Stripped: The Bare Reality of Lap Dancing, knows that the longer you stay in the industry the harder it is to leave. "It's hard to approach a normal job. How do you explain where you have been for two, three or nine years? You have to lie because you are aware of the social stigma.
"If you work in a bar for one day and leave you're not going to be known as a bartender but if you work in the sex industry for a day you become the stripper person. Even if we went to the most liberal industry you would still be seen as 'the stripper'."
Danns also believes the business is like a drug - there are highs and lows, and it is very addictive. "Some weekends you get very wealthy clients and they give you a lot of money. Then you might not make much money for two weeks and on the third weekend you make all of the money back. I defy anyone not to get hooked on it. You think 'this weekend could be the one where I make a big amount of money' - it's so addictive."
The progression from stripping into other parts of the sex industry is exemplified by 28-year-old Amy Cade, who grew up in Tring, Hertfordshire. She went from being a dancer in a nightclub in Ibiza, to a stripper, and working in porn films - leaving each one for varying reasons.
She stopped working as a stripper because she only did it to support herself while living in Ibiza for a season.
"I went into it [the porn industry] to explore some of my sexual fantasies but it got to the point of being too hard work, with a lot of travel and it was not very innovative - it got quite boring," says Cade. She is now living in Berlin where she works part-time as an escort and is a performance artist.
"There are stereotypical images of people who work in the sex industry, but there's no stereotypical reason why someone enters or leaves the industry."
Courtney Morgan, 25, worked in strip clubs for about two years until she felt she had to leave. "I thought I wanted a normal life so I took a break and I went back to study. I tried various different jobs including IT recruitment, fundraising for charities and voluntary work. I did that for about a year-and-a-half and then I could not find a job for six months. I thought I missed the work and the dancing."
Morgan returned and is now working for Spearmint Rhino in central London. "Maybe one day I will hopefully have my own club and open my own business. I will stop when everything droops. It's all about confidence - it's key. If you have confidence you can make money."
When you stop making enough money that is the sign it is time to leave, she argues.
Gia, 26, from Romania came to work in a strip club in London and says she will stay in the UK for one more year. "I want to go to school and get a proper job but until I have my own family why not have fun?" She studied social work before arriving in the UK, and may go back to it when she returns home.
The most common reasons for people leaving the sex industry are entering a new relationship, finding an alternative career or just disillusionment with the working conditions, Dr Teela Sanders, reader in sociology at the University of Leeds, notes in her study, Becoming an Ex-Sex Worker.
For Sanders, it is typically the dancer's decision when to stop work - as opposed to an employer's decision. "We found women were very strategic about entering the stripping industry - to pay off debts, save money to send home or set up another business, or get through education, or buy a house. When this was achieved they moved on."
The scale of the "sex industry" is obviously hard to calculate. The Office for National Statistics estimates prostitution alone in the UK as worth £5bn a year. But lap dancing, pornography, and chat lines also generate many millions.
---
The ethical maze of prostitution
Many people find it impossible to imagine how anyone could actively choose to sell their bodies, such is the deep-lying stigma attached to the "oldest profession".
News stories often tell of individuals that have been forced into prostitution by traffickers or pimps, or by drug addiction or desperate poverty. But there are also stories of people like Brooke Magnanti, the research scientist who blogged positively about her experience as a London call girl under the pen name Belle de Jour.
BBC iWonder: Is there anything wrong with selling sex?
---
There are obviously huge differences between lap dancing and any form of prostitution, and anyone working in the latter can face even greater obstacles to leaving, even if they chose to enter of their own free will.
Alex Bryce, manager of the National Ugly Mug Scheme which tries to improve sex workers' safety, says there are no concrete numbers on how many people work across these various activities in the UK, as part of the industry is underground. But there are estimates that put it at about 80,000. An Association of Chief Police Officers' report in 2010 stated there were 30,000 women involved in the off-street sex trade.
Many people who have worked in prostitution suffer post-traumatic stress disorder in the same way as those in the military and rape survivors, says Sarah Mathewson, campaigns manager of feminist campaign group Object. "Research on the impact of this long term violence shows it becomes difficult to leave - one's confidence has been damaged.
"You have to look at the reason people enter [the industry], which is poverty and the lack of economic opportunities women face." She cites evidence of the pay gap between men and women and how women have been much more affected by austerity.
---
More from the Magazine
Most people think of male prostitution as dangerous, degrading and exploitative work. But there are some who are attempting to reinvent it as a profession free of stigma by using all the tools of modern business.
The escorts who want to rebrand male prostitution (5 January 2014)
---
The report Breaking down the barriers: A study of how women exit prostitution identifies nine barriers, with the most common ones being criminal convictions, alcohol and drug abuse and a lack of access to safe and appropriate accommodation. Lisa Young, from Eaves, a charity that tackles violence against women, who helped write the paper, says: "It's really important for support workers to recognise and understand the nine barriers, to address those problems with the women, and to proactively work towards overcoming them by providing them with the much needed support."
For people in this situation, saying "I quit" remains a complicated thing.
Subscribe to the BBC News Magazine's email newsletter to get articles sent to your inbox.