The people who want to be close to a deadly tornado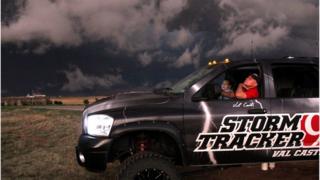 Last year, three experienced storm-chasers were killed in a tornado in the US, but despite this the number of people going in search of twisters is growing. What drives them to take risks and look for danger?
The man at the wheel glanced in the rear view mirror then slowly turned around. "Don't put this in your programme," he said. His wife in the passenger seat laughed.
He lowered the window and killed the engine. The wind rushed in from the surrounding wheat field. Then, from behind, the crunch of footsteps approached on the dirt road.
It was a moment of peace after hours of furious racing through the American prairie. There'd been excited shouts over a straining turbo diesel engine about where a tornado might form - and how we'd be there if it did. We were hot on the trail.
Now, everyone was very cool.
A Kansas state trooper introduced himself through the window. There was feigned surprise when he said how fast we'd been going. Really? Wow, sorry.
Val Castor handed over his driver's licence. His wife, Amy, fished out the registration from the glove box. Val explained they were storm chasers with Channel 9 News out of Oklahoma City - though it was hardly necessary. Their huge black truck has lightning bolts and Storm Tracker 9 painted on the sides.
Val pointed to the radar on the laptop open next to him and said those red and green blobs suggested a tornado could form this afternoon.
The state trooper was unimpressed. "I've got that in my car too," he said.
People here keep a close eye on the weather. It's part of living in tornado alley. Every year some town or other is blown off the map by swirling winds that can reach 300 miles an hour.
Val and Amy are just two of hundreds or possibly thousands of trackers who speed around with computers and cameras hoping to catch one of these beautiful, deadly storms.
I'd joined them to learn why the number of trackers keeps growing. Why are people taking real risks - beyond the steady diet of rest-stop junk food - to watch weather?
Last year a tornado killed three of the most experienced and high-profile storm chasers. It picked up, crumpled and threw their car as easily as you would a piece of paper. Dozens of other chasers were hurt in the same storm. They were crowded on a few roads when the tornado suddenly expanded and gobbled them up.
Val and Amy were there that day but still, in their words, chase aggressively. They have six kids. A network of babysitters springs into action at the first sign of a storm so Val and Amy can race straight for it.
Earlier that day their eldest girl told me chasing was both cool and awesome - and it's hard to argue with her. There's the thrill of the chase - which the Kansas state trooper clearly thought we'd taken too far - and the satisfaction of solving a complex puzzle. Tornados are quite rare and fiendishly difficult to pinpoint in advance.
For Val and Amy there's also a sense of public service - of being able to warn people of the precise location of a storm. And there are ratings. They're part of what their boss at News 9 calls the largest storm-chasing army in the US.
On a busy day News 9 can muster a dozen crews like Val and Amy, including two in helicopters, that can stream live high definition video and commentary back to the studio. The station won the recent ratings sweeps in part because of its storm coverage.
The question now was, would their celebrity help us with this situation with the law? Chasers have been criticised for clogging roads when they converge on a storm, making it hard for residents to get away or for first responders to get in and help. But they've also been praised for getting the word out about where exactly a tornado is.
The state trooper let us sweat for a few minutes. When he came back with Val's paperwork, he just said, "Be safe out there." And that was it.
"Praise the Lord!" said Amy. The engine roared to life and up went the windows. "That wasn't even a warning," said Val, and pointed us toward a dark curtain of rain draped across the horizon.
We drove till dusk, when things finally started to look suitably ominous.
The temperature dropped suddenly and lightning tore the gloom.
The rain came, then came horizontal, then came so thick we couldn't see. Wind shook the truck from side to side and hail pummelled it from above.
Quite a storm - even if it wasn't a tornado.
How to listen to From Our Own Correspondent:
BBC Radio 4: Saturdays at 11:30
Listen online or download the podcast.
BBC World Service: Short editions Monday-Friday - see World Service programme schedule.
Subscribe to the BBC News Magazine's email newsletter to get articles sent to your inbox.