Syria 'torture' photos shown in US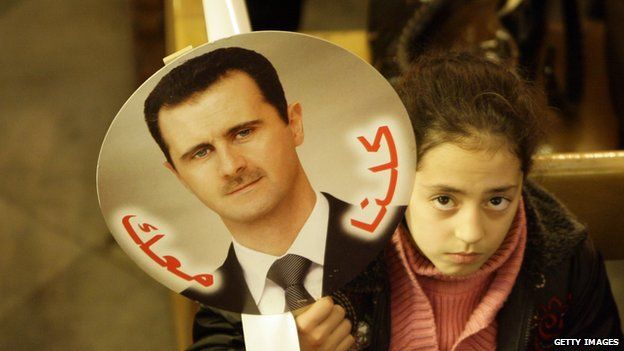 A forensic photographer smuggled images of Syrians killed and tortured by, he says, those working for Syria's president, Bashar al-Assad. The photographer, using the pseudonym of Caesar, spoke publicly for the first time on Capitol Hill.
Wearing dark glasses and a hood to hide his identity, he told members of the House Foreign Affairs Committee what he had seen in Damascus. He described maimed bodies, people with eyes gouged out and skeletal remains, a litany of horrors that defy the imagination.
Or would defy the imagination - except he had pictures. As a photographer who worked in the Syrian security apparatus, he was sent to a military hospital, a place where bodies were taken, to document the dead.
Over a two-year period he'd sneaked the photos he'd taken, along with others he downloaded, on to memory sticks he hid in his shoes.
The photos now belong to a body of evidence that international experts are hoping to use to prosecute Mr Assad for war crimes.
In many ways Caesar is an ideal witness. He has a steady, deep voice, and he sticks to the facts, according to some present.
"He doesn't embellish," said David Crane, an investigator who once served as the chief prosecutor of the Special Court for Sierra Leone. He met Caesar in January in Doha and helped write a report about the findings.
In addition Caesar, a former sergeant, is able to piece together different elements of the story. He says the photos show security and intelligence officers were involved in thousands of cases of brutality.
"Caesar's important because he corroborates the connection between the crime site and the government," said Kip Hale, a former prosecuting attorney at the Extraordinary Chambers in the Courts of Cambodia and attended the hearing on Thursday.
"The hardest thing in an international criminal court is proving that mass criminality is organised by the government," said Hale.
Caesar sat in the front row. He wore grey pants and black shoes with thick rubber soles. The hood of his blue rain jacket was pulled over him. At times it crinkled - and looked like a body bag.
"It is a great honour to be here in this house of democracy," he said.
"Under the department of defence, I had the job of taking pictures of the dead - before and after the revolution," he said. "Our work increased greatly after the revolution."
The photos were used by Syrian officials to keep track of the whereabouts of individuals. The bodies were numbered and catalogued, and many of the photos showed the numbers assigned to the corpses.
In their report, the authors explained Syrian officials used the photos in part "to confirm that orders to execute individuals had been carried out".
One of the lawmakers asked Caesar why some people were chosen for execution - and others were not. The lawmaker wondered whether Caesar himself had been surprised by the brutality of the regime.
Caesar spoke slowly, as if to a child. "No, I wasn't surprised," he said. "I was fearing for my own life."
Describing Assad, Caesar said: "He didn't care if it was his brother. He would kill him. His main thing is holding onto power."
Caesar said finally he'd had enough. "My work ethic, my morals, my religion would not allow me to be quiet," he said.
His friends and relatives helped him leave the military - by faking his death, claiming he'd tried to defect and then was killed. They staged a mock funeral, said Crane.
Eventually Caesar made his way to Doha.
"We could tell he was the real deal," said Crane. "He was scared to death. You could see the fear in his face. He was trembling." Crane praised him for his courage - and feared for his safety. Not everyone shared his views.
"I have no compassion for him," said a journalist who works for a Turkish news agency. "He worked for the regime." The journalist made a face - in disgust.
Yet one of the lawmakers said Caesar had managed to pull people out of "psychic numbing".
Deutch said his testimony reminded people "this is something that has to matter. And you can't be numb to it."