Washington DC from murder capital to boomtown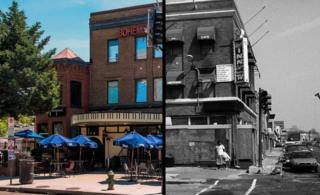 A quarter of a century ago, Washington DC had a fearsome reputation for crack abuse and rampant gun violence - it was the "murder capital" of the US. But now, once-blighted neighbourhoods close to the centre of the capital are thriving.
When Ruben Castaneda moved to the US capital in 1989 to take up a job with the Washington Post, he was struck by how easy it was to score crack.
Days after arriving in the city, he was taken to S Street Northwest by a "strawberry" - a streetwalker who offered sex in return for drugs.
"The moment she stepped out of the car, the drug dealers ran across the street and surrounded her," he recalls. "Coming from Los Angeles, I was a little taken aback by how casually all this went down."
They were in the Shaw/U Street neighbourhood, less than two miles from the White House.
In the first half of the century this part of the city had been home to a flourishing African-American scene. Duke Ellington played in the jazz clubs, Howard University offered a groundbreaking course on civil rights, and black businesses and professional services supported a growing middle class.
Things began to go wrong in the 1950s as an "unintended consequence of desegregation", says Jane Freundel Levey of the Historical Society of Washington DC.
As in other US cities, when black people were allowed to move to more desirable neighbourhoods, many of those who could afford it decided to leave.
Meanwhile, "white flight" to the suburbs was reinforced as families sought to avoid desegregated schools.
But it was the riots sparked by the assassination of Martin Luther King Jr in 1968 that sent the area into a tailspin. Protesters firebombed and looted shops over several days, and troops were called in to restore order. Shaw emerged from the smoke with its civic and cultural heart hollowed out.
The middle class exodus became fixed, as it did in inner city areas of New York, Detroit and Los Angeles, says Roderick Harrison, a sociology and anthropology professor at Howard. "People thought of them as areas you don't go into at all, much less live in, unless you were essentially looking for trouble."
Drug markets were already established by the 1970s, but it was after dealers started selling crack in the mid-1980s that drug-related violence escalated.
"The city was going through a terrible time," says Castaneda, who covered endless shootings as a reporter on the night police beat. "Through the late '80s to mid-to-late '90s there were just unbelievable levels of violence behind crack cocaine, and fights over drug turfs, witness killings and retaliatory killings."
By 1989 the annual homicide rate had risen above 400, and Washington DC had become the "murder capital" of the US - the city with the highest rate of homicides in the nation.
In 1990, Washington Mayor Marion Barry was caught on camera smoking crack in an FBI sting operation, and was convicted later that year for cocaine possession in a separate incident.
In 1991, there were 479 homicides in the city, a record.
Washington had "hit bottom" remembers Michael Horsley, who was working as a street photographer in DC at the time. The population had fallen from 900,000 in the 1940s to under 600,000, and the city was split through the middle.
"There was kind of an unspoken thing that nobody really lived east of 16th Street," says Horsley. "That was like a racial, social, political dividing line."
But 1991 also saw an event in U Street and Shaw that heralded a brighter future - the opening of a metro line.
Construction of the line had been disruptive, cutting off access to local shops and businesses, says Levey. It had been built by "cut and cover", which involved cutting down from the surface rather than tunnelling.
But after the works finished, the area slowly began to attract new property investment, and new residents.
Drug-related violence eventually began to drop, something Castaneda attributes to the arrest and prosecution of crack-dealing gang members, and the demolition of troublesome social housing.
By the late '90s and early 2000s, broader forces for change had also begun to take hold.
After Washington had "bottomed out", says Peter Tatian of Washington's Urban Institute, a virtuous cycle began as people started to reinvest in cheap land and housing, encouraged by city authorities,
Affluent young professionals began to opt for the convenience and buzz of living closer to the city centre, often moving to handsome old buildings in areas that had been considered out-of-bounds.
"There was a bigger trend that was happening in the US at the time of people rediscovering cities and urban living and wanting to go back to these areas," says Tatian.
"DC has emerged as one of the showcases for that kind of trend."
Today, the area east of 16th Street is booming. On 14th Street, cocktail bars and cosmopolitan restaurants jostle for space. Around the junction of 9th and U, cranes work round the clock, and at 7th and O, the O Street Market that was the scene of a brazen early-evening shooting in 1994 now houses a swish grocery, backed by an apartment block with an infinity pool and a dog-walking park on the roof.
The rebirth of Shaw has been anchored by the Howard Theatre, an institution for black performers in the first half of the 20th Century that shut its doors in the early '80s and fell into disrepair, before reopening in 2012 and becoming a cultural landmark once again.
Round the corner the Wonder Bread factory, a disused bakery where Castaneda's dealers used to loiter, has just been converted into trendy offices for entrepreneurs.
A brochure for the building affirms that Shaw is "brimming with a unique urban sensibility", and "experiencing a renaissance of unprecedented proportions".
Those moving into the neighbourhood include both young professionals and "empty nesters" who raised families in the suburbs before downsizing.
As in a number of US cities, they are contributing to an inversion of the earlier "white flight".
In Washington, the accompanying urban redevelopment has been particularly rapid because the local economy was bolstered by federal spending during the wars in Afghanistan and Iraq - which created jobs in and around Washington for government contractors - and again after the financial crisis of 2007-2008.
In the last few years, the Washington metropolitan area has accounted for at least half of America's richest 10 counties.
In Shaw, residents old and new recognise that gentrification has meant a safer and more prosperous neighbourhood. Homeowners have seen the value of their property soar.
But there is also recognition that the area's distinctive edge and African-American identity have been blunted, and though new construction has helped absorb some of the influx, rising prices mean many renters have had to leave.
"Change is good," says Cornell Johnson, who has worked in the Shabbaz Barber shop opposite O Street Market for 16 years. But he adds: "People who grew up in this area don't come back here. They got shoved out."
Though Washington's economy is prospering, there are neighbourhoods that remain desolate and deprived. The city has one of the highest levels of inequality in the country. There may be provisions for subsidised housing in newer buildings in Shaw, but it is not always affordable for the poor.
"Right now, in the midst of this process, it's creating a very good mix," says Harrison. And he says there may be enough black professionals in Washington DC to prevent African-Americans being "pushed entirely out" even in the long term.
Gentrification can be tempered by policymakers, or it may falter if the economy slows. But in Washington, at least, the latter seems unlikely.
"Washington grows and prospers whenever there's a crisis in the world," says Levey. "Unfortunately, the world being as volatile as it is, my money's on DC."
Subscribe to the BBC News Magazine's email newsletter to get articles sent to your inbox.