Been and gone: A rock 'n' roll 'animal' and a racehorse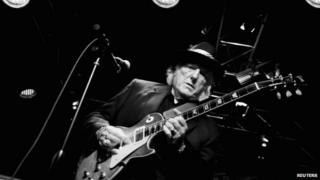 Our regular column covering the deaths of significant - but lesser reported - people in the past month.
A talented guitar player as well as a songwriter and producer, Dick Wagner grew up in Detroit where he fronted his own band. In 1973 he moved to New York and played on Lou Reed's dark album, Berlin, which explored themes of drug taking, prostitution and suicide. Wagner was responsible for rearranging Reed's early songs for the stage show that became the award winning Rock 'n' Roll Animal tour. In 1975 Wagner teamed up with Alice Cooper, with whom he had played in Detroit, and co-wrote the album Welcome to My Nightmare, which included the hit single Only Women Bleed, later covered by more than 30 other artists. Wagner released a solo album in 1978 entitled Richard Wagner, which some confused record stores put into the classical music section. Wagner's collaboration with producer Bob Ezrin saw him play on a number of albums by artists as diverse as Kiss, Peter Gabriel and Hall & Oates.
Pilot Lettice Curtis became the first woman to qualify to fly a four-engine bomber. As a member of the Air Transport Auxiliary during World War Two she was one of a band of pilots who delivered aircraft from factories to RAF bases throughout the UK. Their training was often rudimentary and they flew without any navigation aids, often in bad weather. Curtis qualified as a commercial pilot before war broke out and flew a plane taking photographs for the Ordnance Survey. After flying Spitfires and Hurricanes she was trained to fly the Halifax bomber. She moved on to become the first woman to fly a Lancaster and the US Air Force's B-17 Flying Fortress. After the war she worked in a number of aviation jobs and qualified to fly a helicopter at the age of 77. She published a book about the ATA, The Forgotten Pilots as she always believed the women flyers did not get the recognition they deserved.
Surgeon Donald Ross led the team that carried out Britain's first ever heart transplant in 1968 in an operation which took seven hours to complete. The recipient, Frederick West, lived for 46 days before dying from a massive infection. Incredible as it seems now, Ross had to overcome huge resistance to the idea of heart transplants with many people arguing the removal of the heart from the donor amounted to murder. Born in South Africa of Scottish parents, Ross was at university with heart transplant pioneer Christiaan Barnard. He came to England in 1949 where he qualified as a surgeon specialising in cardiology. In 1967 he pioneered what has become known as the Ross procedure, whereby a pulmonary valve is used to replace a damaged aortic valve. Because the new valve could grow with the patient it was suitable for use in children. Ross considered it his greatest achievement.
John Edson's popular tales of the Wild West were crafted in the unlikely setting of the Leicestershire town of Melton Mowbray. A former army sergeant, he was running a fish and chip shop when he decided to take up writing to supplement the family income. His first novel, Trail Boss, written in 1961, was published after it won a competition and his career was launched. Writing under the name J T Edson he was soon churning out seven Westerns a year, most of which paid little heed to any idea of political correctness. He built up a loyal readership, many of whom appreciated his in-depth knowledge of 19th Century US firearms. He didn't actually visit America until 13 years after his first novel and declared he had no intention of living in the landscape he wrote about. "I've never been on a horse," he once said. "They look highly dangerous at both ends."
See More Business became a favourite with the Cheltenham crowds in Gold Cup week. Bred in Ireland, he won his debut race over hurdles at Chepstow in 1995. Two years later, in 1997 he won the King George VI Chase at Kempton Park, setting himself up for the 1998 Cheltenham Gold Cup. Bad luck denied him a victory when a horse in front was pulled up and took him out of the race. He performed badly in early 1999 and had been all but written off as a hope for that year's Gold Cup. But two of his rivals were injured and, as the field approached the finish, there were just four horses in it. He crossed the line just ahead of a 66/1 outsider, Go Ballistic. He failed to defend his title the following year and his career looked to be over when he started the 2002 Gold Cup. However he received a huge ovation when he finished third behind Best Mate and Comanche Court.
Among others who died in July were:
Film, TV and stage actress Dora Bryan
Actor who starred in The Rockford Files James Garner
Celebrity chef Ross Burden
Tony and Emmy award-winning actress Elaine Stritch
Blues guitarist and Grammy award-winning producer Johnny Winter
Author and anti-apartheid activist Nadine Gordimer
Last surviving founder member of The Ramones Tommy Ramone
Subscribe to the BBC News Magazine's email newsletter to get articles sent to your inbox.