The mystery of a missing Crimean Tatar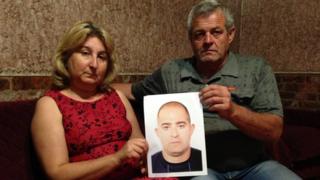 The unexplained disappearance of a pro-Ukrainian Crimean Tatar at the end of May - weeks after Russia completed its annexation of Crimea - is contributing to a sense of nervousness among Tatars, now a minority on a peninsula they once dominated.
All three of us are hunched over the computer staring at an image of an empty road. The numbers change - excruciatingly slowly - on the digital clock in the corner of the screen. Finally a lorry goes by, then a couple of cars and seconds later a red blur.
"Wait! Wait! Wait! That was it," Seitumer Zinedinov shouts, as his wife Elvira fumbles with the computer mouse. "Go back!"
We are looking at a film shot by a security camera in their local petrol station. Elvira watches with pursed lips, concern etched across her face. Her husband cracks his knuckles with impatience. They are desperately seeking clues about what might have happened to their only son.
On the evening of 30 May Seiran, aged 33, left their house on the outskirts of the Crimean capital, Simferopol. "He was in his tracksuit and said he was just popping out quickly to meet somebody on the highway. Then he rang his to say he'd finished and could his wife please heat up his dinner," says Elvira.
But Seiran never came back home. Somewhere between the main road and the house he disappeared.
Having spoken to neighbours, Seitumer believes his son may have been bundled into a car behind some bushes on the other side of the road. A couple of people noticed a red car driving away at high speed around the time Seiran went missing.
Elvira says she doesn't know why anybody would want to abduct her son, who worked in a local market selling construction materials - though she does say he belonged to an organisation called Ukrainski Dom, or Ukrainian Home, that lobbied for Crimea to remain part of Ukraine.
Just before Seiran's disappearance two others from the same group also went missing. A 22-year-old called Leonid Korsh was the first, then a local businessman, Timur Shaikmardanov. Seiran had gone to the highway to meet Shaikmardanov's wife on the night that he too vanished.
"Seiran was trying to find out what had happened to Timur," says Elvira. "So he met his wife - she was in a car and stopped to talk to him - then she drove off, but later she confirmed they had met."
So far the police have offered no theories about what might behind the three disappearances of men from Ukrainksi Dom, says Andrei Krisko, who runs a human rights mission in Crimea.
He says all three men took part in a demonstration, way back in February, against the so-called self-defence forces that appeared on Crimea's streets in the build-up to its annexation by Russia, and he notes that Shaikmardanov had helped to supply food to Ukrainian military units trapped in their barracks by Russian troops and paramilitaries.
Krisko believes the three cases are linked, not only because the three men were all members of the same pro-Ukrainian organisation, but also because of the way they disappeared - one after the other.
"Once one had disappeared, another started looking for him. Then he went missing himself. Then a third starts looking for the two first people. Then he also goes missing," he says.
"This all indicates a strong likelihood that they were kidnapped due to their social and political activism."
Krisko reminds me that Reshat Ametov, a 38-year-old Crimean Tatar and human rights activist, disappeared on 3 March in Simferopol after he had been filmed by a local TV crew standing in silent protest before uniformed men and Crimean self-defence forces surrounding the Cabinet of Ministers building in Simferopol.
Two weeks later his body, bearing signs of torture, was found 50 km away. His hands were tied behind his back.
The police have yet to charge anyone for this murder. Some members of the Crimean Tatar community - which made up about 12% of the population of the peninsula in 2001 - believe it was a racist attack. Others fear it might be part of a plan to ignite a conflict between the ethnic minority and Russian majority on the peninsula.
Crimea was conquered by Catherine the Great in the 18th Century but Tatars remained the dominant population until they were deported by Stalin during World War Two. When they were eventually allowed to return to their homeland after the break-up of the Soviet Union, many found Russians living in their former homes. Quarrels over property and land rights have caused persistent tensions over the past two decades.
"When we came back from exile in Uzbekistan there were strangers in my parent's house but we didn't try and kick them out," says Seiran's mother Elvira.
"Instead we built our own house brick by brick with our own sweat and blood. They didn't leave us anything - not a single cow or piece of furniture."
Like many Crimean Tatars, the family was angry when the authorities banned a demonstration in May marking 70 years since the mass deportation. "Of course people gathered in the main square anyway but then they flew helicopters over our heads to drown out the speeches," says Elvira.
When the police failed to investigate Seiran's disappearance she wrote a letter to the Russian president. "I told Vladimir Putin that I became a Russian citizen in March," she says. "And as a Russian citizen I needed his help - my son has gone missing and nobody is doing anything."
Ten days later Elvira got a reply from the president's office assuring her that the authorities are committed to finding Seiran. Then the acting Prime Minister of Crimea, Sergei Aksyonov, appeared on local television saying he knew nothing about the missing men but would investigate. A detective was finally put on the case.
"When journalists started asking me questions about these disappearances, I went up to my office and phoned the head of the FSB, the security services, and asked if anyone had been detained," Aksyonov tells me. "Then I phoned the head of the police and asked if anyone had been detained."
He turns his palms upwards and looks perplexed.
"Nobody was put in jail or arrested. We don't allow any dark goings-on on this territory."
But Aksyonov's calm deserts him when I ask why the widely respected leader of the Crimean Tatar community, Mustafa Dzhemilev, has been banned from entering the peninsula.
He snaps that Dzhemilev is an "extremist", who stirs up ethnic divisions and is an "agent for the Western secret services in Crimea".
"Everybody knows that," he says, when I look nonplussed. "They didn't even try to hide it."
A month before the ban was handed down, Dzhemilev had described as "illegal" the hastily organised referendum, in which Crimeans voted - according to the official result - to join Russia. He also said the vote had been manipulated.
Whatever the view of the majority in Crimea, many Tatars would have preferred the peninsula to remain part of Ukraine, because they believe there is a better chance of Ukraine guaranteeing minority rights. They also remember that the deportation in 1944 was ordered from Moscow.
According to Krisko, many Tatars have also rejected Russian citizenship, which he says could affect their right to own land, to travel, or gain access to schools and healthcare. Ten days before Seiran Zinedinov's disappearance, a Crimean deputy prime minister said Tatars would be asked to vacate "illegally occupied land".
Like Seitumer and Elvira, Krisko is still hoping Seiran and his two pro-Ukrainian friends will eventually be found. But he looks worried.
Subscribe to the BBC News Magazine's email newsletter to get articles sent to your inbox.