Rob Ford: New chapter in Toronto mayor's soap opera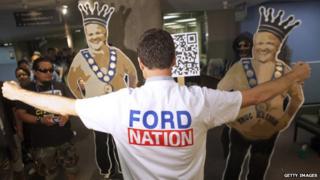 Toronto Mayor Rob Ford has been diagnosed with a "fairly aggressive" rare cancer, doctors treating him have said. The colourful and controversial mayor will begin chemotherapy.
There's been a rare show of unity, in a city that he's been accused of dividing.
Rob Ford's many ardent supporters - those known as Ford Nation - have joined in solidarity with his most vocal opponents in rallying behind Toronto's mayor as he faces what he himself describes as the battle of his life.
One of the books here that has been written about the rollercoaster ride of the mayor's three-and-a-half years in office, is called Crazy Town- an apt description of how North America's fourth largest city with a reputation for progressive, somewhat sedate governance, found itself completely turned on its head by Ford.
The climax in the chain of scandals that followed was undoubtedly the mayor's confession - after months of denials - that he smoked crack cocaine, as he put it, in one of his drunken stupors.
News conferences with Ford were never dull. There would almost always be bizarre statements, attacks on his detractors - especially the media - or more often than not, enraged denial.
On several occasions Ford attempted to simply outrun reporters along the corridors of city hall, regardless of what or who he collided with along the way.
I don't know how often I'd hear journalists say to each other: "You just couldn't make this stuff up."
Then of course there were the seemingly endless supply of videos collected surreptitiously on mobile phones, either showing Ford in one of his drunken stupors, or caught slurring through one of his profanity-laced rants.
There have been more serious scandals too. The mayor was stripped of some of his powers after a judge ruled against him in a conflict of interest investigation.
And his former driver has been charged with extortion related to attempts to retrieve the now infamous crack video from drug dealers. Ford's exact role in this may never be known.
So what kind of people have given such unwavering support to the mayor of Crazy Town?
Ford Nation is an unlikely coalition from just about all parts of the city outside of its cosmopolitan central core. Until it was amalgamated into one giant city in the mid-1990s many of these outlying districts had their own mayors and their own way of doing things.
Ford's supporters include suburbanites from his own district of Etobicoke, who hugely resented the mayor's liberal predecessor for increasing their property taxes and then spending the money on bike lanes, wind farms and a waterfront renewal program that they felt did nothing to benefit them.
Ford Nation also includes those who have been on the rough end of this city's huge growth.
The Economist may call Toronto the third most liveable city in the world but it doesn't feel that way far from the glittering, shiny downtown.
Soaring property prices and gentrification have pushed some people to the margins.
Ford appeared to be a friend of the working poor and new immigrants in dilapidated 1960s-built blocks of flats in areas like Scarborough or Rexdale.
For all his faults, he has a knack of making those people feel that they were being listened to.
He would famously give out his own mobile phone number and personally respond. His biggest gift is coming across like a regular guy. The common touch.
Just two weeks before he was hospitalised, I found myself very close to Ford at a south Asian food festival. The mayor didn't have to do anything.
People were attracted to him like magnets. For one-and-a-half hours he stood glued to the same spot as awestruck fans, one after the other paused to have their picture taken with him.
He would put his arm around a shoulder, display his impressive set of teeth and have a joke and a laugh.
And that's another thing about Ford. He's now an international celebrity. And that seems to bring with it a set of rules that includes a high tolerance for bad behaviour.
His many detractors, including most of the media, point out that in addition to all the shenanigans, Ford actually failed to achieve most of his goals as mayor, including his much-vaunted promise to meaningfully cut city expenses.
And there were signs, even while he was still running for the 27 October election, that his antics had finally led to waning support, as he slipped into second place in the polls behind a moderate conservative candidate.
As one newspaper columnist recently put it: "It was fun to be famous, in a way. But it's better to be boring."
How to listen to From Our Own Correspondent:
BBC Radio 4: Saturdays at 11:30
Listen online or download the podcast.
BBC World Service: Short editions Monday-Friday - see World Service programme schedule.