In America, some children come to guns early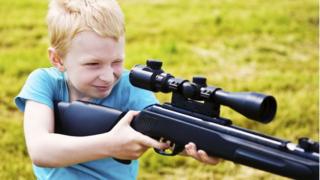 This week, a nine-year-old girl firing an Uzi submachine gun accidentally shot to death her weapons instructor. Not all Americans grow up shooting guns - but those who do often start young.
When he was five years old, Dan Baum started shooting guns.
The author of Gun Guys: A Road Trip has crisscrossed the country learning about America's gun culture. He believes shooting can teach children valuable lessons about respect and discipline.
"It can be a great thing for kids," he says. "What you're saying to a kid is, 'This is an extremely dangerous device I am putting in your hands, and I am trusting you to use it properly.'"
Thirty-one percent of US households had at least one child and one gun kept in the home as of 2012, according to the Law Center to Prevent Gun Violence. For many parents, being a responsible gun owner also means teaching children to shoot - and respect firearms - from an early age.
Children's involvement in American gun culture is so ingrained that in some areas, schools close on the first day of deer-hunting season.
One company sells weapons specifically for children. Crickett Firearm's "My First Rifle" has less firepower than many adult versions and is designed to fit smaller hands.
Baum taught his daughter to shoot when she was 10.
"Children are smart," he says. "First of all, they'll find anything you try to hide. And second of all, they can learn instructions. They can learn safety."
David Prince and his wife started the Eagle Gun Range in Lewisville, Texas two years ago. They welcome children as young as age eight and have hosted children's birthday parties at the facility.
"We wanted to provide a safe, family-friendly environment to learn gun safety because kids are going to come into contact with guns," Prince says.
"They see them all the time in video games. They need to know that the guns out there are inherently dangerous."
Prince showed his children how to handle and empty a gun at ages five and six "so it took the mystery out of it," he says.
---
Children and guns by the numbers:
18: The number of people age 24 and younger killed by firearms in the US each day
55: The percentage of US homes with children and firearms in which one or more weapons are kept in an unlocked place
1.6: The number, in millions, of children 18 and under who are estimated to be living in homes with loaded and unlocked firearms
72: The percentage of parents who say they have spoken with their children about the hazards of guns
Source: Law Center to Prevent Gun Violence, ABC News
---
Legally, he says, there are no limits placed on how old a child must be in order to fire a weapon. That determination is instead left to parents.
Price says children can handle submachine guns like the one used in this week's fatal shooting, but only with proper safety precautions - such as tethering the weapon to minimise recoil.
For his part, Baum says no child should be given access to Uzis. While he hopes the tragedy sparks a wider discussion about guns in the US, he's concerned it will also be used as political fodder for the anti-gun lobby.
"The pity is people are going look at this video and, on the basis of what this [instructor] did, draw conclusions about children and firearms that will serve their preconceived agenda," he says.
---
Uzis
Submachine gun designed in 1950s for Israel's army
Capable of automatic or semi-automatic fire
Standard rate of fire is 600 rounds per minute
---
Meanwhile, Silvio Calabi, author of The Gun Book for Boys, says the gun debate in the US has become so polarised that people on both sides go to extremes.
"Some people are so hell-bent on proving it's ok that they will push the envelope," he says.
"If you go online, you can find photos of five-year-old kids shooting machine guns. I have to believe that in a normal sort of situation, nobody, no matter how hard-core a shooter or shooting enthusiast, would hand a machine gun to a five-year old."
Still, he says, those who are shocked at the idea of children shooting guns often don't understand the reality.
"They envision homes where loaded guns are lying around on coffee tables like candy dishes, and that it's just a matter of time before there's some horrible accident and some family member gets wasted," Calabi says.
"The great majority of people who shoot treat guns with a great deal of reverence, and keep them under lock and key," he adds. "They regard them as recreational equipment but understand the realities that go with it."
His children, who learned to shoot around age 12, no longer use firearms now that they are grown. But, he says, they made that decision only after understanding first-hand what it's like to fire a gun - and to be part of an American tradition.
Additional reporting by Kate Dailey