My father, the zoo builder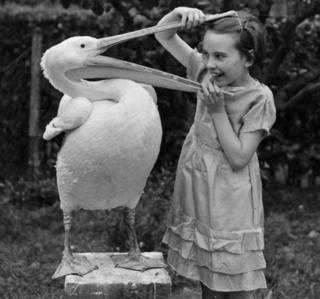 Chester Zoo was the brainchild of a shopkeeper who started it in his back garden. It meant a remarkable childhood for his daughter, writes Ellen Tsang.
June Williams was just four in 1930 when seven acres of land in Cheshire were bought by her father. His name was George Mottershead and he had a dream - to build a "zoo without bars".
Born in 1894, as a boy Mottershead had felt sorry for the caged animals at Bellevue amusement park in Manchester. He returned from fighting in World War One to set up a market garden and florist's shop. The business flourished, especially when he started selling pet birds. He decided to put his private menagerie of animals on display.
The family moved into Oakfield House with a pair of goats and a gibbon, and were soon joined by two bears bought from a wildlife park in Matlock, Derbyshire. But Mottershead's mission was fraught with difficulty from the beginning.
For a start, there was opposition from neighbours who worried about animals escaping.
"We'd hoped to open in Easter but didn't get permission until the summer," June, now 88, recalls. "The money was going out very fast because the mortgage had to be paid and the animals fed."
Undeterred, Mottershead continued to find inventive ways to stock his zoo with exotic creatures.
In those days, animals could be bought and sold in department stores.
"People would buy them as youngsters, and of course they would soon become unmanageable in a house," says June. "So they'd leave them at the zoo - monkeys and different things."
Mottershead's ambitions may have appeared unusual, but he had plenty of supporters who would donate animals as gifts. These included a capybara - a giant South American rodent - from the Duke of Westminster.
"Someone had given it to him as a present. He put it on an island in the Eaton estate, and of course it kept swimming off the island because they're aquatic animals - but nobody had realised it at the time. And so we got it," June says.
---
A zoo without bars
The story of George Mottershead and his family is told in the BBC One drama Our Zoo, on Wednesdays at 21:00 BST
---
In 1931, Chester Zoo finally opened its doors to the public. From the beginning, June remembers her father as a pioneer, trying to give the animals as much space as possible.
"He was very inventive. He put the lions behind link mesh fencing. People said it would never hold lions, because all the lions were behind bars at that time. But he had the courage of his ideas."
Instead of building a cage to enclose his chimps, Mottershead dug a moat.
"When I look back now at photographs of the chimps behind a moat of water, I realise it took some courage to let fully grown chimps onto an island with just water, because nobody else had done it."
June inherited her father's empathy for animals.
Growing up in a zoo, she counted exotic beasts amongst her best friends. None more so than Christy, a lion cub June hand reared until her father exchanged her for a polar bear, leaving June heartbroken.
Then there was Mary the chimpanzee.
"We more or less shared our youth. We did things together. I used to try and teach her how to tie a knot, but I never succeeded. And we'd draw things in the sand together. She had a beautiful temperament. Chimps are just like humans… you get a close bond with some."
World War Two proved a difficult time for the zoo. Young animals were growing fast and needed new enclosures, but there was no material to build them. So bears were forever escaping their makeshift pens.
Chester took on animals evacuated from city zoos for fear of being bombed. Bison arrived from Dudley while a polar bear came from Brighton.
The family also acquired an elephant called Molly, whose travelling circus had been stranded in England when war was declared. She was taken in and housed in a temporary stable in the courtyard. As soon as the war was over, Mottershead found a way to erect an elephant house.
"It was built out of road blocks that were used during the war to stop the tanks coming up and down," June remembers.
"The elephant house was built very quickly, very roughly, but it gave them a home. It was a case after the war of just getting everything going again."
Through all the trials and setbacks, Mottershead's creativity and determination kept the zoo going. But June is keen to emphasise that the zoo project was very much a family affair.
"My father was the leading light and very courageous, but there had to be someone to back him up," she says.
"Dad would go and bring animals in, but my mother was the mainstay. She went round the animals every evening to check they had fresh water and a warm bed. They say any famous man always has a woman behind him… She was always there."
Today, 80 years since the first goats arrived, Chester Zoo is flourishing. It's home to 11,000 animals across 110 acres of land, and prides itself on animal welfare, education and conservation.
June thinks it's a fitting legacy for her father. "I'm sure he would be very, very proud."
---
Other families with animals
---
Pictures of Chester Zoo and June Williams provided by Big Talk Productions.
Subscribe to the BBC News Magazine's email newsletter to get articles sent to your inbox.