Football in the US: A tale of three matches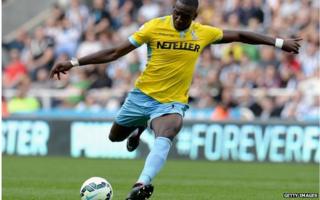 For years, football enthusiasts have been predicting the game's ascendancy in the US. Writer Howard Megdal watched games in three different New York locations to see if those predictions are coming true.
There was scant evidence of a change in US football culture to be found one recent Saturday morning at the AMC Empire 25, near Times Square in Manhattan.
Fathom Events, which puts on to US cinema screens shows like National Theatre Live's A Streetcar Named Desire from the Old Vic, The Met's version of Macbeth, and a One Direction concert, is doing the same for one Premier League match each week until at least 18 October.
But the cinema was nearly empty. There were six people in total, my father and me included.
But far from some definitive, tired statement that "Americans don't care about soccer", it is instead instructive that such an opportunity is even being offered.
Moreover, the reason you didn't see many people there on Saturday had more to do with the frequency and sophistication with which Americans consume football than any reticence about the game itself.
We're now several months beyond a World Cup which drew unprecedented television ratings (and not just American games, either) along with the attention of mainstream media outlets around the country that often looked past football during previous World Cups.
For the "soccer" sceptics here, the last vestige of hope they had was once the tournament ended, people who'd come to care about the game would return to their Messi-free lives.
But if 2014 represented a new peak for football engagement in America, it wasn't some dam bursting as much as merely the latest wave cresting a bit higher on to the shore. Attendance for Major League Soccer has steadily increased in recent years, while NBC's foray into covering the Premier League was enormously successful last season, and looks to be even more popular so far this season.
Ten, even five years ago, it would have been impossible for an American to watch Crystal Palace take on Newcastle United at home, or at any bar. Seeing it would have been as difficult as travelling from my home in suburban New York to go see a show at the Old Vic in London.
But between the NBC family of networks and the NBC Live Extra app, Americans can now watch this, or any match, in high definition in their own home.
Fathom Events CEO John Rubey declined to provide any specifics about attendance around the country, but said in an email that the "fan support we have seen so far is very encouraging".
In New York, the few fans who were in attendance were diehard Newcastle stock. Leighton Symons, a Newcastle season-ticket holder transplant from England, explained that an algorithm brought him to the theatre.
"It was something on my feed on Facebook," says Symons. "It said to watch the Barclays Premier League live, and I thought that was a fantastic idea."
He was in surprisingly good spirits, considering that Newcastle had surrendered a late goal at home to settle for a 3-3 draw against a Crystal Palace side they outclassed.
The empty seats proved a stark contrast to the scene at a recent match featuring the Red Bulls, New York's professional team.
More than 17,000 fans came to Red Bull Arena to watch the magic of Thierry Henry while they all still can. And this is no retirement year phenomenon: the Red Bulls have averaged more than 18,000 fans each year since Red Bull Arena opened in 2010.
I attended that match with several friends. These were casual football fans at one time, but now each of them participated in a fantasy league using Premier League stats, with loyalties to Newcastle and Tottenham among them.
The Red Bulls have the kind of European-style football atmosphere that fans here have seen on their televisions. Right on top of the action, the stands don't need to be full to make fans feel like they are part of something larger. And beer is available to those who don't mind queues at half-time. That's another issue with the cinema games - no beer.
Symons, the Newcastle fan, says he watches most Premier League matches at home. "But when I try to find Newcastle playing, I'll go to a bar, there's more of an atmosphere," he says.
Indeed, a few blocks away from the theatre, a huge contingent of fans were at a sports bar in time for the start of Everton-Chelsea. The televisions were plentiful, huge, and high definition. The drinks flowed. Downstairs, a room of about 100 people packed in, Lampard and Cole jerseys mixing with newer Hazards and Diego Costas.
The singing was audible from upstairs, and the joy present in a crowd witnessing six Chelsea goals was palpable out on the street.
The victim in goal, Tim Howard, was an American hero this summer. These Americans, not just football fans but Chelsea fans, didn't give it a second thought.