A Point of View: The long shadows of war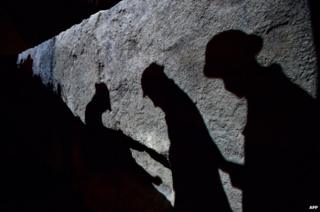 There should be a way to commemorate war without glamorising it, says Lisa Jardine.
The first week of the new school year seemed like a good time to visit the recently re-opened Imperial War Museum in London. I had read that the museum was "overrun by hordes of schoolchildren" in early September. But if I thought I could avoid the crowds I was wrong. There was an hour-long wait for a timed-ticket entry slot to see the new World War One galleries.
The galleries are packed with thousands of objects and documents from the 1914-18 conflict, many of them never seen by the public before. Wherever you turn there are things that carry personal stories - a bullet-torn bible, a much worn keepsake, a lucky charm or love token, cherished by a soldier who perhaps died on the battlefield. Precious archived film projected on all sides is a reminder of the way the war touched everybody, on the home front as well as the battlefield.
There are compelling words to be read all around you - on the exhibits themselves as well as their explanatory captions. Words on posters wittily exhorting those at home to be frugal ("save sugar and serve the cause of freedom"), more witty words on the makeshift signs the soldiers made giving their trenches the names of familiar streets back home, heartrending words in letters to sweethearts, manfully making light of the dreadful conditions.
Visitors moved through the exhibition rooms at a snail's pace, immersing themselves in the sights and sounds of the Great War.
"Each of the objects gives a voice to the people who created them," the director of the Museum, Diane Lees explains, "and reveals stories not only of destruction, suffering and loss, but also endurance and innovation, duty and devotion, comradeship and love."
But are those stories perhaps a little too upbeat, too coherent and focused when war itself is neither?
Fear, even dirt, and certainly blood, disfigurement and death seem to have become muted, to be replaced by gripping original film footage and compelling interactive screens. All the uniforms on display are nicely pressed and clean. All the planes and tanks have been lovingly restored.
Most strikingly, the museum's old "trench experience", with its life-sized human figures huddled in the dark, in ragged uniforms amid rats, smells and shell flashes (which my children found genuinely scary) has gone. Instead there is a grey, mud-textured passageway with projected silhouettes of combatants, and film of actual soldiers in their dugout, and a Sopwith Camel fighter plane and a Mark V tank looming over us. As one review put it, "It's no more frightening than an office foyer."
The result is an atmosphere close to veneration for the sacrifices of those who endured the conflict. In these new, wonderfully post-modern galleries, we have something disturbingly close to celebration of what Britons were prepared to undertake for their nation.
Of course, the Imperial War Museum is properly fulfilling its brief. After all, it was founded in 1917, when the War Cabinet approved a proposal for the creation of a national war museum to record the events still taking place (it opened in 1920). And patriotic commemorations will always, of their very nature, elevate the memory of a war fought and won, and the brave individuals who died.
But surely here was a chance to address the gap between the stories we tell to honour the fallen, and the horror of war itself?
---
Horrors of war
Soldiers who served in World War One endured some of the most terrible forms of warfare ever known. Many thousands began suffering strange symptoms from uncontrollable twitching to terrible nightmares. A number of names to describe this new illness were suggested but the one that stuck was shell shock.
At the outbreak of war in 1914, the British Army had 700,000 available men. Germany's wartime army was over 3.7 million. When a campaign for volunteers was launched, thousands answered the call to fight. Among them were 250,000 boys and young men under the age of 19, the legal limit for armed service overseas.
---
It is not that the war is glamorised at the Imperial War Museum, rather that the need to capture and convey the variety and breadth of stories of a conflict in which so many died is in the end at odds with the grim reality of the front line. Where are the stark warnings of what modern industrialised war means? Where are the lessons for us as individuals about the consequences of conflict?
Ideals are quickly overwhelmed in the carnage of the battlefield.
In every generation, idealistic young men and women with strongly-held beliefs will volunteer - often overseas - to fight for a cause. In the late 1930s, thousands of volunteers from Britain travelled to Spain to fight with the anti-fascist rebels against General Franco and his nationalists. Their dream was the defeat of the Europe-wide threat of fascism. Instead they found themselves engaged in a chaotic and horrific war, notable for the atrocities committed by both sides. Nor was it clear back home that their purpose was honourable. We learned from MI5 documents released by the National Archives in 2011 that British intelligence monitored their movements, preventing them from leaving at ports, and continuing to keep them under surveillance once they were home.
Hard as it may seem to comprehend, I have to assume that some of those who have travelled in their hundreds to Syria to join the so-called insurgents have done so with the same sort of unrealistically idealistic intentions. They too have found themselves in the midst of a brutal, factional war, whose objectives are increasingly unclear and muddled.
This week, a young man claiming to represent a group of British militants fighting in Syria reportedly contacted The International Centre for the Study of Radicalisation and Political Violence at King's College London, to tell them his group of volunteers wanted to come home. They had gone to help topple the regime of President Assad, but had found themselves involved in disordered and often squalid sectarian violence: "We came to fight the regime and instead we are involved in gang warfare," he said.
Wars are not heroic, even if they prompt acts of heroism by soldiers and civilians. At best they are necessary evils. Our young people, raised in a Britain at peace for 70 years, need to be told that.
The most compelling commemoration of the centenary of the outbreak of World War One, for me, is the installation Blood Swept Lands and Seas of Red at the Tower of London - an ocean of blood-red ceramic poppies flooding down from the ramparts and filling the moat - 888,246 gorgeous oversized poppies, one for every British and colonial soldier who died in action. Still, I find myself troubled by the surge of emotion it produces in me - a feeling of national pride that overwhelms any misgivings about warfare itself.
We have to remember that war is a terrible thing. We ought not to accuse those who hesitate to embroil their country in a conflict of procrastination. "The most sensible commemoration of any war is not to repeat it," Simon Jenkins wrote recently. He said: "The chief lesson of 1914 must be not recklessly to rattle sabres across the frontiers of Europe."
A week after my eldest son had started school in the mid-1970s, he asked me if I could buy him a khaki shirt. When I delved a little further into his request, it turned out that the boys in the reception class at his little local primary school were "playing World War Two" in the playground in morning break. The instigator of this game - in which apparently about a dozen children were taking part - was a little German boy, son of a lecturer in German at the University of Cambridge. He had apparently told his new friends that at home in Germany they were already practising for World War Three.
As a first-time mother I agonised over what I ought to do. In our house there were no war games - when he wanted a toy gun I had persuaded him to accept a silver Star Wars toy ray-gun instead. I was reluctant to interfere at school - who wants to be that kind of pushy parent?
So I went to our local public library and consulted the children's librarian (those were the days!). I needed to connect a five-year-old's own experience directly with the enormity of war, she said. She recommended a recently published book by Norman Longmate, How We Lived Then: A History of Everyday Life During the Second World War. That evening, instead of a bedtime story, Daniel and I read together the chapter on the evacuation of children. His attention was particularly taken by the black-and-white photographs of children his own age saying goodbye to their parents, with a label attached to their coat, a gas mask hung over their shoulder, and clutching a worn teddy-bear. Suddenly, war was not a matter of aeroplanes and guns - "Bang bang, you're dead." It meant separation, being uprooted, anxiety, and loss.
We bought the Airtex khaki shirt. But he never wore it to school.
A Point of View is broadcast on Fridays on Radio 4 at 20:50 BST and repeated Sundays, 08:50 BST
Subscribe to the BBC News Magazine's email newsletter to get articles sent to your inbox.