Secret Service officers struggle behind the scenes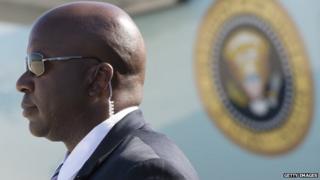 The break-in at the White House makes the US Secret Service look terrible. It also sheds light on an agency that operates largely behind the scenes.
People in Washington have advice for those guarding the White House.
Lock the door, said a US congressman, Mike Rogers, on CBS's Face the Nation.
On Friday, a man later identified as Iraq War veteran Omar Gonzalez climbed a fence, ran more than 60m (197ft) and made it through the North Portico door.
One former Secret Service officer who asked not to be identified ("I'm a private person," he says) is as puzzled as anyone about his former colleagues - and "how hapless they seemed".
He says he's spent "many hours" standing at the North Portico door. He wonders how Gonzalez made it that far.
"I'm at a loss to explain why somebody didn't tackle him," he says.
Gonzalez was captured - once he got inside. He had a knife and 800 rounds of ammunition in a car parked blocks away, according to authorities.
Luckily no-one got hurt. Still the breach of security marked a new low - the first time an intruder had made it into the building.
Security has been beefed up over the past several days. Three white SUVs were parked near the North Portico door on Monday. In addition, visitors were screened more carefully than usual. Some were turned away. (I was, for a time, the result of a clerical error during my accreditation).
One can hardly blame the officers for being extra-vigilant.
The incident with the "wall jumper", as Gonzalez is known at the White House, draws unwanted attention to the Secret Service - again. Over the past several years they have been caught in a series of sex scandals and drunken escapades.
There are other problems, too.
In recent years those who work at the Department of Homeland Security, which oversees much of the Secret Service, have suffered from a high attrition rate. The Washington Post reports the workforce has "abysmal morale".
An internal review of the Secret Service is now underway - commissioned because of the break-in. The review will include "an assessment about whether or not additional staffing is needed", White House press secretary Josh Earnest told reporters on Monday.
In addition, he says, the Secret Service has increased "training for officers who are essentially standing on the front lines of the White House".
People who work at the Secret Service defend their record, saying the agency handles security for big events such as the recent US Africa Leaders Summit, a gathering of 40 African heads of state in Washington, and the United Nations General Assembly in New York.
"You're seeing a lot of successes and a lot of hard work," says spokesman Brian Leary, "some of which is in the media and some of which is not."
Protecting the White House is a particularly hard assignment.
One of those on the front line - a man with sandy-coloured hair who checks IDs - has a deep tan, except for splotches around his eyes, protected by Oakley-style sunglasses. He and other officers spend hours hunkered down in guardhouses or standing in the sun, watching the premises.
One retired officer says, "Over a period of twenty-something years it beats you down. I've got bad hearing, an aching back - it's a tough job."
These officers try to make sure dangerous people are kept out - and guests are allowed in. The president entertains swanky visitors at home, many of whom need extra security. In addition, thousands of tourists walk through the front door.
White House officials say they do not want to overwhelm the place with security. If officers were lined up on the lawn, it would look like a fortified US embassy rather than "the people's house", as Earnest puts it, in the nation's capital.
Still some concessions have been made. The front door, says Earnest, is now locked.
Follow Tara McKelvey on Twitter.