'Why I bet £900k on the Scottish referendum'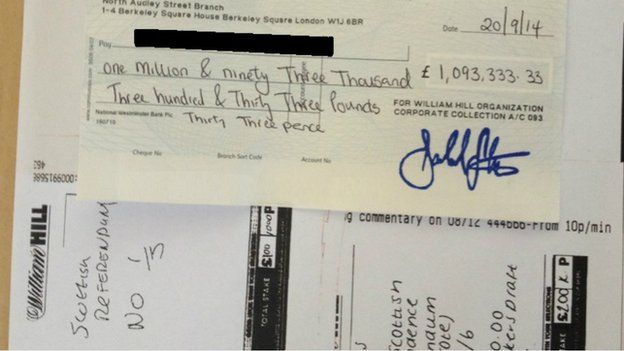 An anonymous man bet £900,000 on a "No" vote in the Scottish independence referendum. He won. Here he talks through his thought process.
This was not a reckless gamble. Losing this money would have seriously hurt. But I wouldn't have lost my house - although maybe my wife would have had something to say about it.
I'd call it responsible gambling. And my main advice would be "don't try this at home". But I'd prefer to call this a reasoned wager. For me it was almost an investment.
I made the bet in four instalments but I'd always planned to wage £900,000. I staggered it in the hope that the odds would improve closer to the time - they didn't. The best I got was 1-4. So for every £4 I bet, I'd get £5 back.
So although I received a cheque for £1,093,333.33, my actual winnings were just under £200,000.
The first time I walked in to the William Hill I tried to place a bet of £400,000. The bookies weren't set up to take it. They could only process £9,000 deposits at a time so it would have taken almost a whole day of separate transactions. By the time we organised a better solution the next day, the odds had worsened.
I've had a career in finance in which I've had to make projections and limit risk as much as possible. These were my savings, my money, but I felt I'd done enough research to be sure of the outcome.
It was a decision taken in conjunction with my wife. And although I bounced a few ideas off other friends, nobody else knew what we were doing.
But really I stumbled into this wager. This is not something I've done before.
I'm a bit of a data geek and information nerd. I was trying to look at what the impact might be of Scottish independence. I'm a committed unionist. So I wasn't purely an impassionate observer. But while my interest in the topic came from the heart, the analysis of the data was hard-headed.
What blew my mind was the amount of data available. Poll after poll after poll asking every possible question across generations. You have an exact insight into what is important to local Scots. You can look at this data and make some interesting predictions, which is what I did.
Analysts may have considered it too close to call at times but I guess I'm a bit more of a risk-taker. Nevertheless, by June there had been something like 85 individual polls and not a single poll had actually had a "Yes" outcome.
I also looked at historical precedents. The 1995 Quebec referendum in Canada followed a very similar pattern. The separatists were behind in the polls. Then on a popular upswing of self-determination they took the lead going into the actual vote. But then on the day there was a seven percent reverse and the separatists lost.
So I trusted my analysis. You might think I'd be sweating on the day of the vote - or especially when the polls showed a "Yes" vote lead.
It's normal to have self-doubt, it wouldn't be human not to, but it never took longer than a few minutes of reflection to convince myself again that I'd made the right conclusion.
When the polls showed the "Yes" campaign in the lead, my wife did come in with the newspapers and said: "Now what?" So yes it was nervous. But a surge by the "Yes" vote was in my predictions, followed by the subsequent bargaining, promises of more powers and the unleashing of Gordon Brown.
It meant that even on the night of the vote I wasn't nervous.
I went to sleep at 23:00 and woke up as if it were any typical day. Although it did help that the last poll I'd seen before going to bed showed a 54-46 split in my favour.
But this is not something you should do lightly. It was not a "feckless gamble", as some have suggested.
As told to BBC Radio's Jeremy Vine show and BBC News Magazine's Tom Heyden.