Queen Mary: Liner that helped launch monster cruise ships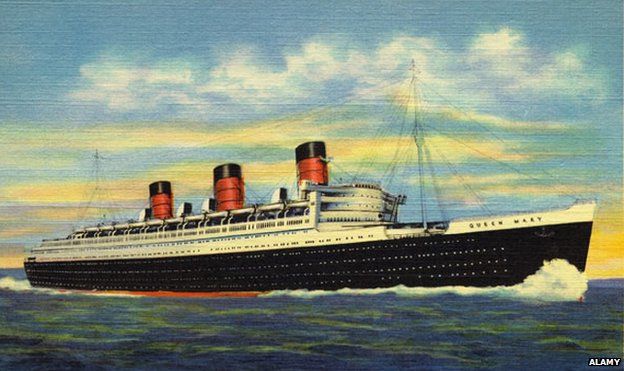 Eighty years ago the launch of the RMS Queen Mary helped define an era of luxury liners. Did it presage the monster cruise ships of today?
Four days - that was how long it took. When the Queen Mary launched on the River Clyde in Scotland in 1934, an ocean liner was the only way for most people to get across the Atlantic.
Four days at sea to reach New York had its consolations. The Queen Mary had two swimming pools, tennis courts, libraries, and nurseries for all three classes of passenger. There were games of deck quoits and bridge. Afternoon tea was an occasion. Then it was time to dress for dinner, where even third class passengers got a choice of hors d'oeuvres.
The satirist ES Turner, who was on the maiden voyage, wrote of two imaginary passengers - Beauty and Chivalry - "swanning down processional staircases, through high baronial doors to feast in a pearlescent glow on caviar scooped from the bellies of a carved-ice menagerie: that sort of thing."
Cunard, the ship's operator, had been synonymous with discreet comfort, says John Graves, curator of ship history at the National Maritime Museum in London. "But with the Queen Mary there was a nod to modernity, particularly to art deco." The first class dining room had a chart of the North Atlantic, tracking its position and that of its sister ship the Queen Elizabeth - their meeting in the mid Atlantic was highly anticipated. Ladies' furs were stored in a cold room. The Verandah Grill had a sundeck where one could dance the night away. And first class cabins were equipped with a telephone that could call anywhere in the world.
The interwar years were the transatlantic liner's golden age. Europe's great powers competed with one another for the Blue Riband - the fastest East-West crossing. Germany had the Bremen and the Europa, Italy the Rex and the Conte di Savoia, emblems for their leaders' ambitions. When France launched the Normandie in 1932 its dining room was compared to the Hall of Mirrors in Versailles. Soon it had wrested the Blue Riband from German and Italian control.
The Queen Mary was Britain's great hope. The shipyard workers in Clydebank created a behemoth - it had the biggest hull in the world, and 12 decks housing 2,139 passengers and 1,101 crew. As it slid into the Clyde in 1934, radio announcer George Blake said Cunard's grandest ship resembled a "great white cliff, terrific and overwhelming". Using today's standard unit of measurement - Wembley Stadium - it was taller than the new Wembley's roof and three times the length of its pitch.
By the time of the Queen Mary's maiden voyage in 1936, the Normandie, after a refit, had retaken the title of world's biggest passenger ship. However the Cunard vessel snatched the Blue Riband with a crossing of three days, 21 hours and 48 minutes, and held on to it until 1952.
But the golden age couldn't last. By 1958 more people flew across the Atlantic than sailed. Today there is only one transatlantic liner left, the Queen Mary 2, which makes 20 scheduled trips a year between Southampton and New York. But the QM2 is slower than its predecessor, taking a week to cross the Atlantic.
Today, passenger ships are about cruising rather than transport. The biggest - the Allure of the Seas - is more than 164ft (50m) longer than the Queen Mary, has nearly three times its gross tonnage and accommodates more than 6,000 passengers. It has a 1,380-seat theatre, ice skating rink, seven themed "neighbourhoods", including a tree-lined Central Park and the first Starbucks at sea.
Cruises are marketed at multiple audiences with different selling points - a formal dining night, cultural tours of the Aegean, Disney characters or celebrity hostings. Some cruise around the Caribbean. Others go out to sea and come back a few days later without docking anywhere - known as a "cruise to nowhere".
Trade body the Cruise Lines International Association says that passenger numbers have risen from 12.3 million in 2003 to 21.3 million in 2013. The US accounted for just over half of all global cruise passengers, followed by the UK and Germany, with the Caribbean the most popular destination for Americans. According to retail analyst Mintel, 14% of people in the UK have been on a sea cruise, spending an average of £1342 per person in 2013.
David Dingle, chief executive of Carnival UK, the biggest cruise operator in the world, says China is a big growth area. Chinese cruise passengers numbered 600,000 last year and he believes that figure will at least quadruple in coming years.
There is clearly a big demand for cruises, says Simon Calder, travel editor of the Independent. But the real successor of the ocean liner was the jet aircraft. "When the Queen Mary sailed, her purpose was to get people from A to B." After passenger aircraft took away their market, big ships had to change tack. "Once they started sending people round in circles on cruises, they'd invented a new industry," Calder says.
Today, no cruise ships have class distinctions. Cunard, now an upmarket division of Carnival, comes closest to having a social hierarchy - dinner in the Grill is available only to passengers in the most exclusive cabins. On the other hand, class was built into the Queen Mary's design. She was carved up into three distinct sections, each with its own cabins, decks and dining rooms. "To show we were not peasants we put on black ties each evening," wrote Turner, who travelled second class on the Queen Mary. "It was, I suppose, a comical sight to see four male strangers, who never normally dressed for dinner, struggling and elbowing in a tight-fitting cabin as they fumbled with dress studs."
Cruise ships have eclipsed ocean liners in scale and facilities. But what they can't compete with is the glamour that came from having Marlene Dietrich, Charlie Chaplin, Elizabeth Taylor, Winston Churchill and the Windsors on board, as the Queen Mary did.
"They represented a privileged and exclusive way of life, one that can never quite be recaptured on ships today," says Graves. And, there was something that transcended class - a shared purpose. "They weren't simply bobbing around in the Caribbean," he says. "They were doing something with their life, they were going somewhere."
...and all who sails in her
Some 200,000 spectators gathered at the John Brown Shipyard for the christening of "Hull 534"
"Then came the moment for which the whole Empire was waiting," writes the Times of 27 September 1934. "Her Majesty severed a cord, which broke a bottle of Australian wine against the side of the ship - and, incidentally, drenched a Press photographer in the process, to the great delight of the spectators. Then, amid breathless silence, the Queen pressed the launching button which sped the vessel on its way to the river."
More than 10 million rivets to construct the ship, which had a waterline length that was longer than the Eiffel Tower is tall