Sumo shines in the US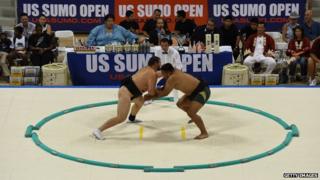 In Long Beach recently, 70 men and 15 women from more than a dozen countries participated in a sport that isn't commonly associated with Southern California: sumo wrestling.
The US Sumo Open has grown to become the largest amateur sumo competition outside of Japan. And while it's probably a bit premature to claim that sumo is the next soccer, the sport has a lot to offer American watchers. Like instant gratification.
---
Hear more
List to the original radio broadcast on PRI's The World, a co-production with the BBC.
---
Sumo matches are incredibly short-in some cases, five seconds short. There are no commercial breaks and no stops to review the plays.
Even the rules are simple: Push your opponent out of the ring or to the ground. No points necessary.
"With sumo, it's relatively straightforward, even for a beginner, to understand what happens," says Andrew Freund, the founder of the US Sumo Open and a lightweight sumo champion.
"It's unlike sports like judo or wrestling or things like that, where it's a little bit more complicated."
And hey, you don't even have to be fat. At last year's US Open, 175-pound (79.4 kg) American wrestler Liz Seward took down a 400-pound British wrestler named Sharran Alexander.
"Size doesn't matter very much, because if you can do something to exploit your opponent's weakness, to use your strength, get a good grip on the belt, to get a good position, you can topple anybody with the assets you have," Freund explains.
One of the most colourful contenders at this year's Open is Soslan Gagloev, who he started out as a freestyle wrestler in Russia. At age 15, the Japanese poached him and convinced him to try sumo.
How? Disney World, of course.
"Japanese coaches just came there to look at me and they invited me for two weeks," he says. "Like, go to [Tokyo] Disney, see Japan."
At first, Gagloev says he wasn't convinced about sumo as a sport. "When I saw the sumo wrestlers, I thought, 'Just fat guys who cannot do anything. They are just eating and sleeping,'" he remembers.
But as soon as he gave the sport a try, he says he was impressed by the flexibility, power and explosiveness of the athletes.
Gagloev went on to become one of the youngest wrestlers to achieve elite rank in Japanese professional sumo. But five years into his career, he achieved another distinction: He became the first active wrestler to get kicked out of pro sumo for drug use.
"It was a lot easier to kick the Russian wrestler out of the sport than to say that there were actually Japanese wrestlers doing marijuana as well," says Michael Wesemann, co-founder of Sumotalk, the go-to source for pro sumo news.
After his dismissal, Gagloev went to the press and revealed everything he knew about the dark underbelly of pro sumo in Japan. He told tales of drug use, prostitution and match fixing.
The taint of corruption still dogs the world of sumo, both pro and amateur. But bout fixing probably isn't an issue when it comes to the winner of the US Sumo Open. That's because the same guy has taken the gold for eight years in a row.
Mongolian Byambajav Ulambayar has gone undefeated in his last 50 sumo matches.
He's so good, it's actually boring. Ulambayar defeated Soslan Gagloev at last year's Sumo Open and then beat him again this year, securing his eighth consecutive gold medal.
"I don't like to lose, you know," Ulambayar explains.
Luckily, Gagloev has a backup plan. After starting college a few years ago, he noticed a place where he might be able to transfer his skills-the offensive line of an American football team.
"It really look like sumo," he says of some of the pushing and scrapping that takes place on the offensive line.
For a couple of years, Gagloev played for college teams in Florida. He even taught some of his teammates sumo techniques to increase their flexibility.
Next year, Gagloev is trying out for the NFL.