American football: Why one Alabama school will continue to play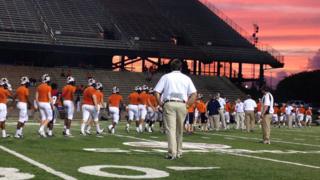 Last week, three US high-school football players died in accidents related to the game. But in one town in Alabama the appetite for this gladiatorial sport, so often at the heart of American communities, shows no sign of waning.
As the setting sun streaks red across the sky, the football team from Charles Henderson High School in the town of Troy, Alabama once again files out for its Friday night game.
But this time, along with usual cacophony of band playing and cheerleading, there is a sombre note to proceedings.
As the heat of the day gives way to cool evening air, prayers are said for Demario Harris Jr, a Trojan cornerback who collapsed and died on this field while playing the week before.
Just a few days short of his 18th birthday, Harris died as a result of catastrophic bleeding in his brain. It happened just after a tackle, though doctors say they cannot be sure this was the cause as it's possible to die in this way from a pre-existing condition.
The night is dedicated to the memory of "Squirrel", the nickname given to Harris for his speed and athletic ability.
"He was like a son, just a great gentleman. Our heart is broken," says his school principal, Boyd English.
Out on the field, every Trojan team member now sports Harris's number 10 on his helmet. The stands are a sea of bright orange as supporters wear a special commemorative T-shirt bearing the Twitter hashtag #flyhigh10.
"Once a Trojan, always a Trojan," says Zachya Henderson, a former student who was one of hundreds who queued up earlier in the day to pick up her shirt.
"It would be less of me not to support our own."
The support given to Harris's family in the small town of Troy has been unwavering. But many in America are now beginning to question whether it is wise to support a game which forces teenagers to collide with each other at brutal and often damaging speed.
As well as Harris, two other US high-school footballers died last week while playing, or as a result of injuries sustained on the field.
"Until I stood on the sidelines for a high school football game, I never realised how much impact there is," says Chelsea Janes, a high-school sports reporter for the Washington Post.
"I've definitely seen a lot of injuries that make you step back and think, 'Wow, is this really safe?'"
---
Effects on the brain
Mounting evidence shows that the damage caused by repeated concussions can have lasting health consequences for American football players. These men are more likely to die from diseases caused by damaged brain cells, like Amyotrophic lateral sclerosis (ALS) or Alzheimer's disease, according to a new study in the journal Neurology.
Medical experts also suspect repeated head trauma can lead to mental illness and suicide.
Is American football too violent? (2012)
---
Her concerns appear to be shared by some parents.
Figures from the National Federation of State High School Associations show a steady decline in American football participation over the last five years, though the data does not give any indication why this has happened.
"In my experience some parents have raised the question of concern about concussion and chosen not to let their kids play football," says Dr Gerard Gioia, paediatric neuropsychologist at Children's National Health System and a specialist in concussion.
"In high-school students and adolescents, it seems that there is a particular vulnerability when it comes to outcomes of concussion," he says. "High-school students, compared to professional athletes, are taking longer to recover."
It's not just concussion that can be fatal to a young athlete.
Heat stroke, orthopaedic injuries and sudden cardiac arrest have also killed players, or left them seriously injured.
Last year, the Annual Survey of Football Injury Research recorded eight fatalities directly attributed to the game, all in high school football.
"The game in general is [getting] a lot more dangerous because the kids are better trained, they're bigger, they're faster, they work out more," says Chelsea Janes, though adds she has been pleasantly surprised by how safety-conscious many school coaches have been.
But while the debate on safety is conducted at a national level, at Charles Henderson High School, in football's heartland, no-one is questioning the wisdom of continuing to play the game.
The principal says no parent has contacted him to express concern.
---
American football deaths in 2013
In 2013, 4,200,000 Americans participated in organised football
Eight players died as a result of direct football injuries, all of them high school students
Of these, six students died from brain injuries and two from cervical fractures
A further eight high school students died from heat-stroke and cardiac arrest
Source: The National Center for Catastrophic Sport Injury Research at the University of North Carolina
---
Head football coach Brad McCoy agrees. Parents know safety is his primary concern, he says, and the school has the best equipment and care they can provide. Both parents and children have been taught about the effects of concussion.
"It's a collision sport and there's always a chance something could happen," he says.
"But if you were to say football was too dangerous to play at the high school level, when you get to college and the professional leagues, you realise that the speed of play is a whole lot faster," he says.
And both teachers and students argue that focusing only on the potential dangers of football would be to overlook the many benefits it brings.
"We walk, talk and act likes Trojans," says principal Boyd English, listing the values of trust, respect, obedience and a positive attitude expected from every player in the team.
Playing football, he says, often provides students with guidance and a sense of camaraderie they do not experience elsewhere.
Austin Ingram, a student who had played alongside Harris since childhood, agrees.
"I think it's a great life lesson and it's really turned me into a man instead of being a boy," he says.
His teammate, Richard McBryde, is celebrating another advantage participation in the sport can bring - thanks to his football skills he has recently won a scholarship to university. College football has millions of fans in the US and can be a launch pad for a professional career.
"I plan on playing in the big time," he says.
"That's my goal."
The school's superintendent, Lee Hicks, says football is invaluable in providing opportunities to students who often have few other options.
"Sometimes organised athletics or an organised activity might be the only way they can afford to go to college," he says.
And then there is the sense of cohesion the game brings to the community.
"It brings the town together," says Mr Hicks. "At the Friday night game, the parents can socialise and the kids can come and be unsupervised to a degree."
Back at the game, this sense of togetherness is palpable as the crowd cheer on the Trojans' march to victory.
"It's football so it's supposed to be aggressive," says Carla Oswald, a former student whose 13-year-old son now plays the game.
"My child will play football, I want my child to play football, I'm not afraid of football," she says, answering with a definite No when asked if she would consider soccer instead.
Sitting a few rows behind her another mother, Lisa Johnson, says Harris's death may have put some parents off the sport.
"But he wouldn't want it to," she says.
"Squirrel would want you to play. He would want you to play with everything you've got and that's what we're doing."
Subscribe to the BBC News Magazine's email newsletter to get articles sent to your inbox.