The restaurant where you're greeted with a gun - and shots of vodka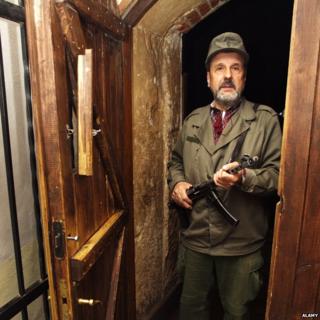 As the conflict in eastern Ukraine rumbles on, hundreds of miles away in the west of the country, a restaurant is using past and present wars to attract diners.
It was a stern-faced Ukrainian soldier who asked my Russian colleague Dina whether she was a "moskal"- a bad Russian, who wants to kill Ukrainians - or a "rossiyanka" - a friendly neighbour, with good intentions.
He stood in an old-fashioned green uniform, a machine gun at the ready, waiting for her answer.
Luckily, it was the right one. "I'm a rossiyanka, of course," she said.
This triggered a smile, a shout of "Glory to Ukraine" and earned Dina both a shot of honey vodka and entry to a partisan-themed restaurant.
Yes, the east of Ukraine may be at war, but here in Lviv on its western edge, a good night out can involve laughing at an older conflict between Russians and Ukrainians.
Ukraine's resistance to Russian troops during World War Two is the inspiration for the popular themed restaurant, called Kryjivka, or Underground Shelter, whose checkpoint we had successfully negotiated.
Downstairs, its wooden interior is decorated in the sparse style of a partisan bunker, its hearty menu featuring such delicacies as spicy slices of lard served with whole cloves of garlic, and a filling pork and cabbage stew called bigos.
It's a far cry from the diet on offer to the real Ukrainian resistance force headed by the divisive figure of Stepan Bandera - nationalist hero to some, Nazi sympathiser to others.
The restaurant has been open for several years but the contemporary resonance of its theme seems to be attracting new customers.
Although some of its regular clients, after a different view of their history, aren't coming to Lviv in the numbers they used to.
Still, the place was packed on the evening we were there, and while the references and photographs date back to the 1940s the events of 2014 weren't far from people's thoughts.
As the waiting staff ended their shift - during which they brought food, sang songs and fired cap guns - they were required to line up and shout "Glory to Ukraine".
To general amusement, one of the waiters, who was a little slow off the mark, was told he'd be sent to today's front line in Donetsk to learn what patriotism meant. His forced smile suggested a bout of indigestion at the prospect.
This mockingly defiant attitude to the current conflict isn't confined to one playful restaurant.
Just look at the display cabinets in Lviv's gift shops where rolls of toilet paper with the face of President Putin jostle for space with trinkets taking a swipe at Russia's version of recent events.
A popular fridge magnet depicts the black and red business card of Dmytro Yarosh, the leader of the ultra nationalist Right Sector political party, the face - for Moscow - of contemporary fascism.
In April, after a fatal shootout in the Donetsk region, a pro-Kremlin television channel reported that Yarosh had conveniently - or inconveniently - left his business card at the scene; a reporter held it up to the camera.
For Ukrainians this was nothing more than a crude, rectangular piece of propaganda. By sticking it on their fridges, they feel as though they're sticking it to Moscow.
On Freedom Avenue, among the pop up stalls of political parties standing in this month's elections, there is a bigger green tent, where volunteers collect money for Ukrainian soldiers.
To bring the war home to people who have largely watched it on their televisions, a mortar has been placed on a paving stone in front of the tent. A work of western Ukrainian street art gives a fleeting flavour of a less settled life in the east.
Yet for all of Lviv's unruffled exterior, you can find people in Lviv with first hand experience of the current conflict.
Soldiers from the nearby 24th Mechanised Infantry Brigade have spent months on the front line while some locals have signed up for one of the volunteer battalions, which are playing an increasingly important combat role.
At a central cafe, surrounded by teenagers sipping lattes and tapping on tablets, I met two of those volunteers, economist Roman and lawyer Ostap, erudite young professionals who'd retrained as soldiers with the Donbas Battalion.
Theirs had been an unhappy experience - they were evacuated from the combat zone after getting injured in a murky, ill-fated operation near the town of Ilovaisk.
Their battalion was told it had been granted safe passage, only to find itself ambushed. Recovering from their shrapnel wounds, they feel ambushed by the politicians in Kiev, who've granted self rule to the rebel-held parts of the country where they fought.
Although they're sure the division is temporary.
"When this is all over," Roman told me, "the people in those regions will realise that Ukraine is one country. One country that's better than Russia."
How to listen to From Our Own Correspondent:
BBC Radio 4: Saturdays at 11:30
Listen online or download the podcast.
BBC World Service: Short editions Monday-Friday - see World Service programme schedule.
Subscribe to the BBC News Magazine's email newsletter to get articles sent to your inbox.