Slender-billed curlew: Where has Europe's rarest bird gone?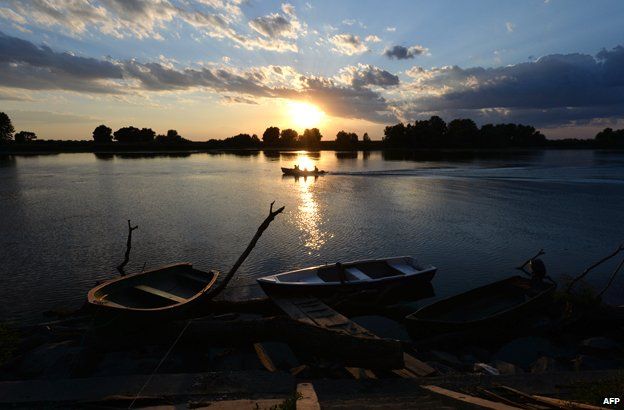 The Danube delta, where the river flows into the Black Sea, is a magnet for birds - the lakes and marshes are host to more than 300 different species. But one bird has not been seen there for many years.
"To the memory of the slender-billed curlew," says Dr Janos Botond Kiss, raising a beaker of ruby-tinted plum brandy, pressed from the fruits of his garden.
Kiss is legendary in Romanian conservation, a man who knows the Danube delta as well as anyone alive, and he is drinking a farewell to another legend - one of the rarest birds in the world.
The slender-billed curlew used to migrate from Siberian breeding grounds to wintering areas in the Mediterranean via the delta's archipelago of waters, marshes and sighing trees.
Kiss saw it several times, but it does not come here now.
Tracing the bird through its last haunts from Morocco to the Balkans, I have arrived here on Romania's Black Sea coast, at the delta's fringe, only to hear the same story.
A beautiful white and gold bird, finer and paler than the plump Eurasian curlew known to most birdwatchers, has gone. No-one knows why.
It is the rarest bird in Europe, North Africa and the Middle East
Critically endangered - there may be as few as 50 left
Measures between 360mm and 410mm from the tip of its bill to the tip of its tail
Has dark grey legs, and a white tail with four or five relatively thin dark bars.
The only nesting records date from the early 20th Century in the Novosibirsk region of south-west Siberia
"The impact of hunting on the migration route would be minimal," says Kiss. "The wintering areas are so vast it is unlikely minor changes affected them there. But Russia is still effectively a closed country. We don't know what happened there."
As a man who lived through Romania's communist years, Kiss knows all about Russian legacies, and about hunting.
"The first time I saw a slender-billed curlew I had my gun. I still don't know why I didn't shoot it. I am glad I didn't - it would have been a significant part of the population," he says.
One of his 19 cats climbs his shirt, claws out. Kiss winces but does not flinch. In his garden are 30 species of fruit trees - peaches, plums and apples sway in the branches like soft treasure.
Kiss has the gift of propagating life. It is largely thanks to him that the Danube delta reserve, one of the great habitats of Europe, has survived into this century.
"In the 60s there was balance, it was mostly local people hunting for their families," he says.
Everything changed with what he calls "mega-paranoid communist agriculture".
"They grabbed land of any kind, even what was unsuitable for farming," he recalls. "There was a conviction that wild species were in competition with agriculture. They shot cormorants, pelicans and egrets. Maybe in England people like nature because it is other to their environment. Here it is not so."
When his father-in-law fled Romania, the crime of being his relative saw Kiss confined to an island in the delta for three years.
"Now I was the prey species - I stopped shooting," he smiles. Returning from exile, Kiss founded what became the Delta Biosphere Reserve. He needed fit and educated men to guard it - he found them in karate clubs.
They caught a government official shooting swans in a protected area. The official escaped censure, while Kiss was sacked, then reinstated and appointed secretary of state for the environment by the next government.
"I concentrated on trans-frontier reservations," he says, "nature doesn't respect borders."
A green corridor between Bulgaria, Romania and Hungary and a reserve for rare seals on the Bulgarian border are among his achievements.
And what of the slender-billed curlew? A creature of the littorals, where water, sky and land bleed into one another, it lived in this soughing, murmurous world of bulrushes and rattling reeds, among the glasswort beds, where salt and sweet waters mingle.
Its companions are all around us - white pelicans and black storks like hussars with their red bills climb the thermals, swallows and martins volley into the wind. The autumn migration is under way, without the slender-billed curlew.
"Everything has a beginning, a climax and an extinction but if man is involved in speeding such a process it is a great sin," says Kiss.
The slender-billed curlew's recorded history sees the rise and fall of communism, the flood tide of Western capitalism, European integration, and now, perhaps, the ebb of those currents in the face of globalisation.
The career of Kiss parallels the strides - and now, he says - the stumbles of European conservation.
"We will lose the richness of the delta. I am glad I am old - pressure on protected areas is greater every day," he says.
"But what about the people you trained, the younger generation?" I ask, "Surely they give you hope?"
"Who says hope is the last thing to die?" he returns, with a twinkle. "The Chinese."
And so we drink another toast to the slender-billed curlew, and to the world it leaves behind.
BBC Radio 4: Saturdays at 11:30
Related Internet Links
The BBC is not responsible for the content of external sites.