The island that links Irish monks and jedi knights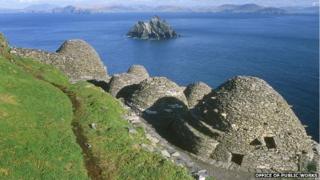 A small rocky island off the coast of Ireland hit the headlines earlier this year when news broke that Star Wars: Episode VII was being filmed there. I couldn't resist the temptation to visit Skellig Michael - a place that felt strangely out of this world.
Study the advertising images used to promote Ireland abroad and often it's as if someone cranked up the colour.
Trees and fields are a green beyond Technicolor - and surely not all Irish people have hair red enough to make a fox envious?
The palette of colours on the 90-minute boat ride from the village of Portmagee in Kerry to Skellig Michael is more subtle.
The exposed rock receding slowly behind us - the little vessel is sturdy rather than speedy - is a rich browny-grey.
At a distance, ferns and foliage become dark olive green. A mile or two out, the Atlantic swells a deep Prussian blue. And then the glistening rains come.
The boatman, Kav, emerges from the wheelhouse, his hair a tangle of matted blond. He slides a plastic crate of rain capes toward his dozen passengers, though he will remain throughout barefoot in a T-shirt.
Finally the tall and craggy outline of Skellig Michael looms. As the makers of Star Wars have realised, nature has provided a perfectly cinematic wide shot.
The ocean swell can be so strong at this point that the few boats allowed to land each day sometimes have to turn back. We're in luck - the sea is choppy but Kav is able to guide us one by one onto the concrete jetty.
Experts believe the small monastery on top of Skellig Michael was built around the 7th Century but was fading in importance by about 1200. Nowadays fewer than 200 tourists a day, during the season, come to see its remains.
First however comes a climb of more than 600 wet, uneven stone steps.
---
Film scenes shot in Ireland
Harry Potter and the Half-Blood Prince (2009) - key scenes involving Harry and Prof Dumbledore were filmed at Lemon Rock in County Kerry and also in County Clare
Saving Private Ryan (1998) - Ballinesker beach in County Wexford stood in for Omaha beach in Normandy and Irish soldiers were used as extras
Braveheart (1995) - County Meath played the part of London and York, while the Battle of Stirling Bridge was filmed in County Kildare
The Italian Job (1969) - the prison scenes, starring Michael Caine and Noel Coward, were filmed at Kilmainham Gaol in Dublin
The Spy Who Came In From The Cold (1965) - Checkpoint Charlie, in Berlin, was recreated in Ardmore Studios in County Wicklow
---
At the age of 80, Des Lavelle may be more familiar with those steps than anyone else alive.
He's been arranging trips to Skellig Michael half his life. In the 1960s he'd be calling up hotels in Limerick and Killarney to find even half a dozen Dutch or American tourists intrigued enough to make the same journey the men of God made in the Middle Ages.
They'd always ask the same question, he recalls: "What on earth made the monks come to this place?"
To understand that, he says, you have to think the way people did then.
In the 7th Century it was far easier to travel up and down Ireland by boat than by land. "The sea and the rivers were the main streets. So a small island it took a day's rowing to get to didn't seem so remote," he says.
Once there were monks on almost every island along the west coast of Ireland, says Lavelle.
"When I was young everyone said this was a God-fearing country. It was - but not like a thousand years before. Holy people devoted huge amounts of time to contemplating God. But Europe has changed - it's not how we'd pass our lives today."
In wild weather, climbing to the top of the small island is not easy. A head for heights would come in useful.
But the difficulty of getting there was in part why the monastery existed and why much of it survived. Bit by bit other monastic islands closer to shore had their masonry carried off for houses and farm buildings.
By now half the steep path before me is lost under mist. Breathless, I consider abandoning the ascent. But I am shamed into continuing by a couple in their 60s who almost run past, pulled ever upward by a large dog on a lead.
The monastic site is extraordinary - half a dozen beehive-shaped stone huts and two bigger oratories. There are stones marking the graves of monks who died here. But it's the location, high over the Atlantic, which makes the experience other-worldly.
I ask Lavelle if after hundreds of visits he's ever bored with Skellig Michael. Not at all, he says - on a busy summer's day he can be surrounded by tourists but he'll always feel the power of the place.
He can always spot the visitors who found the experience of no interest. "And the ones who get the most often didn't expect it. They're like me - you feel close to something, even if you're not sure what it is," he says.
Watching my fellow visitors quietly and carefully make their way back down to the boat I sense he's right. Some of us aren't ready to step back into our own lives - not just yet anyway.
How to listen to From Our Own Correspondent:
BBC Radio 4: Saturdays at 11:30
Listen online or download the podcast.
BBC World Service: Short editions Monday-Friday - see World Service programme schedule.
Subscribe to the BBC News Magazine's email newsletter to get articles sent to your inbox.