Is reheated pasta less fattening?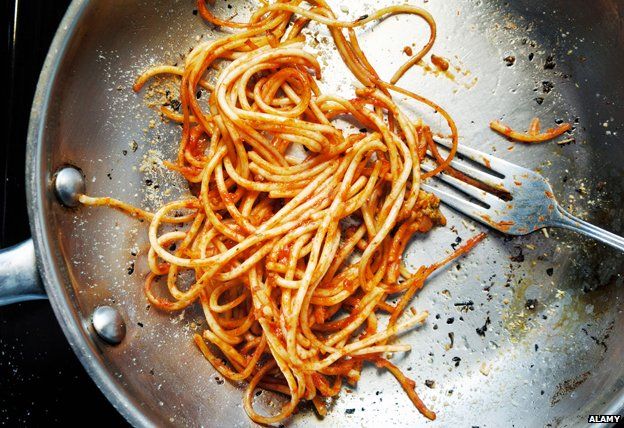 Many food-lovers worry about pasta making them fat. But could simply cooling and then reheating your meal make it better for you, asks Michael Mosley.
There are few things that really surprise me about nutrition, but one of the experiments from the latest series of Trust Me, I'm a Doctor really did produce quite unexpected results.
You are probably familiar with the idea that pasta is a form of carbohydrate and like all carbohydrates it gets broken down in your guts and then absorbed as simple sugars, which in turn makes your blood glucose soar.
In response to a surge in blood glucose our bodies produce a rush of the hormone insulin to get your blood glucose back down to normal as swiftly as possible, because persistently high levels of glucose in the blood are extremely unhealthy.
A rapid rise in blood glucose, followed by a rapid fall, can often make you feel hungry again quite soon after a meal. It's true of sugary sweets and cakes, but it's also true for things like pasta, potatoes, white rice and white bread. That's why dieticians emphasise the importance of eating foods that are rich in fibre, as these foods produce a much more gradual rise and fall in your blood sugars.
But what if you could change pasta or potatoes into a food that, to the body, acts much more like fibre? Well, it seems you can. Cooking pasta and then cooling it down changes the structure of the pasta, turning it into something that is called "resistant starch".
It's called "resistant starch" because once pasta, potatoes or any starchy food is cooked and cooled it becomes resistant to the normal enzymes in our gut that break carbohydrates down and releases glucose that then causes the familiar blood sugar surge.
So, according to scientist Dr Denise Robertson, from the University of Surrey, if you cook and cool pasta down then your body will treat it much more like fibre, creating a smaller glucose peak and helping feed the good bacteria that reside down in your gut. You will also absorb fewer calories, making this a win-win situation.
One obvious problem is that many people don't really like cold pasta. So what would happen if you took the cold pasta and warmed it up?
When we asked scientists this question they said that it would probably go back to its previous, non-resistant form, but no-one had actually done the experiment. So we thought we should.
Dr Chris van Tulleken roped in some volunteers to do the tests. The volunteers had to undergo three days of testing in all, spread out over several weeks. On each occasion they had to eat their pasta on an empty stomach.
The volunteers were randomised to eating either hot, cold or reheated pasta on different days.
On one day they got to eat the pasta, freshly cooked, nice and hot with a plain but delicious sauce of tomatoes and garlic.
On another day they had to eat it cold, with the same sauce, but after it had been chilled overnight.
And on a third day they got to eat the pasta with sauce after it had been chilled and then reheated.
On each of the days they also had to give blood samples every 15 minutes for two hours, to see what happened to their blood glucose as the pasta was slowly digested.
Well we were fairly confident the cold pasta would be more resistant than the stuff that had been freshly cooked and we were right.
Just as expected, eating cold pasta led to a smaller spike in blood glucose and insulin than eating freshly boiled pasta had.
But then we found something that we really didn't expect - cooking, cooling and then reheating the pasta had an even more dramatic effect. Or, to be precise, an even smaller effect on blood glucose.
In fact, it reduced the rise in blood glucose by 50%.
This certainly suggests that reheating the pasta made it into an even more "resistant starch". It's an extraordinary result and one never measured before.
Denise is now going to continue her research - funded by Diabetes UK - looking at whether, even without other dietary modifications, adding resistant starch to the diet can improve some of the blood results associated with diabetes.
Chris was certainly blown away by this finding.
"We've made a brand new discovery on Trust Me I'm A Doctor", he says, "and it's something that could simply and easily improve health. We can convert a carb-loaded meal into a more healthy fibre-loaded one instead without changing a single ingredient, just the temperature. In other words our leftovers could be healthier for us than the original meal."